Sojourn Cellars: Consistency is a Defining Feature

Sojourn Cellars, based in Sonoma, is a model of consistency for many years. The winery specializes in Pinot Noir, Chardonnay, and Cabernet Sauvignon from Sonoma and Napa counties. Although the winery owns no vineyards, the winemaking staff helps direct all farming operations in at least sixteen vineyard sources.
The winemaking staff consists of Direct of Winemaking Erich Bradley, who has been at the winery since the beginning, Associate Winemaker Randy Bennett, who also has been part of the winery for years, and Assistant Winemaker Rob Sanford. Erich (left) and Randy (right) are in the photo below.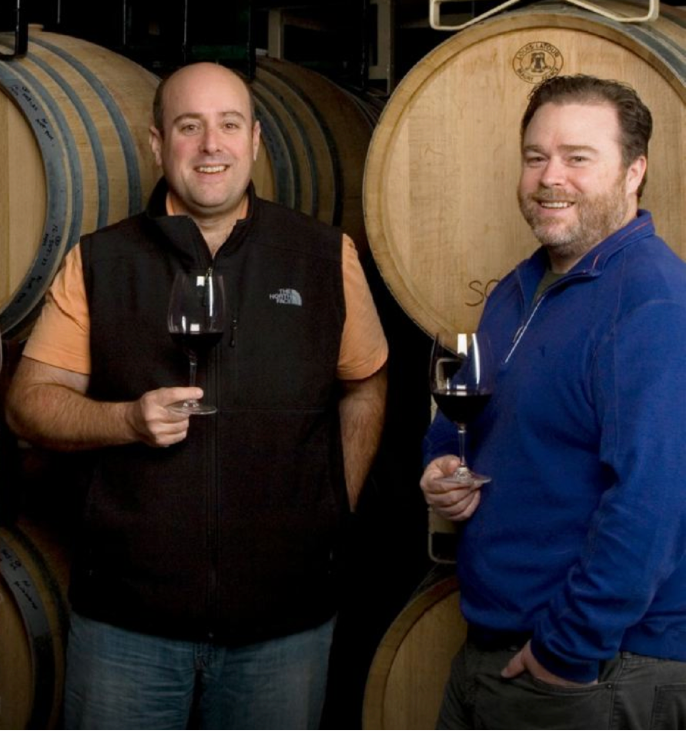 Pinot Noir winemaking consists of 100% de-stemming, whole berry native fermentations in small open-top fermenters, hand punch-downs, gentle basket pressing, and avoidance of pumps. The wines are bottled unfined and unfiltered. Most Pinot Noir wines are Dijon clone-driven. Both the 2018 and 2019 vintages had relatively mild seasons allowing for long and slow grape maturation. Yields were slightly lower in 2019 resulting in more concentration in the wines.
Check the website at www.sojourncellars.com for current tasting availability at the tasting salon in the town of Sonoma. The majority of Sojourn Cellars wines are sold through a mailing list with some availability at the winery's website store.
In January 2020, the winery was sold to winemaker Angela Mondavi who is a member of the iconic Napa Valley family and Sonoma Best Hospitality Group. The brand remains intact with co-founders Craig Haserot and Erich Brandley still involved. Winemaking has moved to the former Ravenswood Winery facility) (now owned by Angela) at 18701 Gehricke Road in Sonoma. The 2018 and 2019 vintage wines reviewed here were produced and bottled in Santa Rosa.