Elite California Pinot Noir Vineyards
"Elite" - regarded as the finest, the best of their kind.
The term "Grand Cru" applied to a vineyard started in France generations ago. In Burgundy, the title refers to a select group of vineyards that are known for maintaining a consistent reputation year after year and are the most famous wine-producing land parcels. There are 33 Grand Crus in the Cote d'Or that makeup only about 1% of the annual wine produced in Burgundy. The plots of Grand Cru vines are called 'climats' (climates) signifying a plot of vines that benefits from specific geological (soil) and climatic conditions. Grand Cru wines prominently display the name of the climat from which the wine originates on the label. The Grands Crus are the "elite" of Burgundy vineyards.
In Burgundy, Grand Cru vineyards have the greatest potential for ripeness. California lacks a comparable grand cru system in part because there is more universal ripeness and concentration among vineyards. Also, most California Pinot Noir vineyards are made up of multiple blocks, often dedicated to one clone that complicates any classification of the entire vineyard. In Burgundy, the vineyards are generally composed of a blend of selections or selection massale, that is, vineyards that have been propagated with cuttings from old vines rather than nursery stock.
Any attempted classification of the best California Pinot Noir vineyards is largely subjective since there are no objective definitions. Although the term grand cru has been used by some to designate the finest vineyards, I prefer to use the term "elite." Elite vineyards have a long and consistent history of producing great wines either as a monopole (the vineyard is controlled by a single wine company and the wine from that vineyard is produced and sold only by that wine company), or as a fruit source for multiple producers. Most elite California Pinot Noir vineyards are monopoles.
Additional criteria for my consideration as an elite California Pinot Noir vineyard include: (1) the right vines are planted in a location with the correspondingly right soil and climate, (2) the vines have aged ten years and beyond, (3) the resultant wines exhibit age-ability (10-25 years), (4) the resultant wines demonstrate terroir-driven character and complexity, and (5) vineyards that have produced wines that I find elite based on tasting wines from these vineyards over a number of vintages.
There are many stellar vineyards that have been omitted and probably you can name several of those that are your favorites. My choices simply reflect my subjective opinion. Practically speaking, the value of this list is that Pinot Noir wines produced from these elite vineyards have a high probability of excellence and therefore serve as a reliable guide for your Pinot Noir purchases.
The upper portion of red Burgundy labels prominently feature the climat where the wine originated, while the name of the producer is less emphasized with positioning at the bottom of the label (see Jadot label below). There are, however, exceptions, and the label may emphasize the producer (see Faiveley label below). Domestic Pinot Noir always gives priority to the name of the winery that produced the wine with lesser emphasis on the vineyard(s) where the wine came from. Domestic labels also include the name of the varietal, namely Pinot Noir, which is almost always omitted on red Burgundy labels (see Ancien label below).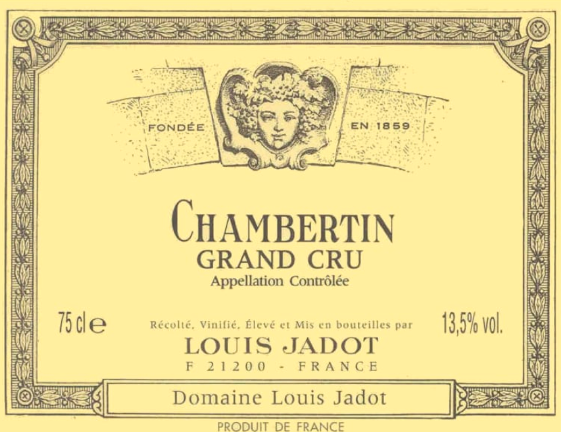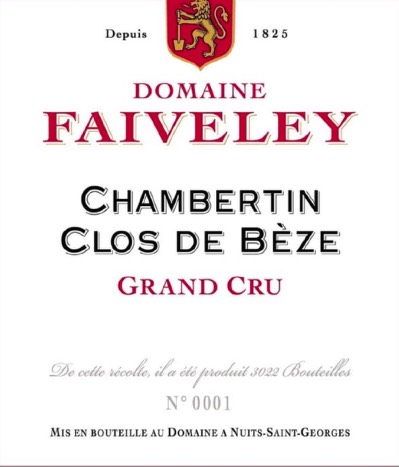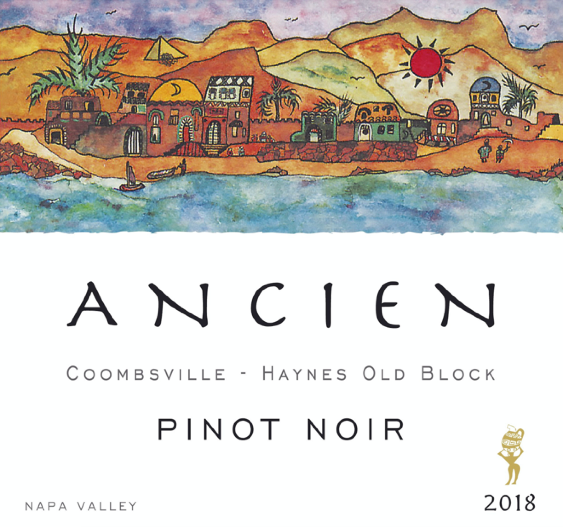 As domestic Pinot Noir has enjoyed a surge in popularity over the last three decades and the consumer has become more knowledgeable, there has been an increasing emphasis on the vineyard source. With that in mind, I have created detailed information on each elite California Pinot Noir vineyard. In addition, I have included reviews of recent vintages from each vineyard and past vintages, in some cases, to judge age ability. This compilation along with exhaustive wine reviews are meant to serve as a valuable resource for the most dedicated pinotphiles.
It is important to emphasize that vineyard data is fluid since vines may be removed because of viruses or other diseases, new plantings may be added, vineyard ownership or management may change, and winery clients are often in flux.
A relevant comment is in order regarding wine scores. As many of you have probably noticed, there has been an inflation of California Pinot Noir scores in the past few years. In the early 2000s, a California Pinot Noir that scored 90 or above was considered exceptional and relatively rare. Scores above 94 were almost unheard of. Admittedly, the overall quality of California Pinot Noir has increased over recent years but now some wine critics are eager to award California Pinot Noirs scores in the 96-99 range although I find there are extremely few wines deserving of this rare accolade of extraordinary quality.
I bring this up because you will find a large number of California Pinot Noirs receiving high scores from me in this listing of elite California Pinot Noir vineyards. That is primarily due to the fact the wines were carefully chosen based on my experience with the vineyard and its producers, and do not represent a random sampling. Older vintages came from my temperature-controlled cellar where they rested since purchase and in most cases were acquired directly from wineries upon release.
I am now thoroughly convinced that to obtain the full experience of most California Pinot Noir wines, you should not drink them immediately upon opening. I do taste wines right after popping the cork and some show their pedigree immediately but more often than not they are much better when tasted at least 6 hours later or even the following day. This experience was particularly evident with the 2019 vintage Pinot Noirs reviewed for this issue. This presents some logistic problems when you want a Pinot Noir with dinner. I would suggest you open the bottle in the late morning and sample the wine (about 2 oz), then put the cork back in until dinner. The other option is to decant the wine and put it back in the bottle with a cork. I can't tell you how often a wine improves with exposure to oxygen over the course of several hours. Balanced wines will still be superb the following day.
Since many California Pinot Noir wines have over 14.0% or even 14,5% ABV, drink them at 63ºF rather than room temperature to avoid the possible perception of alcoholic heat that can accompany a warmer wine. Pinot Noirs with under 13% ABV are rarely out of balance enough to detect alcoholic heat, but the problem with these wines can be underripe fruit and resulting green or herbal messages.
This extensive listing of vineyards is split into three parts. Part I will be offered in this issue and Parts II and III will be presented in succession in subsequent issues. Here is a listing of all Elite California PInot Noir Vineyards (Parts I, II, and III).
Outline of Elite California Pinot Noir Vineyards
Part I: North Coast
Anderson Valley
Ferrington Vineyard

Maggy Hawk Vineyard

Morning Dew Ranch

One Acre Vineyard

Savoy Vineyard

Weir Vineyard

Wendling Vineyard
Sonoma Coast
B.A. Thieriot Vineyard

Coastllands Vineyard

Hellenthal Vineyard

Hirsch Vineyard

McDougall Ranch

Occidental Ridge Vineyard

Pastorale Vineyard

Rice-Spivak Vineyard

Sonatera Vineyard

Summa Vineyard

Tilton Hill Vineyard

The Haven Vineyard

Walala Vineyard

Wayfarer Vineyard
Petaluma Gap
Gap's Crown Vineyard

Terra De Promissio Vineyard
Part II North Coast
Russian River Valley
Allen Vineyard

Arrendell Vineyard

Dehlinger Estate Vineyard

Dutton Ranch Jentoft Vineyard

Olivet Lane Vineyard

Porter Creek Hillside Vineyard

Quail Hill Vineyard

Ritchie Vineyard

Rochioli Vineyard

Soul Patch Vineyard

Trenton Estate Vineyard
Other North Coast appellations
Cohn Vineyard

Devil's Gulch Vineyard

Donum Ranch Vineyard

Grace Benoist Ranch Vineyard

Hanzell Estate Vineyard

Haynes Vineyard
Part III Central Coast
Santa Cruz Mountains
Lester Family Vineyard

Mount Eden Estate Vineyard

Rhys Alpine Vineyard

Rhys Horseshoe Vineyard

Windy Oaks Estate Schultze Family Vineyard
Santa Lucia Highlands
Garys' Vineyard

Morgan Double L Vineyard

Pisoni Estate Vineyard

Tondre Grapefield
Sta. Rita Hills
Domaine De La Cote

Clos Pepe Vineyard

Fe Ciega Vineyard

Fiddlestix Vineyard

Sanford & Benedict Vineyard

Sea Smoke Vineyard
Other Central Coast appellations
Bien Nacido Vineyard, Santa Maria Valley

Calera Jensen Vineyard, Mt. Harlan

Hoffman Mountain Ranch Vineyard, Paso Robles

Rosemary's Vineyard, Arroyo Grande




If you were to fill your cellar with Pinot Noirs from these vineyards made by the featured producers, I guarantee you would have a cellar to not only brag about but one that will bring you years of marvelous drinking pleasure.