Wine Briefings —Newsletter 12.20
Sta. Rita Hills Wine Alliance Wine & Fire Weekend Sta. Rita Hills is celebrating its 20th anniversary of the approval of its AVA status with a full weekend of special activities August 12-15. Tickets are available for individual events or as a full weekend package. The weekend package includes all three seminars, a complimentary weekend tasting passport, and the premier La Paulée Dinner honoring Sta. Rita Hills pioneers. There are also limited tickets to the Grand Tasting at La Purisma Mission on August 14. Shuttles are available from three Lompoc hotels for some events. Visit www.eventbrite.com for tickets.
Wiliamette Valley Gains Protected Geographical Indication (PGI) Status Harry Peterson-Nedry of RR Wines and Ridgecrest Vineyards and the Willamette Valley wineries Association fought for this recognition. This milestone recognizes the quality of Willamette Valley wine and protects the Willamette Valley name from misuse and fraudulent labeling in the European Union and many markets around the world. Among US wine regions, only Napa Vally and now the Willamette Valley bear this distinction.
Celebration of Pigs & Pinot Tickets & Packages Tickets for Charlie Palmer's annual event went on sale July 14 and will probably sell out by the time you read this but you can inquire. Chef Charlie Palmer and a team of renowned culinary and wine authorities will host the event on September 10 at Hotel Healdsburg and Dry Creek Kitchen. The event is centered around a multi-course dinner hosted by Chef Palmer and showcasing some of Sonoma County's greatest Pinot Noir wines and perfect pork pairings. Visit www.eventbrite.com for tickets to the Celebration Package and or Celebration Dinner.
Sad Outcome of Smoke Taint in 2020 Industry sources estimate 165,000-325,000 tons of California wine grapes, valued at $601 million, went unharvested in 2020 due to actual or perceived concerns of quality loss due to wildfire smoke events. As of April 4, 2021, the U.S. Department of Agriculture's Risk Management Agency reported paying $187,920,862 in crop insurance claims to growers due to wildfire and smoke-related losses.
Shakeup at Linfield University's Evenstad Center for Wine Education Renowned research climatologist Gregory V. Jones has resigned as the director of Linfield University's wine studies program to explore a few options both in the U.S. and abroad. Also resigning was Chelsea Janzen, the program's office coordinator, and Jeffrey Peterson an associate professor who teaches numerous classes in Linfield's wine studies program. the resignations occur at a time in which Linfield University's administration faced charges of antisemitism and mishandling sexual harassment cases. A vocal critic of the Linfield administration, tenured professor Daniel Pollack Petlzner, resign from the University's board of trustees. the story was reported by Michael Alberty in The Oregonian newspaper on July 6, 2021.
Drought Conditions in the West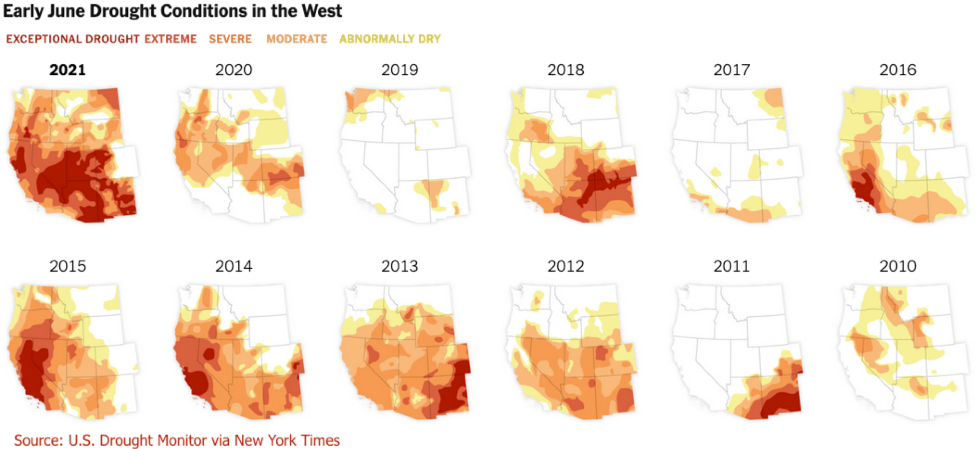 Buying Burgundy? Forgetaboutit Burgundy prices are through the roof and only attract crazy-rich billionaires these days. Top-shelf wines like DRC La TËche are only a memory for most of us and the coming generations will probably never experience that wine or any of the best Grand Cru Burgundy wines. Want a bottle of Leroy Musigny? You will need to fork over $33,067 according to Wine-Searcher. Even village-level wines from good producers are priced beyond the reach of most pinotphiles. It is high time to fall in love with California and Oregon Pinot Noir!
Red Wine Alcohol Levels Have Increased Over the Last 30 Years According to a study of 35,000 red wines produced between 1990 and 2019 from five major growing regions conducted by the London International Vintner's Exchange (Liv-ex), the average ABV has increased significantly for all regions except Burgundy. The reasons are unclear but probably global warming and stylistic preferences play a significant role.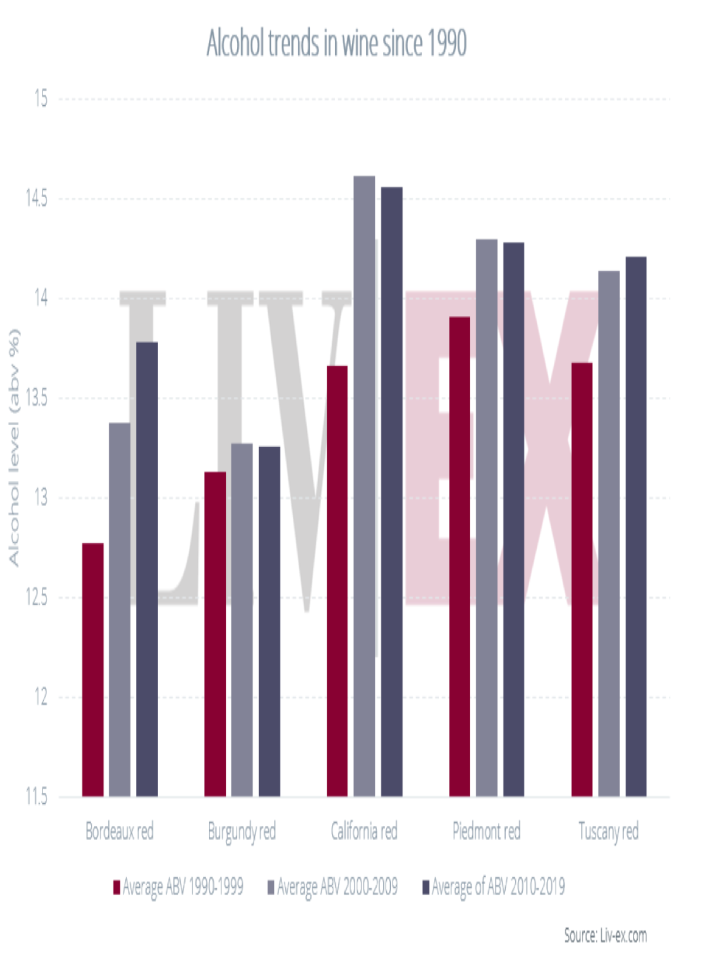 In the October 6, 2020 issue of the PinotFile, I wrote about this issue in an article titled, "An Investigation of Alcohol Levels of California and Oregon Pinot Noir since 2004." I surveyed ABV levels of California Pinot Noirs I had reviewed for a 14-year period from 2004 to 2018 and found the average ABV had decreased by about 1.0% (14.40% in 2004 to 13.73% in 2018). In a survey of Oregon Pinot Noirs I had reviewed from 2004 to 2017, the average ABV showed no change other than a spike in the very warm 2006 and 2009 vintages. The fly in the soup for California is that a significant number of wineries use alcohol reduction but never reveal this. Could the decrease in average ABV over the period studied be due in part to increased use of alcohol reduction by wineries. Learn more at www.princeofpinot.com/article/2265/.
Quick Reviews of Recently Tasted Pinot Noir I have not found time to write extensively about these wines in any special issue feature, but I would like to offer a brief critique.