Elite California Pinot Noir Vineyards Part III: Central Coast - Santa Lucia Highlands
Garys' Vineyard
Owners: Gary Franscioni and Gary Pisoni (thus the name of the vineyard is Garys')
Acres: 50 - 46 acres of Pinot Noir and 4 acres of Syrah
Year planted: 1997
Location: The site is in the heart of the Santa Lucia Highlands AVA, 1.5 miles south of Rosella's Vineyard and 7+ miles north of the Pisoni Vineyard in a slightly cooler area.
Aspect: Cool, maritime climate with morning fog and strong afternoon coastal winds
Pinot Noir scions: Primarily Pisoni scion supplemented with Calera and Mt. Eden clones, and clone 23.
Soil: Arroyo Seco sandy loam
Vines: 5' x 8' and 6' x 8' spacing on VSP bilateral trellising with 1,089 to 908 vines per acre
Farming: Managed by Gary Franscioni and Gary and Mark Pisoni. Yields are kept low by careful hand-farming that includes shoot thinning, leaf removal, fruit dropping, and harvesting.
Winery clients: Lucia is the primary client (Lucia is a Pisoni family winery) along with ROAR (Gary Franscioni's label). Other clients have included Alfaro Family Vineyards & Winery, A.P. Vin, Bernardus Vineyards & Winery, CAlera Wine Co., Capiaux Cellars, Clarice, Copain, DAOU, Kosta Browne, La Rochelle, Loring Wine Co., Martin Alfaro, Miner Family Vineyards, Morgan Winery, Miura, Siduri, Surh- Luchtel, Tantara, Testarossa, Truckee River, Twomey, Vision Cellars, and Waltzing Bear Cellars.
Comments: This vineyard symbolizes generations of friendship between the Franscioni and Pisoni families. The two Garys have know each other their entire lives.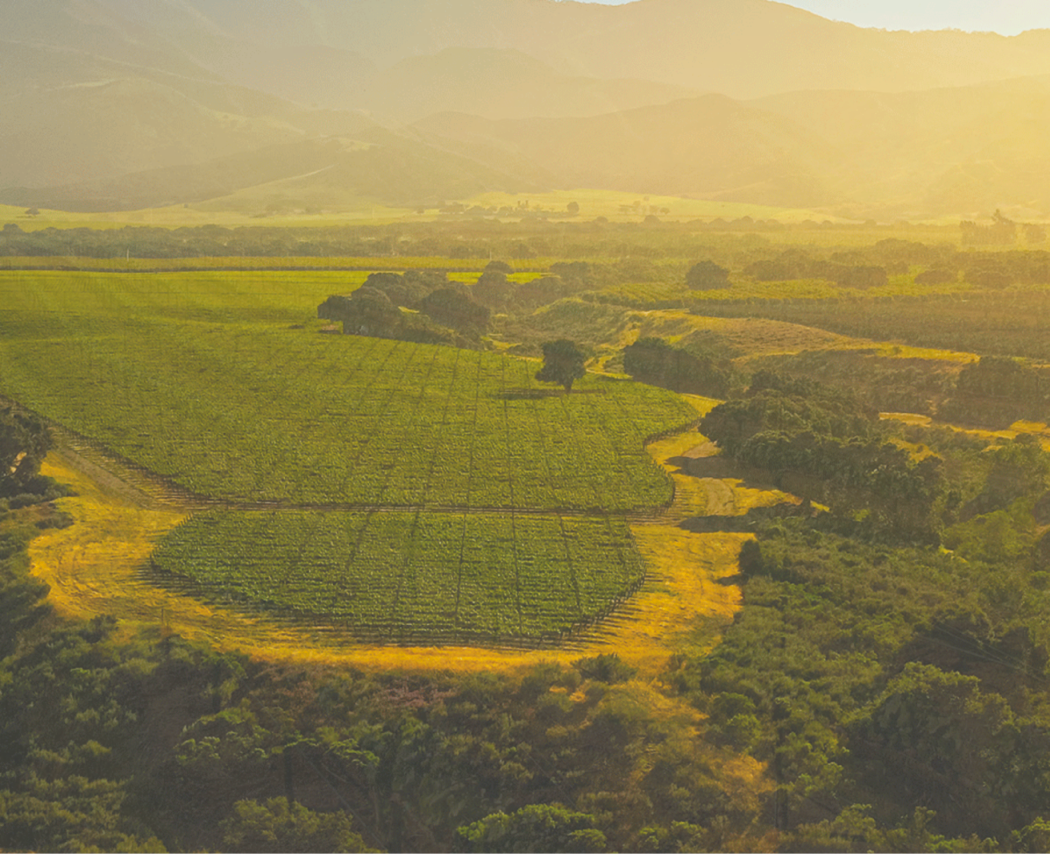 More reviews: www.princeofpinot.com/vineyard/201/
Morgan Double L Vineyard
Owners: Daniel and Donna Morgan
Acres: 48.52 acres on a 65-acre property: 27.99 acres of Pinot Noir, 18.45 acres of Chardonnay, 1.06 acres of Syrah and 1.02 acres of Riesling.
Years planted: 1997, 1998, and selective replants in 2014
Location: Northern end of the Santa Lucia Highlands AVA neighboring Sleepy Hollow, Rosella's and Garys' vineyards.
Aspect: Southeast-facing exposition with slopes from 150' to 550' elevations. The warm air in the southern end of the Salinas Valley draws in cool breezes from Monterey Bay in the afternoons. Strong winds keep temperatures down and thicken grape skins. Slow, gentle ripening lasts four to five weeks longer than most other regions in California extending harvest into the fall.
Pinot Noir scions: Pommard 5, Dijon 114, 115, 667, 777, and a "La Tache" suitcase selection
Soils: Arroyo Seco gravelly loam and Chualar clay loam
Vines: 5' x 6' spacing, bilateral cordon. Rootstocks are 101-14, 3309, Riparia Gloire, and SO4.
Farming: Sustainably farmed. Organically certified in 2001, becoming the first and only Monterey County Certified Organic property in the Santa Lucia Highlands. Four times a year compost tea is applied through the drip lines in the vineyard to provide micronutrients and microbes for the soil. A cover crop protects against runoff and maximizes water saturation. Average yield is 3 tons per acre. Winery clients: None, a monopole
Comments: The vineyard name, "Double L," is in honor of the Morgan's twin daughters and stands for "Double Luck."
2017 Morgan Double L Vineyard Clone RC Santa Lucia Highlands Pinot Noir
14.0% alc., 100 cases, $65. Cuttings from a famous vineyard in Burgundy were grafted onto a small block of vines at the top of the estate Double L Vineyard. These organic grapes were 100% de-stemmed. Native yeast fermentation and aging for 11 months in French oak barrels, 45% new. · Light ruby red color in the glass. Bright aromas of cherry, spice and sous-bois. Light to mid weight in concentration and elegant in style, with flavors of red cherry, raspberry and cranberry with an accent of spice and botanical goodness. A dreamy, feminine wine with terrific balance and oak management that aims to please out of the chute. Reviewed March 23, 2019. Score: 94
2018 Morgan Double L Vineyard Santa Lucia Highlands Pinot Noir
14.2% alc., $. Crafted from organic grapes. · Moderately light garnet color in the glass. The nose attracts with effusive aromas of black cherry, blackberry, spice, and dark red rose petal. Unctuous purple and black berry flavors are delivered in a beautifully balanced format. Everything is in proper place an d the long, haunting, purple berry driven finish is very special. Still stellar when tasted the following day from a previously opened bottle predicting a long life ahead. Score: 95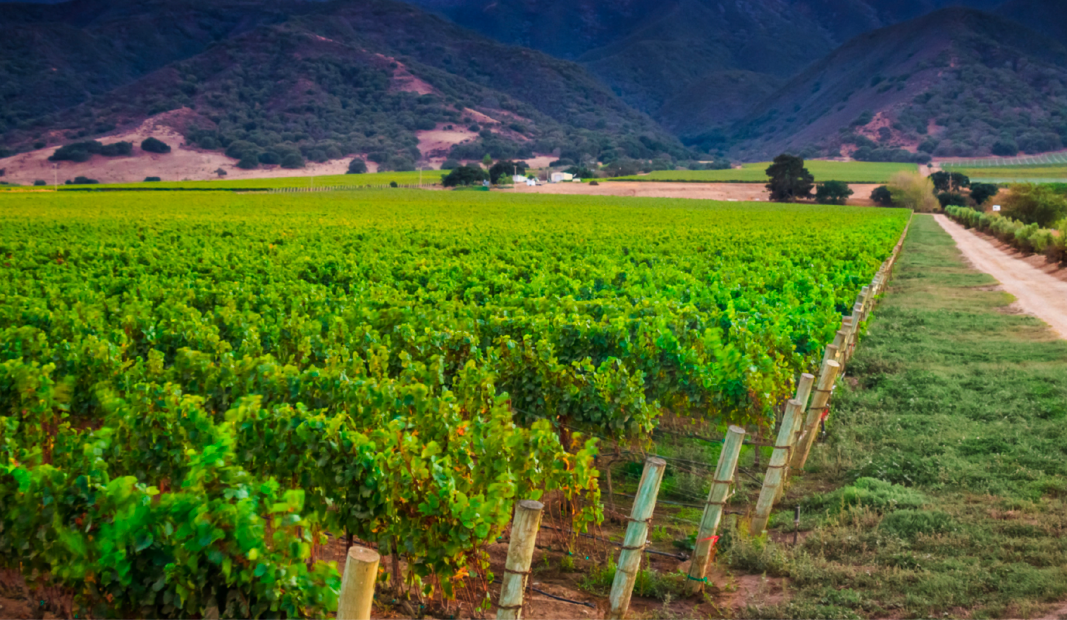 More reviews: www.princeofpinot.com/vineyard/858/
Pisoni Estate Vineyard
Owners: Pisoni family whose patriarch is Gary Pisoni
Acres: 40.61 acres - 34.27 acres of Pinot Noir, 4.54 acres of Chardonnay and 1.80 acres of Syrah
Years planted:
Old Block: 1982 and 2011, original planting of 5 acres of own-rooted Pisoni scion; 2 acres of newer plantings on 5C rootstock using budwood from original vines.
Big Block: 1991, 16.80 acres of Pisoni scion
Tina Block: 1995, 1.20 acres of Pisoni scion
Piedras Block: 1995, 2.50 acres of Pisoni scion
Hermanos Block: 1995, 5.00 acres of Pisoni scion
Elias Block: 1995 and 2015, 5.00 acres of Pisoni scion
New Block: 1996, 1.66 acres of Pisoni scion
Lion Block (Susan's Hill): 2006, 1.80 acres of Pisoni scion
Mommy Block: 2022, 3.50 acres of Pisoni scion
Mario Block: 1999 2.88 acres of own-rooted Old Wente Chardonnay
Lino Block: 2001, 1.80 acres of Syrah
New Block: 2011, 1.66 acres of suitcase and Old Wente own-rooted Chardonnay
Location: Northeastern corner of the Santa Lucia Highlands AVA (a Gonzales mailing address)
Aspect: Rugged mountainous contours at 1,300 feet elevation overlooking the Salinas Valley to the east. Southeast exposure to the regular sun. Significant cooling maritime influence including fog. One of the highest elevation vineyards in the Santa Lucia Highlands AVA. Pinot Noir scions: Rumored to be suitcase cuttings from a famous Domaine in Vosne-Romanée (? La Tache) and now referred to as the Pisoni selection or 'clone.'
Soil: Well-draining, decomposed granite with high amounts of schist and quartz as well as sandy loam and gravelly loam. The soils are really poor.
Vines: Orientation is true north. Trellising is unilateral cordon, VSP. Old Block: 5' x 12' spacing, 5C rootstock (newer plantings); Big Block: 5' x 10' spacing, SO4 rootstock; Tina Block: 5' x 10' spacing, 1103P rootstock; Piedras Block: 5' x 8' spacing, own-rooted; Hermanos Block: 5' x 8' spacing SO4 rootstock; Elias Block: 5' x 8' spacing on SO4 rootstock; New Block: 4' x 7' spacing on various rootstocks; Lino Block: 4' x 7' spacing on 1103P rootstock; Mommy Block to be planted in 2022.
Farming: Certified sustainably farmed by Gary's son, Mark Pisoni. Vineyard management is meticulous, even fanatical. typically, farming goes far beyond the baseline requirements for sustainability and many organic practices are in place. Irrigation is necessary as annual rainfall is about 8-12 inches that is much less than regions that do not irrigate. Irrigation rates are adjusted by various inputs such as soil actions (cover crop, spading, etc), weather and vine data, soil moisture probes, and visual signs from the vines. A year-round and long-term team of employees care for each and every vine by hand.
Winery clients: A single wine is offered by the Pisoni family from Pisoni Estate: Pisoni Pisoni Estate Pinot Noir. Pinot Noir clients have included Peter Michael (labeled as 'Le Moulin Rouge'), Paul Lato, Testarossa, Kosta Browne, Tantara, Arcadian, Bernardus, Miura, Patz 7 Hall, Capiaux Cellars, and ROAR. Some Pinot Noir grapes are blended with Garys' and Soberanes vineyards fruit in the Lucia Santa Lucia Highlands bottling produced by the Pisoni family. A Pisoni Pisoni Estate Chardonnay is produced from vines that include the initial plantings dating to 1982 and 1999. The winemaker for the Pisoni Estate wines is Gary's son Mark Pisoni. The inaugural Estate Pinot Noir was released in 1998 and Estate Chardonnay in 2010. I believe Paul Lato is the sole independent recipient of Pisoni Chardonnay grapes.
Comments: Mark Pisoni Talks Santa Lucia Highlands Wine: www.thewinewrite.com.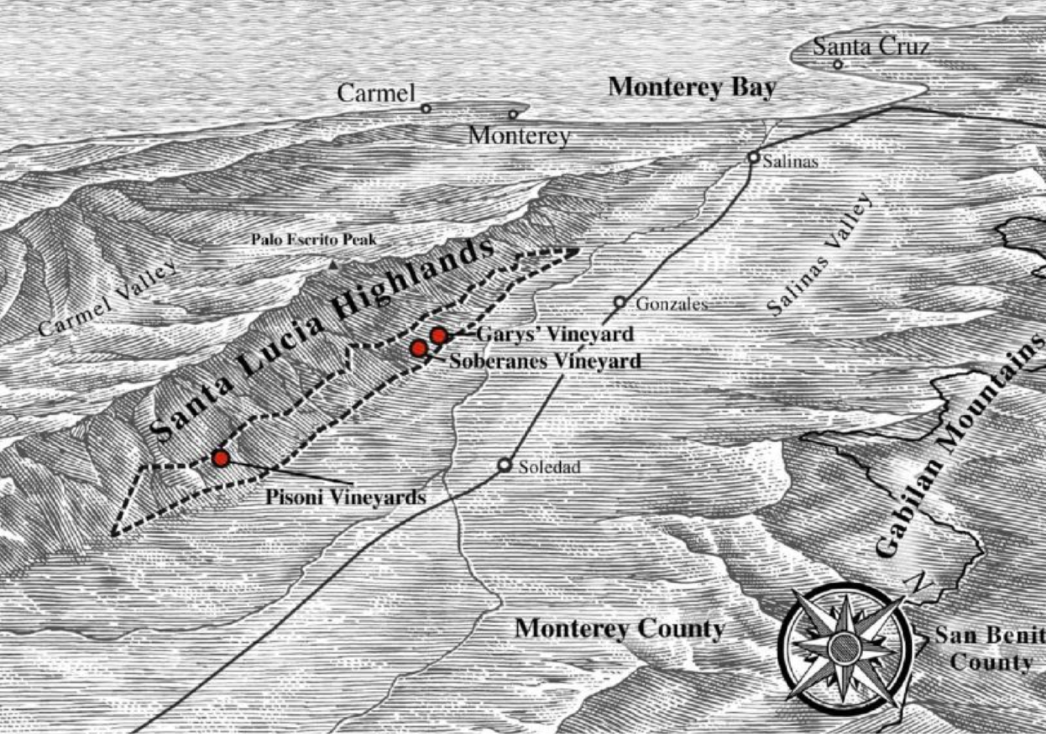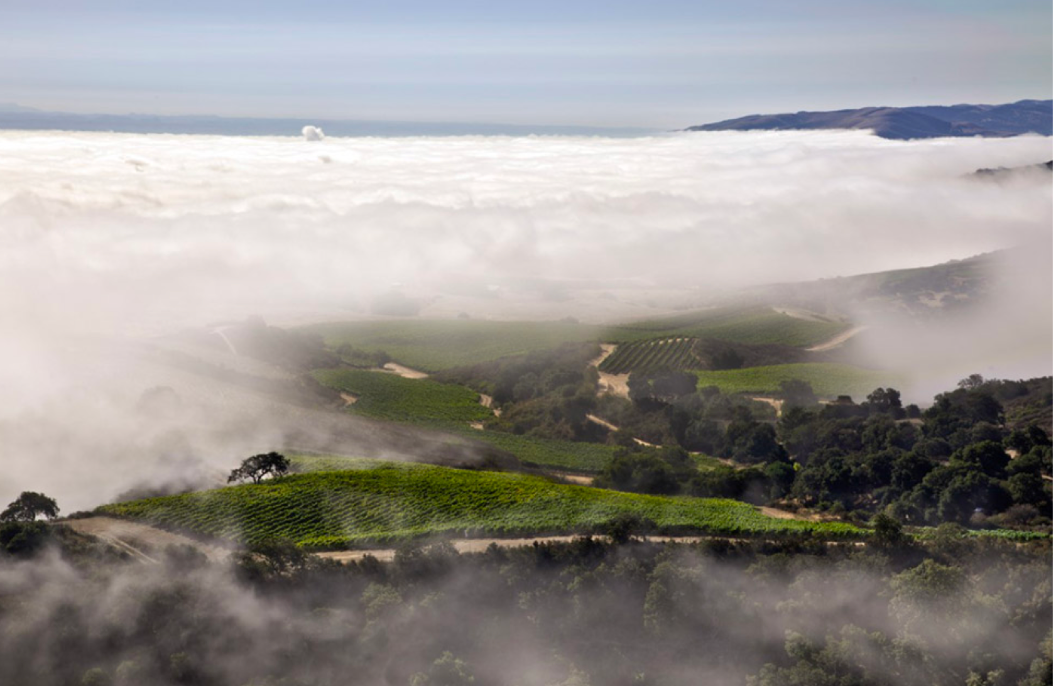 More reviews: www.princeofpinot.com/vineyard/238/. I have reviewed every vintage of Pisoni Estate Pinot Noir from 2004-2018
Tondré Grapefield
Owners: Father Tondré and son Joe Alarid
Acres: 104 - 81 acres of Pinot Noir, 18 acres of Chardonnay, 3 acres of Riesling, and 2 acres of Syrah
Years planted: The original planting of 6.5 acres was in 1997.
Location: In the center of the Santa Lucia Highlands AVA on its eastern border just to the south of Garys' Vineyard
Aspect: Southeast-facing slopes at 300'-400' elevation. Strong maritime influence from Monterey Bay.
Pinot Noir scions: Pommard 4, Dijon 115, 667, 777, 943, and faux 828, and Swan selection
Soils: Ancient glacial soils consisting of decomposed granite, gravelly and sandy loam.
Farming: SIP Certified sustainable. Meticulous farming by Joe Alarid who has garnered a reputation as one of the region's best growers. The focus is on efficient canopy management encompassing leaf pulling, strategic water application and nutrient balancing.
Winery clients: Tondré Wines was started by Joe and his wife Penny in 2005. The winemaker is Anthony Craig who also crafts Tondré vineyard Pinot Noir for his own Sonnet label and the Silver Mountain label. Tondré wines are on the wine lists of many of California's most notable restaurants. Other winery clients have included Bernardus Vineyards & Winery, Cima Collina, Coterie Cellars, David Bruce Winery, La Rochelle Winery, Morgan, Wrath, Testarossa, Joyce, Truckee River Winery, Sarah's Vineyard, Ser Winery, and Typicité Wines.
Comments: Over the years, I have drunk several vintages of Sonnet Tondré Grapefield Pinot Noir and the wines were both superb and reasonably priced (but not well-marketed). One can find some vintages of Sonnet and Silver Mountain Tondré Grapefield Pinot Noir through the Silver Mountain Vineyards website and tasting room. Tondré Wines Pinot Noir is sold through a number of California wine retailers.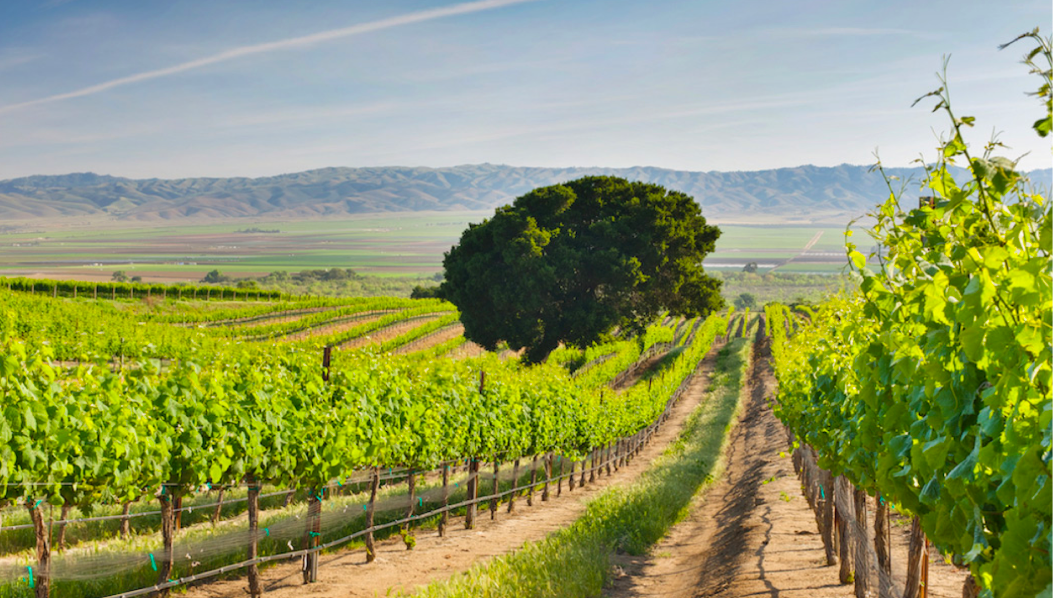 More reviews: www.princeofpinot.com/vineyard/86/