My Week With Jim Clendenen by Zack Eidson
"When the history books are written documenting the history of California winemaking, Jim Clendenen should have a major chapter dedicated to his legacy."
It is rare that I include a feature in the PinotFile written by other contributors. This timely tale of personal experience with Jim Clendenen seemed highly appropriate given his recent passing and the several special vineyards featured in this issue that were sources of Jim's wines.
Zack Eidson is the general manager of MetroWines in Asheville, North Carolina. He entered a contest a few years ago to win a week at harvest with Jim and won. This was such a special experience he wanted to share it with my readers. I was honored that he chose the PinotFile.
Zack has been often reminiscing about the time he spent with Jim in September 2012. The harvest was one of the most abundant in recent years and extra hands on deck were welcomed and appreciated. It also turned out to be one of the memorable weeks of Zack's life. Here is his experience in his own words.
Part 1
The wine world has lost a true legend. Jim Clendenen, a pioneer in his industry is gone but he will never be forgotten because he has left a tasting impression on generations of winemakers and wine professionals. In the international wine industry, being "old school" is considered hip in Italy, France, and Greece, yet being old school in California is considered passé. This may have to do with how young the California wine scene is in comparison to some countries whose wine history dates back to 6,000 BC. Jim was considered old school and wore that badge proudly. I considered his philosophies timeless. He championed the notion of enjoying a glass of wine with lunch without getting drunk. During his career, he focused on making lower alcohol wines that were balanced and were a better accompaniment with food. Food and wine were his passion in life and this evident to me within 5 minutes of our meeting.
In the 39 years of making Au Bon Climat wines, Jim never changed his wine labels. I thought that they reflected his personal uniqueness. Many considered these labels old school and dated. But I considered them timeless.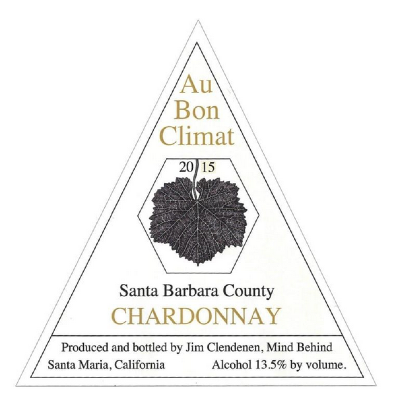 Chapter 1: The Contest
I worked for a wine distributor in Cincinnati, Ohio, that sold Au Bon Climat and Clendenen Family Vineyard wines throughout the state of Ohio. Jim agreed to host one of my company's sales representatives. I was relatively inexperienced as a sales representative so I assumed that a sales competition to win a trip to Santa Maria, California, would not be in the cards.
When it was announced that the contest would be based on an essay to Jim answering the question, "Why should I choose you?" I wrote an essay that expressed a passionate plea yet was humble, heartfelt, and honest. I accompanied my essay with a video that showed testimonials from my customers. I believe I was the only one that did the essay and testimonial video production.
Chapter 2: The Ranch
In late September 2012, I packed my bags and flew to Los Angeles. I rented a car and drove north along beautiful Highway 101. My first stop was at Bien Nacido Vineyard where Jim's winery and compound were located. I was directed to Jim's ranch where my quarters would be during my stint working harvest at Au Bon Climat. I was immediately taken by the views and the amazing guest house Jim had constructed. I still remember the scent of leather and wood that reminded me of cabins I stayed in as a kid in the mountains of Colorado.
I spent the week in my new home drinking with new friends, resting my aching body from working the crush, cooking vegetables from the garden, staying up too late playing the drums and listening to techno music with a budding winemaker Frenchman, while making wine in a closet and meeting a future business mentor.
Part 2
Chapter 3: Harvest
On the first day working harvest, I awoke early to the sound of cannon fire. Surrounded by vineyards, I quickly realized that this was the winegrowers' way of keeping birds away. Evidently, waxwings really enjoy their Chardonnay.
I arrived at the winery early in the morning and was immediately put to work doing punch-downs and pumpovers on red wine. Jim wanted punch-downs twice a day, once in the morning and once before everyone left for the day. This process happened every day during fermentation which lasted 14 days. I quickly learned to look for the open-top tanks closer to the end of fermentation because they were easier to punch down.
A pump-over was done towards the beginning and the end of fermentation. The juice was pumped from under the cap to the top of the cap to stir it up. I loved this part of my job because I could sit and enjoy the views while I was working hard stirring hundreds of gallons of wine. I used a large PVC pipe with slits cut in it to allow the wine into the pipe but not the skins. The juice in the pipe was pumped through a gas-powered pump and out the hose on top of the cap (see photo below).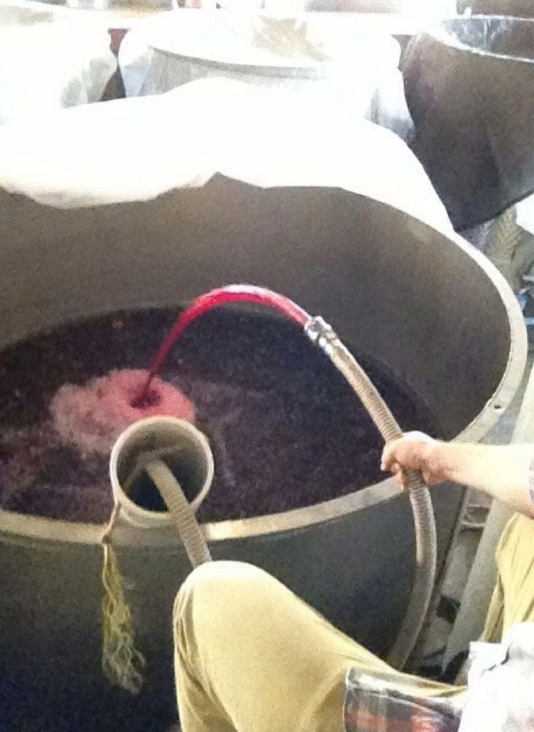 I also worked on the de-stemmer, the first location that red wine grapes are dropped off after harvest in the vineyards. After the stems were removed from the grapes, the juice was pumped into tanks to start the fermentation. Human interaction was necessary to manage the stems the machine was spitting out and to regulate the pump to keep the flow going.
It did not take long for met ask, "When do we stomp the grapes?" This process at Au Bon Climat is mainly used to fit as many grapes as possible into the large industrial press.
During all the excitement, Jim was always at the stove prepping lunch for the staff. He would cook every day for about twenty people. His meals were fantastic and the wine he opened to accompany the food was unbelievable. Jim would pull about ten bottles from the winery's cellar and the wines were passed around for the 1-2 hour lunch break.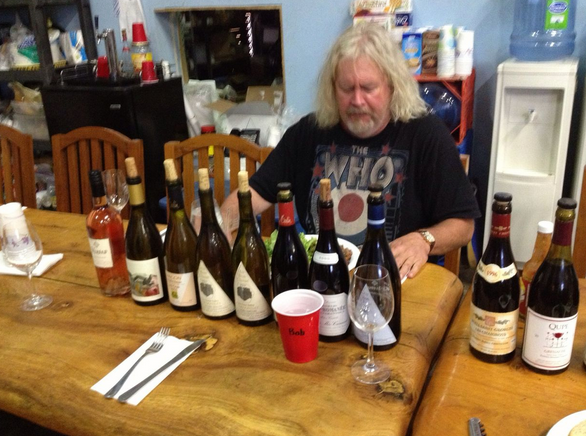 An interesting part of working harvest was checking grape ripeness levels in order to determine the optimum time to pick. That decision was primarily determined in the lab, but I went out with Jim and together we randomly selected clusters as we walked down the vineyard rows. We picked a bucket full of clusters and took them back to the lab. I crushed the grapes in the bucket and then the enologist checked the acidity levels as well as Brix (sugar) levels.
Working harvest was an eye-opening experience. Although it was very labor-intensive, it was rewarding. At one point I joked to Jim that his contest was a fraud and he developed the contest only to obtain free labor. He laughed and said, This is an education son," and then turned to me and remarked, "Time to clean the tanks."
Chapter 4: The Frenchman and the Budding Winemaker
At the end of each day, I was exhausted. Everything hurt. Finished wine is elegant and glamorous, but the amount of effort and labor put into its production is far from it. I should have gone back to my quarters at the ranch and rested each night to recharge for the following day, but for fear of missing out I partied with the Frenchman and the budding winemaker every night. These two gentlemen, Theo and Marc, were staying at the guest house at the ranch and were interning at Au Bon Climat. The Frenchman's father was a winemaker in Macon, France, while Marc was a California surfer dude learning to make wine with a legend. To my knowledge, Marc never left the compound at Au Bon Climat and now makes his wine under the Piro label.
Every night before leaving, Jim let us pick wines from the winery's cellar. It did not matter if the wines were 15, 20 or 30 years old. These were some of the best wines that I had ever tasted. We scrounged for food in the evenings, played the drum set at the ranch, and lasted to about midnight before heading off to bed. I found out that midnight is when the French start blasting techno music before winding down an hour later.
A the end of my trip, both Theo and Marc felt like brothers. I spent every minute with them except for part of the week when I stayed at Jim's house and hung with him for a few days. Theo Merlin is pictured below.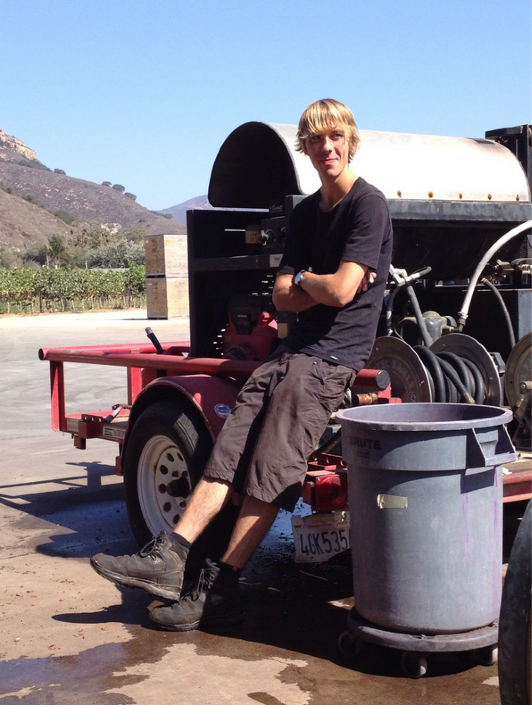 Part 3
Chapter 5: Divine Intervention
Prior to my trip, I was at a crossroads in my life. Happily married, I was on a mission to pursue a wine career. Back home in Cincinnati, I was peddling wines to wine shops and restaurants with a burning desire to open my own wine shop. I was on the fence because I liked the sales job I had because it allowed me to take trips to California and meet industry leaders.
One day during my week, I was awarded a day of rest one and I decided to spend the time at Jim's ranch. I wanted to take advantage of the amazing views (see photo below) and take advantage of the garden, so I made myself at home. I found some dry pasta, picked some tomatoes and basil, and made one of the best pasta dishes I had ever eaten. I had never experienced fresh California tomatoes before. While I was enjoying the pasta, a random guy walked into the ranch.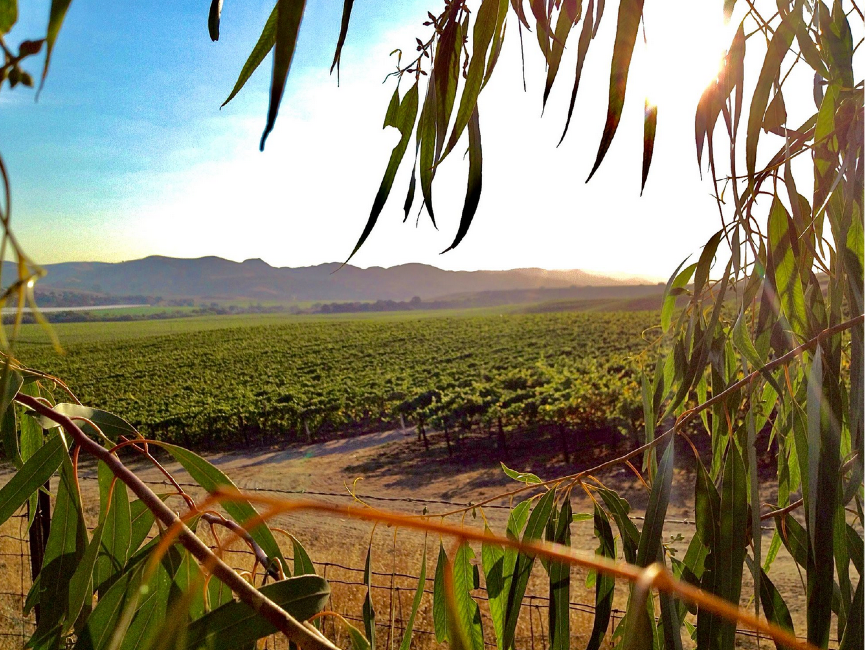 I was somewhat alarmed but soon learned the guy, whose name was John, was a wine store proprietor from Vancouver, Washington, dropping in to say hello to Jim who was an old friend. Shortly after we met, I received a phone call from Jim telling me I would have a roommate for the night.
That night, John and I chatted for a while, and I picked his brain about opening a wine store. His insight, experience, and motivation are ultimately what led me to take the leap and open a wine store of my own. That day and chance meeting felt like divine intervention. My mind was made up and I knew what I wanted to do.
Within a few months of my return from California, I quit my job, moonlighted as a bartender, and prepped and curated my own wine shop during the day. The shop ultimately opened in March 2013. Years later, I would still reach out frequently to John, asking for advice about running a retail wine store.
Chapter 6: Brumbies at the Guest House
One day while working harvest, Jim said, "Grab your stuff, you are coming home with me." Jim's home was about a 20-minute drive from the winery and separate from the guest ranch. At this time, I had no idea what he had planned. He showed me the guest house near his pool and hot tub area. When I went to take a shower, I found spider webs galore. It seemed like no one had stayed there for years. There wasn't any toilet paper, soap, or towels. I had not come prepared since he plucked me from harvest at the winery earlier. I went ahead and showered to freshen up.
I met Jim in his house for a glass of wine and some cheese. When he went to the stove to begin cooking, I snuck into the bathroom to steal some toilet paper and soap. His clothes were splayed all over the bathroom. This legend was a human, after all, living the life of a bachelor. I sat down to eat one of the best meals of my life. Jim cooked me a 5-course meal with wine pairings for each course. I felt very special, and thoroughly enjoyed my chat with him late into the night. At the end of the meal, he said, "Well, I am headed to the hot tub and you are welcome to join me." I declined and went off to bed in the bare guest house.
I the middle of the night, I was awakened to a sound like a horse snorting outside the window. Soon it sounded like multiple wild animals walking around in the gravel driveway next to the guest house and soon the sounds led to the roof. I was both disturbed and scared. I laid there for what seemed like hours to what seemed to be a gathering of brumbies (wild horses) outside my window. When I woke up at dawn, I went outside but found no sign of animal tracks. It all seemed so bizarre. I was embarrassed to tell Jim, so I asked a few questions about the wildlife in the area and he assured me that there were not any wild horses running around. I said, "Jim, I think your guest house is haunted." He remarked with a laugh, "You are not the first to say that."
Chapter 7: The Dinner
We headed off to downtown Santa Barbara and went straight to the farmer's market. He collected some vegetables and many other supplies that seemed destined for a large meal. After returning to his car, he said, "Want to taste the best tacos you will ever have in your life?" We drove a few blocks until we came to a long line at a small corner restaurant named La Super-Rica Tacqueria. We grabbed a few Bohemia beers and stuffed our faces with fresh tacos. Jim told me that this was one of Julia Child's favorite restaurants. He said he had brought many famous people to this very spot, including Mario Batali and Emeril Lagasse. I lifted my Bohemia to cheer him and he shouted, "And Zach Eidson."
At lunch, Jim asked me if I would be a guest sommelier for a charity dinner he was hosting that evening that was $1,000 a plate. Of course, I agreed. The dinner was prepared by Jim and Frank Ostini of the Hitching Post restaurant. Over ten bottles of magnums and double magnums were opened. Oh yeah, Gary Pisoni and Christina Aguilera were on the guest list. Apparently, Aguilera is a big fan of Jim's wines. The photo below, L to R, Jim, Zack, and Frank.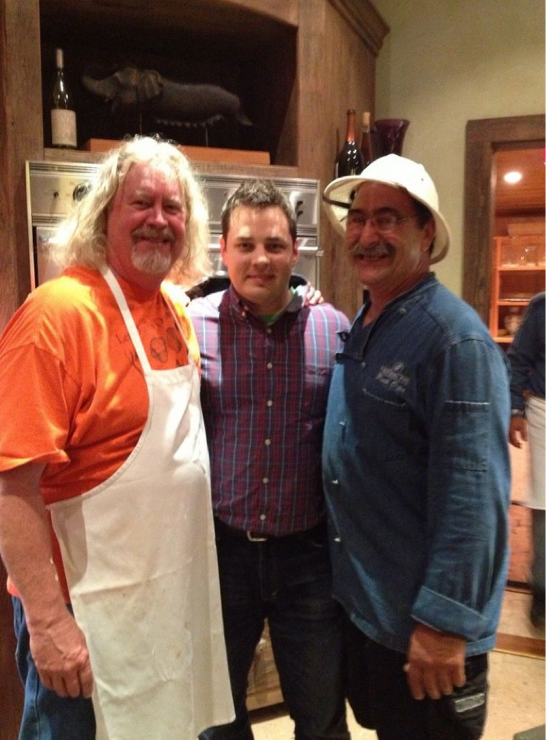 Once all of the guests had arrived, I several familiar faces except Christina. Jim said her son was ill and wasn't able to attend. to this day, I don't know if Jim was being honest or pulling on his pranks on me. Almost every one of the 30+ guests brought a magnum or double magnum of wine. Jim brought some magnums out of his cellar. As the night wore on, Jim proved to be an adept host, telling jokes and stories late into the evening. This was a night I will never forget and I wasn't even on the guest list.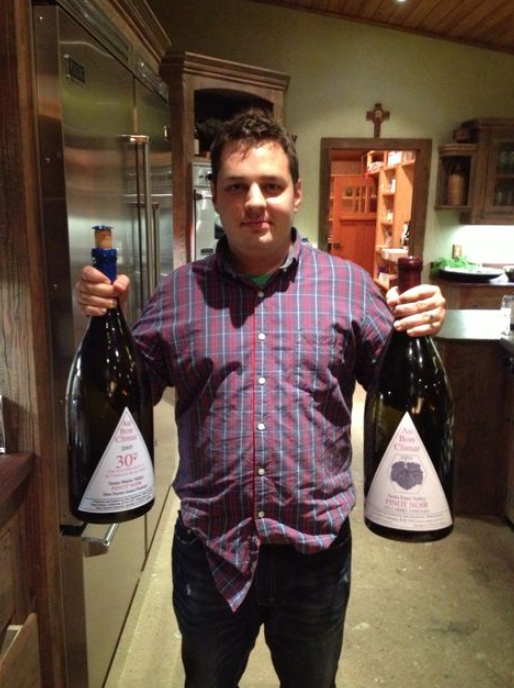 Chapter 8: Postscript
Years later, I heard that when Jim spoke of me, he would say, "Oh yeah, great kid, very humble."
Many consider Jim the godfather of Santa Barbara wines. He was a mentor to numerous winemakers. The noted critic, Robert Parker, Jr., named Au Bon Climat one of the top ten wineries in the world in the 1990s. Yes, I was humble. Most people are humble in the presence of such brilliance. Not knowing what lies ahead for Au Bon Climat, I am going to cherish every sip of Au Bon Climat wine I can get my hands on as I reminisce about one of the best weeks of my career. Thank you for the memories, Jim. You will forever be "The Mind Behind."
Zack Eidson's Metro Wines has been voted the #1 wine shop in Asheville for seven straight years, and has been mentioned in both the Wall Street Journal and Wine Enthusiast. Visit www.metrowinesasheville.com.
Many are left with memorable experiences with Jim Clendenen and his wines, I leave you with this parting appropriate photo.