Pieces of Jewell Arroyo Grande Valley Pinot Noir
This is a celebrity Pinot Noir worthy of special mention not only because it is a tribute to well-known, four-time Grammy Nominated singer-songwriter, musician, and author Jewell, but because it is an exceptionally good wine offered in a beautiful package.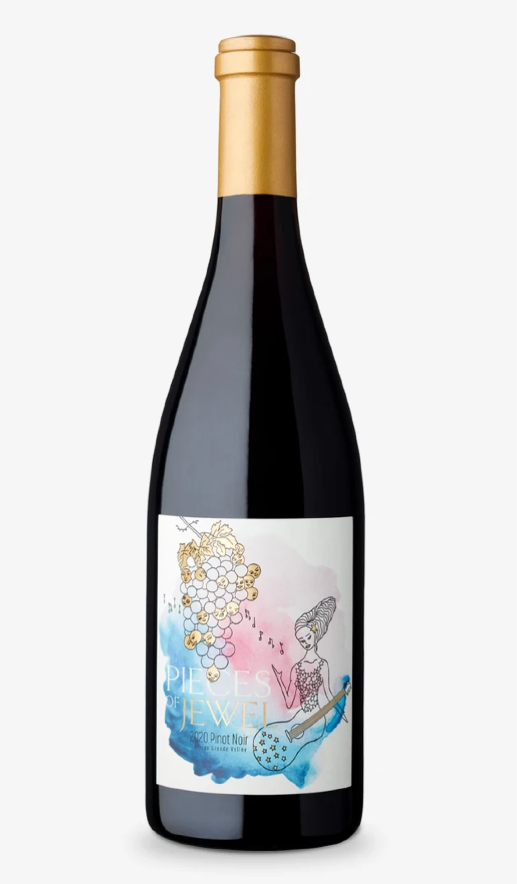 The story behind the wine is of interest. Eden Estate Wines, located just west of Saratoga in the Santa Cruz Mountains, is owned by John Couch. He is a highly regarded pioneering software engineer in Silicon Valley who is one of the top executives at Apple. His Italian heritage led him to embrace Cabernet Sauvignon wines enough that he purchased land at the base of Mt. Eden, established a vineyard and built a winery to focus on that varietal.
The 2020 Pieces of Jewell Pinot Noir grew out of Couch's friendship with Jewell and collaboration with Bill Brosseau. Bill is the talented Director of Winemaking at Testarossa Winery where he has crafted Pinot Noir wines that been highly touted recently in the PinotFile. He has overseen the production of this wine as well.
This inaugural release is sourced from the famed Rincon Vineyard owned by Talley Vineyards in the Arroyo Grande Valley. Rincon Vineyard was originally planted in 1982 but modern additions have continued. Currently, the vineyard consists of 38 acres of Pinot Noir planted to Wädenswil 2A and Dijon 115, 667 and 777 clones. The older Wädenswil plantings are on their own roots, while more recent plantings of Dijon clones in 2001 are planted on resistant rootstock. Soils are shallow loam and calcareous clay similar to the soils found in the Côte de Nuits of Burgundy. Through the years, the vineyard has buoyed legendary wines from Talley Vineyards and other premium wineries including Testarossa.
Jewell was the designer of the attractive label with each berry representing her various moods or states of mind. The wine is devoted to Jewell's success in overcoming years of challenges revealed in her book, Never Broken, and her foundation for inspiring children. The Inspiring Children Foundation powers the non-profit "Jewell Never Broken Program," offering at-risk youth and families in providing housing, mental health counseling, and basic essentials such as food and clothing. Visit www.inspiringchildren.org and www.jewellneverbroken.com.
This special Pinot Noir is available for sale on the Eden Estate website at www.edenestatewines.com. This wine will make a very welcome Christmas gift to loved ones.
2020 Pieces of Jewell Arroyo Grande Valley Pinot Noir
14.2% alc., $50. Produced and bottled by Eden Estate Wines LLC, Saratoga, CA. · Moderate garnet color in the glass. Beautifully perfumed with aromas of cherry reduction, spice and a hint of burnt tobacco. Light to mid-weight in style, with a gracious and refreshing core of black cherry, dark red berry, and spice flavors framed by redeeming acidity, a compliment of oak, and an earthy tone. Comforting and easy to cozy up to initially but considerably more enjoyable on day one and two after opening. A very young wine with plenty of promise and most certainly will be deserving of a higher score after 6-12 months in the cellar. A "jewel" of a Pinot Noir. Score: 93