Briefs of Interest —Newsletter 12.24
2021 Harvest Reduced in Size but of High Quality After a disastrous 2020, it was a welcome relief for vintners that 2021 was relatively uneventful and therefore a cause of celebration for the expected high quality of the resulting wines statewide. Quantities will be somewhat limited and the reduced 2020 harvest tonnage (a 20-year low) due to wildfires means there will be less wine to go around. Finding labor to harvest the crop in 2021 had its challenges even though workers could make more than $30 per hour. this has led more growers to turn to mechanical harvesting and it is now estimated that 90% of the wine grapes in California are picked by machines (excluding Pinot Noir!). The full 2021 Harvest Report is available t www.wineinstitute.org.
Role of Biogenic Amines in Wine Intolerance Studied New Zealand Master of Wine Sophia Parker-Thomson recently published a research paper exploring the role of biogenic amines (BAs) in winemaking, and the use of sulfur dioxide in winemaking to mitigate that issue. She concluded that addressing levels of BA could lead to some people re-engaging with wine (10% suffer wine intolerance) and argues for establishing a low BA category for wine. She believes wines with high BA levels should carry a warning. BAs are produced by lactic acid bacteria and typically cause headaches, nausea, rashes, and flushing. BA levels are highest in wines with zero and low sulfur dioxide regimes. A small addition of sulfur dioxide added to grape juice before alcoholic fermentation can make an environment that is hostile to lactic acid bacteria that produce BAs and normal winemaking techniques can then proceed. Sophia's research is important as it indicates that sulfites are a solution to wine sensitivity, rather than a source. Visit www.ruralnewsgroup.co.nz.
Moderate Drinking in Older People Protective Against Heart Disease A Monash University study published in the European Journal of Preventive Cardiology is the first to study the risk of cardiovascular (CVD) events and mortality, from all causes, associated with alcohol consumption in initially healthy, older individuals. The study analyzed data for 18,000 Australian and American adults mostly aged 70 years and older. The participants were followed for an average of 4.7 years and found that there was a reduced risk of CVD events as well as a reduced risk of mortality for those consuming alcohol in moderation compared to abstainers, regardless of gender.
Winegrower, Vintner and Attorney John M. Peterson, Jr, Passed Away John was the owner of Peterson and Cortada Alta Vineyards in the Santa Lucia Highlands and Mansfield-Dunne Wines. He died on October 7, 2021, after a battle with cancer. Multiple wineries, including August West, Calera, Luli Wines, Loring Wine Co, Morgan, Samuel Louis Smith, Testarossa, Windy Oaks, and Wrath purchased grapes from Cortada Alta and Peterson Vineyards. Mansfield-Dunne Pinot Noir and Chardonnay were crafted by noted winemaker Ed Kurtzman. I reviewed a number of vintages (2011-2018) of Mansfield-Dunne wines: www.princeofpinot.com/winery/2188/. Regrettably, I never met John in person but communicated with him by email on a number of occasions.
California Represents a Huge Challenge for Oregon Wine David Adelsheim considers the 'colonization' of Oregon, particularly the Willamette Valley, by California, to be a huge challenge to the future of the Oregon wine industry. He recently commented. Currently, about a quarter of Oregon grapes go to California to be made into wine. This is often done at low overhead, large capacity facilities with low-cost Oregon grapes being turned into low-priced wines. This should be good for consumers, right? Well, not if the consumer wants an Oregon wine that tastes like what he or she has come to love. The California version doesn't need to follow Oregon's strict labeling regulations so a Pinot Noir can be 25% Syrah, or worse. This is way too complex an issue to get bogged down in details here. But, ultimately, the Willamette Valley wine industry was built on collaboration. Growers, winemakers, salespeople work together, not brand by brand, to raise the tide for all brands. The winemakers and salespeople at the California wineries do not collaborate with the industry people in Oregon. They can afford to work on their own and show us how to do it "correctly." Obviously, this is not meant to be a diatribe against every California winery making wine from Oregon grapes. Those who make their wine in Oregon, for example, are often very collaborative and seek to produce wines in the traditional Willamette Valley style.
Joseph Phelps Vineyards Introduces Proem The Proem Pinot Noir wines are singular expressions from the Joseph Phelps Freestone Estate on the western Sonoma Coast. Joseph Phelps Proem No. 1 and Proem No. 2 are from distinct blocks of the Freestone Estate. Winemaker Justin Ennis has an affinity for Swan, CAlera and clone 777 Pinot Noir. He especially likes the Swan clone fruit in block 212 of Pastorale Vineyard and the same can be said for the Calera clone in block 225 in the Quarter Moon Vineyard. During the 2018 harvest, two very distinctive lots were held separate, each fermented with a larger percentage of whole cluster and a longer barrel aging regime. 2018 Proem No. 1 Sonoma Coast Pinot Noir $225 and 2018 Proem No. 2 Sonoma Coast Pinot Noir $225. Visit www.josephphelps.com.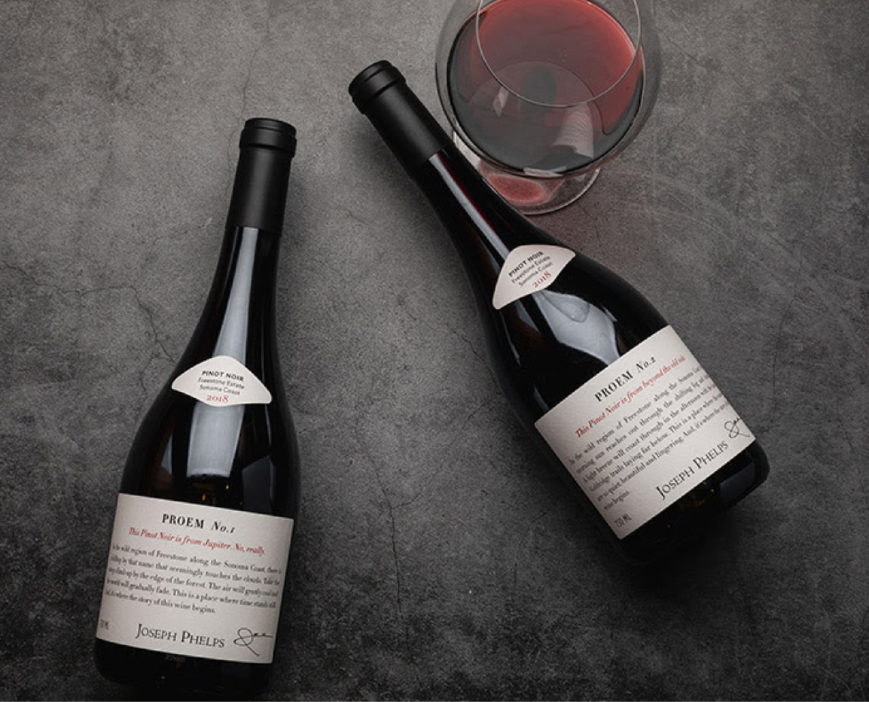 Palm Springs Pinotfest The second annual Palm Springs Pinot Noir Festival - A Passion 4 Pinot, will be held Saturday, January 8, 2022, at the JW Marriott Desert Springs Resort & Spa in Palm Desert. Readers of the PinotFile can use promo code PRINCE for $10 off an Early Entry or General Admission ticket. Visit www.palmspringspinotfest.com for a list of participating wineries and to acquire tickets.
Heavy Wine Bottles Receive Attention at COP26 As reported in The Washington Post (November 4, 2021), reducing the weight of wine bottles can reduce the wine's carbon footprint. At the recent COP26, there was a petition gaining traction for wineries to use lighter bottles. The petition was signed by Jancis Robinson who has campaigned against heavy wine bottles for years (so have I), The production and transportation of glass bottles makes the greatest contribution to wine's carbon footprint. Besides asking for wineries to include bottle weight on tech sheets, the petition calls for a campaign to recycle glass bottles. The petition also asks wine writers to include bottle weight in wine reviews so consumers know which wineries are using light bottles.
Focus on the Pinot Varieties Stan Grant, a viticulturist and member of Lodi Wine Growers has published an article focusing on the pinot varieties. This is a compact treatise on Pinot Noir and its permutations. "Pinot varieties have some traits that make them unique among winegrape varieties, while at the same time there is great variability within the Pinot family." Beautiful photographs. Read more at www.lodigrowers.com/variety-focus-pinot-varieties/.
Two New Wine Books of Interest Girly Drinks: A World History of Women and Alcohol. Written by Mallory O'Meara, a distinguished Los Angeles Times author, this is both a pleasurable and humorous feminist slant to the history of women and alcohol through time. Brittany Gibbons, New York Times bestselling suthor, exclaimed, "As if being a woman today isn't enough cause for a drink, O'Meara has compiled an addicting history of women and the alcohol that fills their glasses. This book left me positively inebriated with excitement about the underrated cultural footprint women have made in the world of alcohol. Cheers, ladies, this one's for you." On California: From Napa to Nebbiolo….Wine Tales from the Golden State. This is a collection of multiple essays on California's wine industry. Mike Veseth, the publisher of The Wine Economist, said, "The 39 essays and excerpts by 35 different authors hang together very well and make informative and enjoyable reading. The content connects the past and present with the emerging future. Well done!"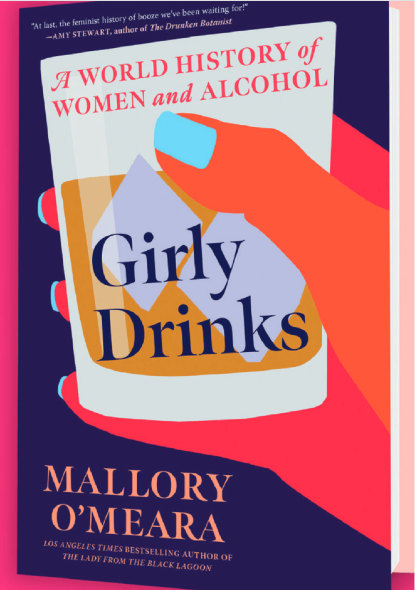 110-Year-Old Woman Says Red Wine is Secret to Her Longevity As reported at www.thedrinksbusiness.com, a 110-year-old woman credits red wine among her secrets to a long life. Eileen Ash said that doing yoga twice a week and enjoying a glass of red wine helped her live and long life, although the article did not say how often she drank a glass of red wine.
Vanessa Bryant Files Wine Trademarks The widow of NBA icon Kobe Bryant has filed four new trademark applications under the name Mamba Vino. The filings, made on November 5, indicate that Mamba Vino-branded wine might be on store shelves soon. The 4 new trademarks: MAMBA VINO 2024, MAMBA VINO 24, MOMBA VINO 8, and MAMBA VINO. The numbers pay tribute to Bryant's jersey numbers, 8 and 24, which have been retired by the Lakes.