Holdredge Wines: Small Production with High Quality

Holdredge Wines has been in business for 20 years in business almost coinciding with when the PinotFile was launched. This winery has not been on my radar until recently many notable wine publications rated their Pinot Noirs very highly. Some wineries have more a history to tell and the owners, John and Carri Holdredge, tell their story very well on their website at www.holdredge.com.
The small but inviting winery is located in an old red barn on Front Road in Healdsburg. The barn dates to the late 1800s when it was a winery owned by the French-American Tartar Works and initially run by Georges de la Tour. He departed from the French-American Tartar Works in 1900, purchased four acres of land in Rutherford that became the foundation for Beaulieu Vineyard.
The property then passed onto the Scatena Brothers Wine Company who moved to Grove Street in Healdsburg and was ultimately purchased by the Seghesio family. During Prohibition, the building was a fruit packing and cannery house. After Prohibition, it became the home of Prima Vista Winery, producing half-million gallons a year of mostly sweet wine. In the late 1930s, Prima Vista was sold to the huge Roma Wine Company, the largest of its time.
Roma evacuated the barn in the early 1960s and it became home to many other types of businesses. The Holdredges arrived in 2001, made a few improvements but John says, "Things are pretty much the same as they ever were." John points out that the historical connection is evident in the secondary fermentation that all occur naturally without any intervention due to a very active strain of lactic acid bacteria living in the barn left over from one of the past wineries.
John is a self-taught winemaker aided by friends. When the winery was launched in 2001, he and Carri planned to work with Zinfandel and Syrah. When winegrower Sara Lee Knude offered to sell John some Pinot Noir and now John works with fourteen different Pinot Noir vineyards and makes no Zinfandel or Syrah.
Carri leaves the winemaking to John, but with a superior palate, she is instrumental in giving the final approval to every Pinot Noir. She focuses on sales and the management of the winery.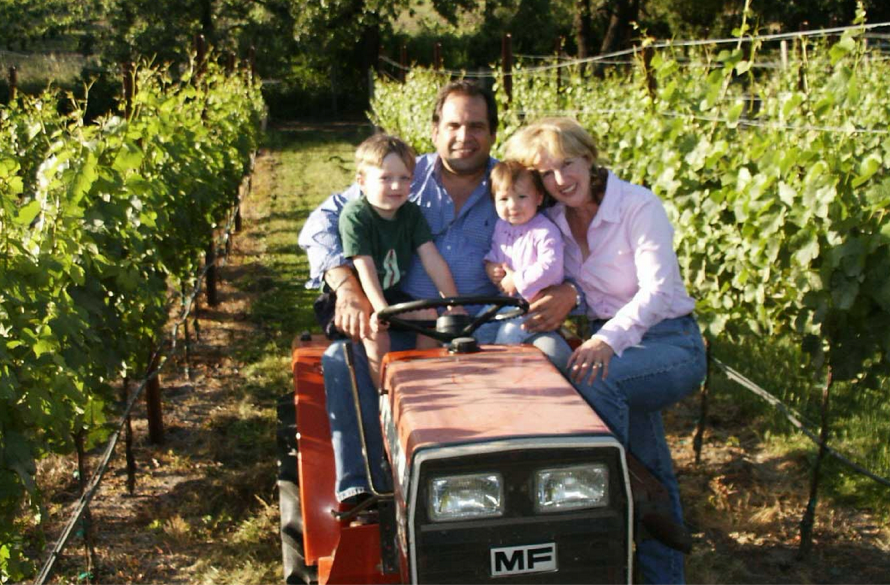 John summarizes his winemaking as follows: "To make Pinot is to always remember that Mother Nature is in charge and the only way to even begin to unravel the mysteries of the grape are to supplicate to her each year." He avoids addition to his wines and fermentations are always native (wild). Grapes are typically destemmed followed by a long cold soak pushed out to 7-10 days. Only the "free-run" juice from pressing is bottled. Only barrels from one cooper are used to allow for a singular flavor profile. The percentage of new oak is limited. Bottling proceeds within a year when the wines are never fined and only filtered when absolutely necessary.
Holdredge Pinot Noir labels are reminiscent of the album cover for "Layla" by Derek and the Dominoes with a woman's face, a glass of red wine and maybe the side profile of a handsome man with a large nose. Noted artist, Carri's father Tom O'Loughlin, provided the picture on the label.
The tasting room room is open by appointment. Look for the giant oak Adirondack styled chair out front built from an oak tree located adjacent the winery that fell down. Undoubtedly it is the largest Adirondack chair in the US. Visit www.holdredge.com.
Total production is 2,000 cases of Pinot Noir. Holdredge has been making wine from Rochioli Vineyard since 2012 and the wines have been of high quality consistently each year. A sampling of Holdredge Pinot Noir wines are reviewed below.
2018 Holdredge Rochioli Vineyard Russian River Valley Pinot Noir
14.4% alc., $70. · Moderately dark garnet color in the glass. Admirable purity of Bing cherry perfume with a hint of dark red rose petal and dark chocolate. Bold, yet discreet in a mid-weight plus style gifting a hearty charge of black cherry and cola flavor. Some, but not intrusive tannin is evident providing harmonious support to the rich fruit load. The extraordinarily long and generous finish seems to last an eternity. Built to age shown by the wine's excellence when re-tasted from an open bottle the following day. No mistaking the allure of Rochioli fruit which provided me with an early and and unusually gratuitous Xmas gift. Score: 95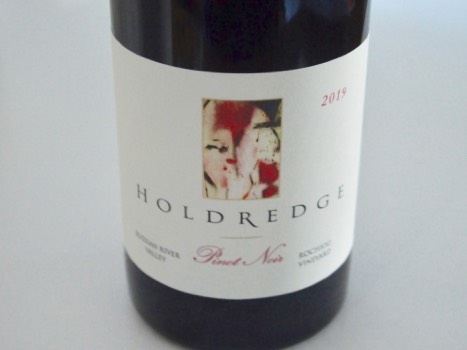 2019 Holdredge Rochioli Vineyard Russian River Valley Pinot Noir
14.4% alc.,124 cases, $70. Grapes are from a block off Sweetwater Springs Road known as the Sweetwater Block planted to Rochioli Vineyard West Block cuttings. · Moderate garnet color in the glass. The nose offers a Bing cherry jubilee that is pervasive. Perfectly balanced in a middleweight style with a satisfying core of black cherry, cola and spice flavors. Silken in texture with fully immersed oak and a persistent finish that leaves one fully satiated and reaching for another sip. Not quite the intensity of fruit and length of finish as the 2018 version of this wine, but still special in its own right. Score: 94
2018 Holdredge Three Sisters Vineyard Fort Ross-Seaview Pinot Noir
14.5% alc., 120 cases, $70. The vineyard sits at the top of the second ridge in from the Pacific Ocean at about 1,260 feet elevation. Located on Bohan-Dillon Road along with a handful of iconic Sonoma Cost vineyards including Marcassin, Seaview and Blue Slide. Soils are Josephine series residue of sedimentary and igneous rocks underlain with slate and shale. The grower is Lee Martinelli, Jr. and his wife Pam. · Moderate garnet color in the glass. Aromas of earthkissed black cherry, a hint of blackberry, spice and juniper. Light to mid-weight in style, offering a core of black cherry flavor with an underlying savory riff of tobacco and dried herbs. Refined and silky, with quenching acidity. Score: 92