Pinot Briefs —Newsletter 12.25
Fiddlestix Vineyard Sold The co-owner of the 94-acre Fiddlestix Vineyard for over two decades, Kathy Joseph has sold her vineyard to Justin Willett (Tyler Wines), Erik Mallea and Todd Gray (Willett-Mallea Farming) and William Borgers. The property was purchased in 1996, planted exclusively to Pinot Noir in 1998, and farmed by Kathy, Fiddlestix Vineyard, located in the Sta. Rita Hills AVA is one of the most esteemed Pinot Noir vineyard sites in Santa Barbara County. Known affectionately as the "Head Fiddle," Kathy now plans to focus solely on working with other growers by expanding her reach to make small-lot wines from new regions and sites at her Fiddlehead Cellars winery. Currently, Fiddlehead Cellars produces about 4,000 cases annually of Grüner Veltliner (more recently planted at Fiddlestix Vineyard), Sauvignon Blanc and Pinot Noir at her winery in Lompoc, CA. In July of 2018, Kathy celebrated the 30th anniversary of Fiddlehead Cellars. Pictured are Kathy and her spouse and co-owner of Fiddlestix Vineyard, Tom Doyle at the 30th-anniversary event (see www.princeofpinot.com/article/2099/).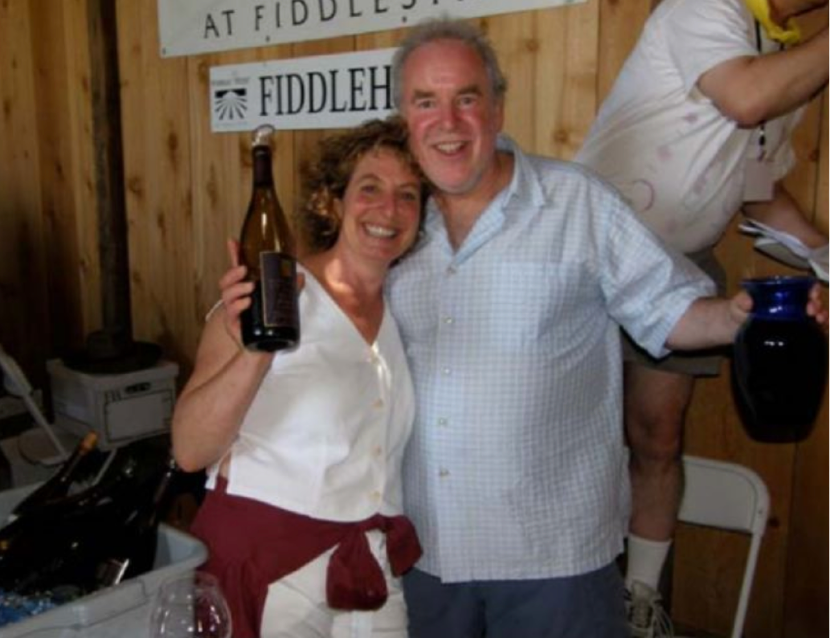 Chateau St. Jean Sold to Foley Family Wines Foley Family Wines has acquired Chateau St. Jean from Treasury Wine Estates. Founded in 1973 in Sonoma Valley, Chateau St. Jean is known as a pioneer in the production of single-vineyard Chardonnay wines from Sonoma County, as well as for its flagship Bordeaux blend, Cinq Cépages.
Read About Pinot Noir Master Ed Kurtzman With a resume that includes Bernardus, Chalone, Testarossa, Fort Ross, ROAR, Freeman, Mansfield-Dunne, August West and Sandler Wines, Ed is one of California's most esteemed Pinot Noir winemakers. Access the conversation with Ed at www.thewinewrite.com. Read more about Ed in the PinotFile at www.princeofpinot.com/article/1200/.
Vint Offers New Way to Invest in Wine This new investment platform assembles a collection of wines and individual investors buy shares in it for as little as $10 a share. Vint cellars the wines for several years and then sells the collection, distributing the returns to the investors. Vint hopes that the shares will increase in value as the wines become more valuable. The founders studied the data and found that wine has returned about 8.5% annually over the past 125 years. Each offering to investors is supported by a SECqualified circular. Visit www.vint.co.
The Demographics of Premium Wine Drinkers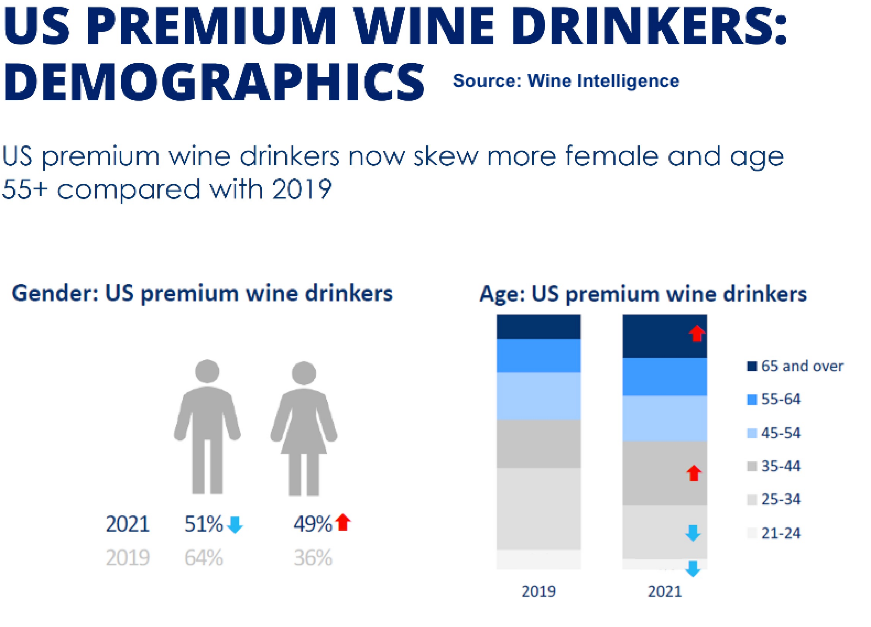 Cooper Mountain Vineyards Expands in the Willamette Valley This family-run Oregon winery has acquired both Chehalem Mountain Vineyard and ArborBrook Vineyard and tasting room. Cooper Mountain Vineyards, founded by Dr Robert Gross and his wife Corrine Gross, is the first certified biodynamic winery in the Pacific Northwest. The winery is now run by their daughter, Barbara Gross. Since its founding in 1978, Cooper Mountain vineyards has acquired a reputation for producing organic and biodynamic wines including Pinot Noir. The expansion will result in ownership of 325 acres of land with 200 acres planted to vines and 125 acres to remain natural forest. Cooper Mountain Vineyards will begin converting Chehalem Mountain Vineyard and ArborBrook's vineyard to organic and biodynamic in 2022. Chehalem Mountain Vineyard was the third vineyard planted in the Willamette Valley in 1969 by Oregon wine pioneer Dick Erath.