Neely Wines from Spring Ridge Vineyard
Neely (actually marketed as "neely") offers wines by the Neely family from Spring Ridge Vineyard in the Santa Cruz Mountains. The vineyard is located in Portola Valley and because of its location, is not open to the public. However, I was able to visit several years ago when the Varner brothers produced their lineup of Varner Pinot Noir and Chardonnay from this vineyard.
The Chardonnay vines were first planted in 1980 by the Varner brothers and the grapes are still harvested from three Chardonnay blocks that are now legendary: Home, Amphitheater, and Bee (see Chardonnay Smackdown in this issue). In 1995, the Neely family began stewarding the property and by the early 2000s, Pinot Noir had been planted in three blocks between 1997 and 2006: Hidden, Picnic and Upper Picnic. Hidden Block is 3 acres at Dijon 115 at 730'-690' elevation planted on sedimentary rock, Picnic Block is 2 acres planted to Dijon 777 at 645'-600' elevation, and Upper Picnic Block: 2 acres immediately above Picnic Block planted to 777 at 660'-645' elevation.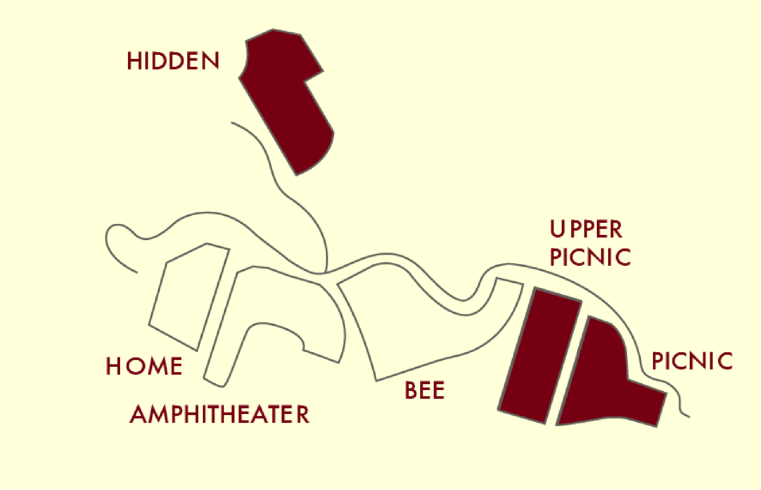 A small indoor-outdoor winery and cellar facility was completed in 2000 that initiating the era of estate winemaking.
Bob Varner retired from the property in 2015 and Shalini Sekhar became the winemaker. She has an impressive resume, having worked at Williams Selyem, Copain Custom Crush, Bluxome Street Winery, ROAR, and made wines for Furthermore and Waits-Mast.
Owners of Spring Ridge vineyard and Neely Wine are Dr Kirk Neely and Holly Myers. Visit www.neelywine.com for more information or to order wines. Stylistically, the Pinot Noirs in this vintage have been picked at lower Brix and are very demure. They will appeal to those who favor elegance over ripe-fruited power.
2019 neely Spring Ridge Vineyard Hidden Block Santa Cruz Mountains Pinot Noir
12.5% alc., 254 cases, $45. · Moderately light garnet color in the glass. Aromas of cranberry, vanillin and a floral lift. Relatively light in weight and elegant, offering a core of red berry flavor. Shallow on first sip, but picks up richness and length over time in the glass. Slightly underripe fruit character with a vegetal undertone. A good cut of acidity is featured on the modest finish. Score: 89
2019 neely Spring Ridge Vineyard Picnic Block Santa Cruz Mountains Pinot Noir
12.2% alc., 127 cases, $50. · Light garnet color in the glass. Nicely perfumed with aromas of earth-dusted red cherry, cola, and dark chocolate. Demure intensity on the palate but still delivers satisfying red cherry and cranberry fruit flavors. Nicely balanced, with gossamer tannins and invigorating acidity. Score: 91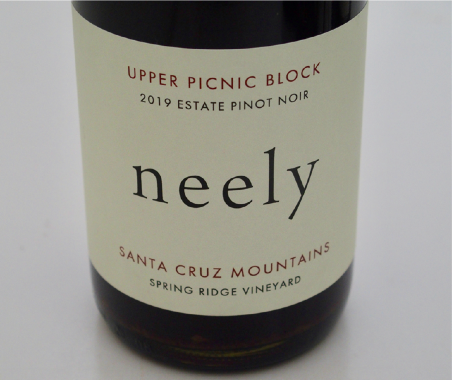 2019 neely Spring Ridge Vineyard Upper Picnic Block Santa Cruz Mountains Pinot Noir
12.7% alc., 350 cases, $50. · Light garnet color in the glass. Aromas of red cherry, strawberry and sandalwood lead off. Light to mid-weight in style and dark red fruited with no sign of under ripeness. Graceful, with silky tannins and some finishing length. Uplifting and seductive rather than hedonistic. Score: 93