Looking Back: Josh Jensen Spouts Off
The last issue of the PinotFile reported the recent passing of Josh Jensen, a California Pinot Noir legend. He came to winemaking after pursuing an education at Yale and Oxford and working harvests in Burgundy at both DRC and Domaine Dujac. He searched for limestone soils similar to those found in Burgundy and ended up in the Gabilan Mountains near Hollister in 1974. Jensen was the winemaker starting in 1978 for the early vintages of Pinot Noir from his Jensen, Reed, Selleck and Mills vineyards. Steve Doerner took over until leaving for Oregon and helping to establish Cristom Vineyards. in the early 1990s.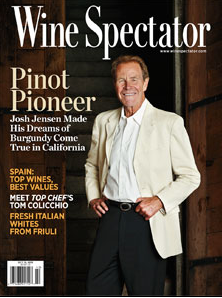 Jensen was widely admired for his unwavering commitment to producing wines that best reflected his terroir without any condescending nod to the expectations of the commercial wine press. It was not surprising, then, that he posted an inflammatory commentary that accompanied his 2004 Calera fall wine offering. In this, the 30th harvest for Calera, Jensen spoke out about the winemaking trends that dominate today's wines. Although this was 18 years ago, there still are truisms that hold today.
It is highly unusual for a winemaker to call out his perceived shortcoming of other's winemaking styles, but Jensen always defended his philosophy of growing and producing classic Burgundian-style wines from his unique vineyards. Some wine critics have considered Calera Pinot Noirs closest to the Burgundian idiom of all Pinot Noirs in California. The wines are shy upon release, with the best drinking window between 5 and 20 years after the vintage. Fortunately, Calera has always offered library wines so as to experience them at their best. Jensen's vision for the perfect Pinot Noir is one "that is perfectly balanced on the cusp of richness and complexity, of fruitiness and subtlety, and is neither one nor the other."
Jensen posted the following under the title, 'Blasters of the Universe, A Cautionary Tale.' "The trend that has occurred over the last 20 years is toward a style I will call Blaster-Smasher Pinots: exceptionally dark, cloying, overblown, sledgehammer wines that are unlike anything you could find in a wine shop 30 years ago. These present-day behemoths, which to me are cartoonish freaks, the Pamela Lee Andersons of the wine world, draw raves from all of the U.S. wine publications nowadays, and are avidly sought out by collectors, and therefore, by the wine trade. These Smasher-Blasters, often called Fruit Bombs, are mostly one-dimensional, simple but potent beverages that will merely lose their fruit, their main if not their only appeal with the passing years and just turn into…mud. Expensive mud. And dull, to boot. Many of the wineries making this style of wine are quite new to the game. I think of these new breeds of eager winemakers as the Blasters of the Universe, making their ultra-dark, mouth-exploding Pinots that burst through the old boundaries and seem to be trying to flex their muscles."
Jensen goes on to say, "These ultra-dark, fruit bombs are the result of 3 factors: (1) new Pinot Noir clones which ripen earlier and give fruitier wines, (2) cold soak prior to fermentation increasing wine-skin contact time and extracting more color, and (3) blending in other grape varieties, particularly Syrah which makes the wine darker." The latter of course is blasphemy in Burgundy but Jensen is implying that this occurs in the U.S.
A year prior to Jensen's remarks, Robert Parker, Jr. tasted through 64 single-vineyard Calera Pinot Noirs dating back to 1987 that was published in November 2003 at eRobertParker.com. Although Parker is known for his stylistic preferences that lean toward fruit bombs, his general impression was that there were enough great wines to convince him that Calera was "one of the most compelling Pinot Noir specialists of not only the New World but of Planet Earth.
The current vintage release of Calera's single-vineyard Pinot Noirs is 2019, but 2017 and 2018 vintage wines are also available on the winery's website at www.calerawine.com. KLWines, a superb retailer source of domestic Pinot Noir, is now offering Calera's Historic Library Collection at www.klwines.com. Vintages dating back to 1984 including some magnums and even 3L bottles! I wonder if this offering is from Jensen's personal cellar?
Jensen's philosophy and preferred style are so ingrained at Calera, that despite Jensen's passing and new ownership (Duckhorn Wine Company), the wines will continue to be true to his vision. The last Calera Pinot Noir I reviewed was in late 2021: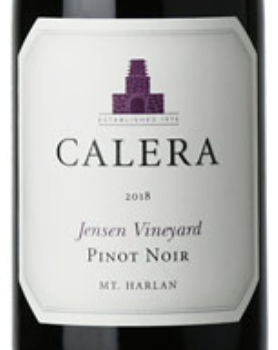 2018 Calera Jensen Vineyard Mt. Harlan Pinot Noir
14.7% alc., $100. Whole cluster and native yeast fermented. Aged in French oak barrels, 30% new. · Moderately dark garnet color in the glass. The nose rises up over time revealing wonderful aromas of dark berries, plum, dried beef, clay, and wine cellar. Inviting flavors of purple grape and pomegranate framed by supportive and fine-grain tannins and a good cut of acidity. The finish is drenched in ripe dark fruits and is amazingly long. The fruit is definitely ripe but not over-mature. The wine was even better when tasted the following day from a previously opened bottle when some alluring spice shows up and the long finish continues to amaze. Very age-worthy. Score: 95