Newsworthy Briefs —Newsletter 12.31
International Pinot Noir Celebration Announces 2023 Theme & Speakers Held annually as usual at Linfield University in McMinnville, Oregon, the 2023 Grand Seminar will be Planet Pinot - Vintage 2050 - Visions for the Future. The 2023 Master of Ceremonies will be duo Dorothy J. Gaiter and John Brecher, wife and husband American journalists and wine critics. The 3-day weekend will feature over 70 International Pinot Noir producers and over 50 noted and award-winning chefs from the Pacific Northwest. Register for the Full Weekend at www.ipnc.org ($1,495 not including accommodations).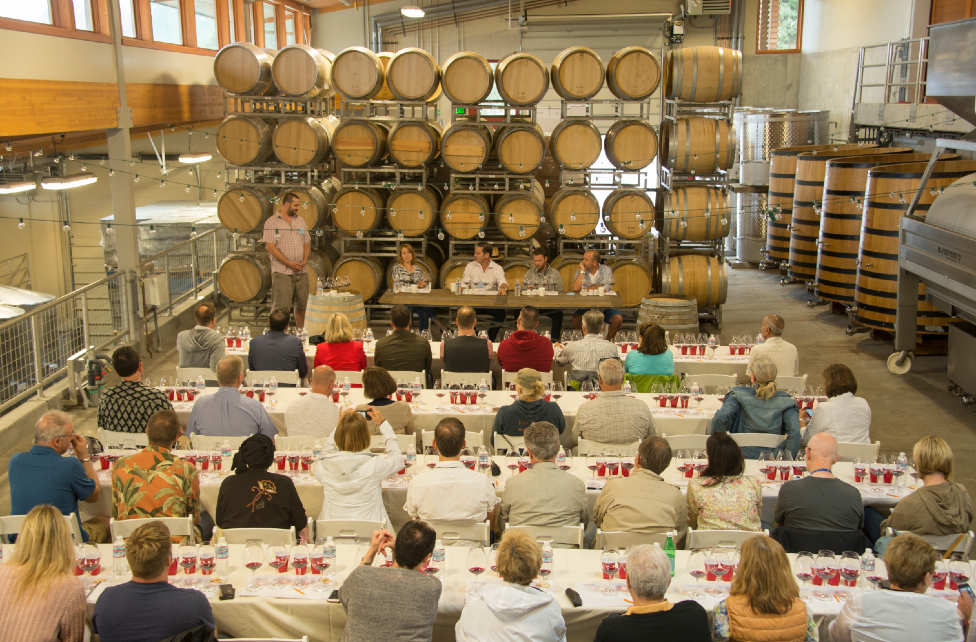 AXA-Millesimes Buys Platt Vineyard Platt Vineyard, consisting of 38.8 acres of Pinot Noir and Chardonnay located between Freestone and Bodega was planted by the late Lew Platt, a former CEO of Hewlett Packard and Boeing and executive oat Jackson Family Wines. A number of top North Coast wineries have sourced fruit from Platt Vineyard, including Cattleya, Littorai, Ramey, Rivers-Marie, Radio-Coteau, Red Car, Scherrer and Tongue Dancer. AXA Millesimes owns the vineyards of Outpost Winery on Howell Mountain, Domaine de l'Arlot in Burgundy, Chareau Pichon Baron in Paulliac and a range of other properties worldwide. Platt Vineyard is considered by many cognoscenti as one of California's greatest Pinot Noir and Chardonnay vineyards.
Pete Soergel Appointed Director of Winemaking and Vineyards at Lynmar Estate Pete has been the winemaker at Lynmar for the past five years and will now oversee Lynmar's vineyard team and the farming of its four vineyards, Quail Hill Vineyard, Adam's Vineyard, Susanna's Vineyard, and Hessel Station Vineyard (85 acres total). Hopefully, you can meet Pete on one of your visits to Lynmar Estate as he is a fine and very wine-knowledgeable person.
Elderly Cognition Benefits from Wine A Japanese study published in BMC Geriatrics looked at lifestyle data from Japanese seniors over age 75 and found moderate and consistent wine consumption was associated with better cognitive function. A significant association with wine was not found for other types of alcoholic beverages. The study's author suggests that antioxidants such as polyphenols found in wine, particularly red wine, may be responsible for a favorable effect on cognition. One caveat is that the older people in the study participated voluntarily and could be healthier than the average member of the aging population studied. The researchers hope to study the effects of red wine versus white wine.
Pinot Noir the Healthiest Red Wine? Most scientific research on the health benefits of wine has focused on the antioxidant polyphenols found in the skin and seeds of grapes that include resveratrol, quercetin, anthocyanins, procyanidins, ellagic acid, and catechins. Cornell scientist Leroy Creasy first isolated resveratrol from red wines in 1991 and later theorized that resveratrol was at least partly responsible for red wine's apparent health benefits. A plethora of research studies followed.
The levels of resveratrol vary among different grape varieties and vineyard locations but average about 200 mg in one glass of red wine versus 40 mg in one glass of white wine.Red wines that are dark in color and high in tannins have higher polyphenol content such as Tannat, Petite Sirah, Nebbiolo, and Cabernet Sauvignon. However, although Pinot Noir is a thin-skinned grape, it has among the highest levels of resveratrol of all red grapes because it is grown in cooler climates. The highest levels of resveratrol are found in wines from cooler climates since resveratrol fade in strong sun. Techniques of maceration play a large role as well.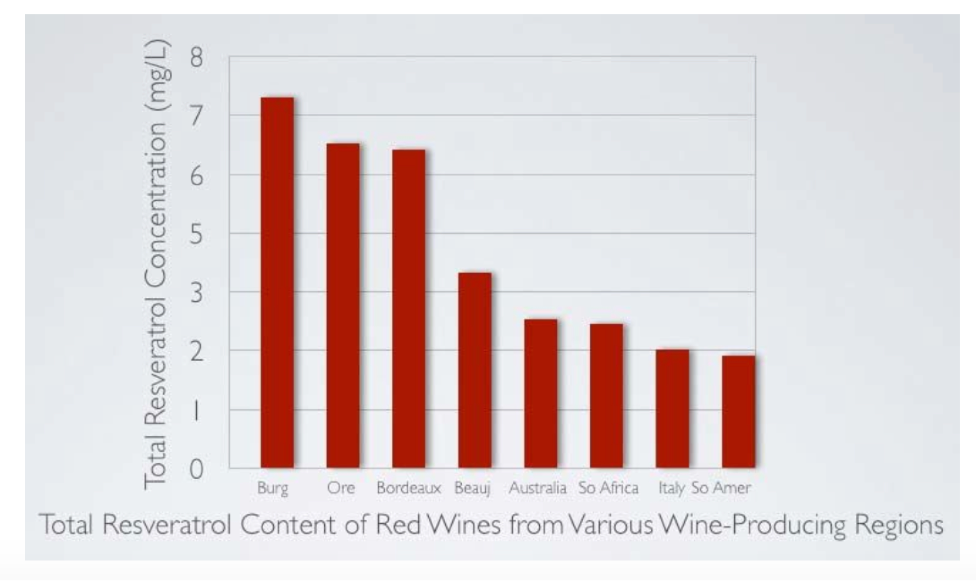 Corollary Wines to Develop Oregon Vineyard Exclusively Dedicated to Sparkling Wines Corollary Wines purchased 57 acres in Oregon's Eola-Amity Hills and is planning on planting a 15-20 acre estate vineyard and build a winery and tasting room specifically for sparkling wines. This is a first for Oregon. The vineyard will be managed and developed under the guidance of permaculture and regenerative agriculture practices. The land was previously used for timber and has never before been planted as a vineyard. Owners of Corollary Wines, Dan Diephouse and Jeanne Feldkamp, have been crafting traditional method sparkling wines in Oregon's Willamette Valley since 2017. Follow the development of the property at www.corollarywines.com.
The Latest News from West Sonoma Coast Vintners (WSCV) Sign up on the WSCV website at www.westsonomacoast.com for the organization's periodic email newsletter detailing events and member winery information and wine reviews. WSCV members whose wines have been reviewed in the PinotFile include Alma Fria, Balleto, Banshee, Black Kite Cellars, DuMOL, Ernest Vineyards, Failla Wines, Flowers Vineyards & Winery, Freeman Vineyard & Winery, Gros Ventre Cellars, Hirsch Vineyards, Joseph Phelps Vineyards, Littorai Wines, Marine Layer, Matt Taylor Wines, Occidental, Peay Vineyards, RAEN, Red Car Wine, Small Vines Wines, Senses Wines, and Wayfarer.
Bad News for Wine Sales The 2022 Silicon Valley Bank State of the Wine Industry Report (www.svb.com) notes that there is a real challenge in recruiting younger consumers into the wine category combined with the aging of the older boomer core of wine consumers. "These consumer groups have different values and spending patterns and the wine industry has done little to alter their marketing message to attract or retain either consumer cohort." There exists an over-dependence on the retiring boomer. In a Harris Poll that asked, "What would you bring to share at a party?" almost half of the boomers (65+) preferred wine, while only 15% of those ages 21-34 would choose beer and spirits over wine.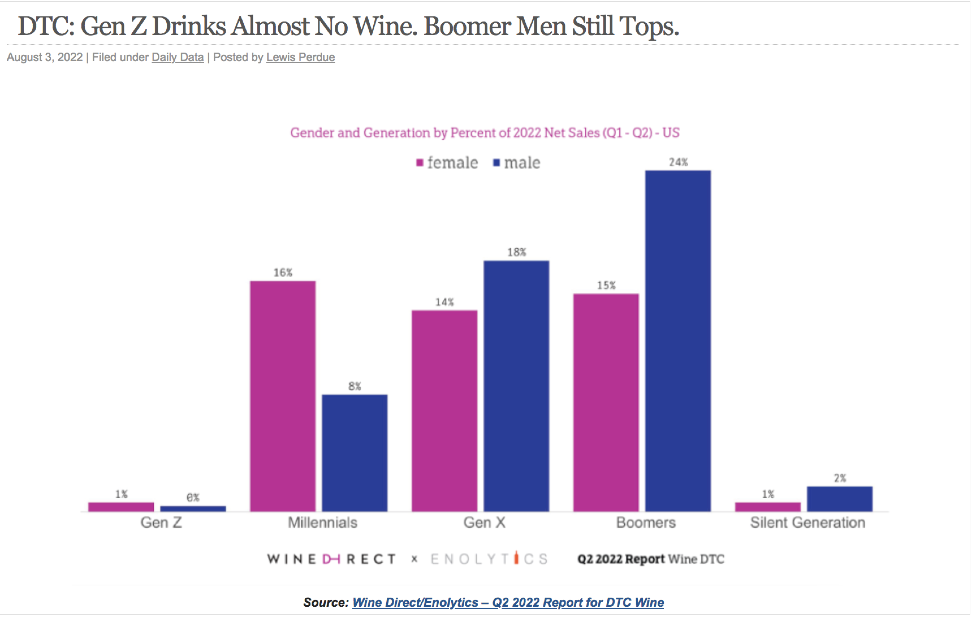 Another 100-point Pinot Noir Surfaces As the escalation of scores for domestic Pinot Noir shows no sign of subsiding, a new 100-point "perfect" score has been awarded to the 2019 Occidental SWK Vineyard Sonoma Coast Pinot Noir by Erin Brooks, a reviewer for Robert Parker's Wine Advocate. Brooks also gave extremely high scores to other 2019 Occidental Sonoma Coast Pinot Noirs including Running Fence Cuvée Catherine (99 points) Bodega Ridge Vineyard (98 points), Occidental Station Vineyard (98 points), and Bodega Headlands Vineyard (97 points). Occidental, was co-founded by Steve Kistler, the former winemaker for well-known Kistler Vineyards. Kistler gravitated to this rural West Sonoma Coast outpost after making Pinot Noir from two nearby vineyards, Hirsch and Camp Meeting Ridge. In 1999, he bought 20 acres in Occidental and subsequently acquired more parcels to bring the total to 85 acres among four Pinot Noir vineyards. The vineyards were planted in the early 2000s with a Calera selection and field selections from Vosne Romanée that Kistler acquired in the early 1990s and propagated. Kistler built a winery east of the town of Bodega on a ridge next to the Bodega Headlands Vineyard. The winery is independent of Kistler Vineyards. A tasting room with tastings by appointment is open on the winery property. Visit www.occidentalwines.com. How do I feel about 100-point scores? Visit www.princeofpinot.com/article/2378.
Flooded With Fall Release Pinot Noir Offerings Why do so many wineries offer their fall 2020 releases in July and early August seemingly all at once? I have seen fall release offerings in the last month from Williams, CIRQ, Cobb, DuMOL, Dutton-Goldfield, Ferren, J. Rochioli, Kutch, Littorai, Paul Lato, Rivers- Marie, and Williams Selyem. Many of the offered Pinot Noir wines are in the $80-$100+ range so unless you are filthy rich, there is no way you could buy your allocations. I guess all these wineries have their devotees so the winery easily sells most or all of their releases regardless of when the wines are offered. Open your Italian leather wallet and say, "Pinot!" As a side note, it should be mentioned that the LNU Complex fires ripped through Sonoma County in August and September and the Glass fire ignited in late September. Smoke lingered over vineyards for 3 months yet many of the above-mentioned producers released many of their 2020 Sonoma County Pinot Noirs because they were fortunate to harvest grapes before the effects of smoke could endanger the grapes.