Husch Vineyards: Dependable Everyday Anderson Valley Pinot Noir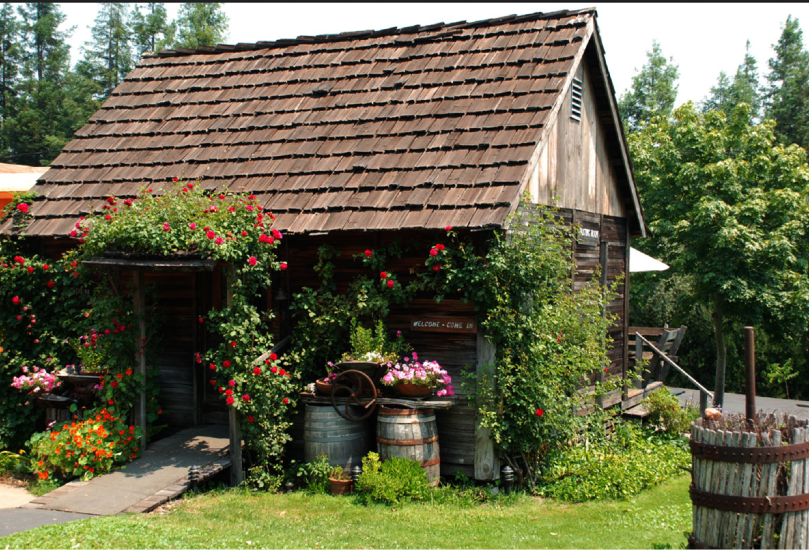 Husch Vineyards is the oldest winery in the Anderson Valley, dating to 1971. In 1968, Tony and Gretchen Husch bought the 60-acre Nunn Ranch located between Philo and Navarro on Highway 128. They soon planted Chardonnay and Gewûrztraminer, added Pinot Noir in 1971, and then added Sauvignon Blanc and Chenin Blanc in 1980. The first crush came in 1971 and the first Pinot Noir in 1973.
In 1979, Hugo Oswald Jr. bought the Husch Vineyards winery from the Husch family. Today, Husch Vineyards is owned and operated by the third generation of the Oswald family including siblings Zac Robinson and Amanda Robinson Holstine. Brad Holstine has handled the winemaking since 2006.
Through the years, Husch Vineyards has expanded and modernized, but it has never lost its rustic charm or reputation for producing great wines. I consider Husch Vineyards Anderson Valley Pinot Noir one of the few under $30 domestic Pinot Noirs worth drinking and my opinion has been unwavering over many years of tasting this wine. The 2019 vintage reviewed here is no exception. The 2020 vintage has also been released.
The large production of this wine provides widespread availability in the retail marketplace as well as at the winery at www.huschvineyards.com. The Husch Tasting Room pictured above was originally a pony barn dating back to the early 1900s and has been open to the public since Husch's inaugural 1971 vintage.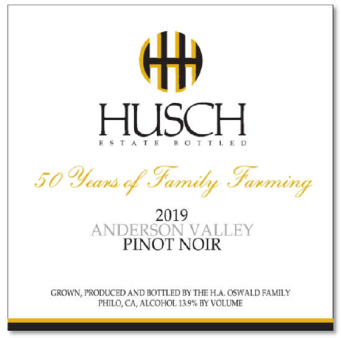 2019 Husch Vineyards Anderson Valley Pinot Noir
13.9% alc., pH 3.60, TA 0.53, 4,717 cases, $25. A blend of grapes from throughout the Anderson Valley from the warmer Boonville area all the way through to the norther cooler "deep end" vineyards. Harvest Brix 23.3º-26.1º. 10% whole cluster. Aged 9 months in French oak barrels, 23% new. · Moderately light garnet color in the glass. The aromas and flavors of candied darker cherry, raspberry, ripe strawberry, red licorice, and spice are quite agreeable upon opening and acquire intensity over time in the glass. Light-to-mid-weight in style, with gracious tannins, uplifting acidity, and a quenching finish. A chivalrous wine that will be equally enjoyable on its own or at the dinner table. Score: 91