Pinot Paradise on Horizon
Each March I look forward to this region's Pinot Paradise Weekend. Pinot Noir has found a home in the Santa Cruz Mountains. A hardy brotherhood of passionate Pinot Noir producers are fueled by mountain spirit and are bringing many distinguished wines to the marketplace. Production is still very small (around 1,200 acres cultivated), and most of the wine is eagerly snapped up by locals in the know, but the Pinot Paradise Weekend says to the world, "Come celebrate with us, meet our dedicated and eclectic vintners, travel our charming back roads, and taste our juicy Pinot Noirs which are heaven in a bottle."

The roots of winegrowing in the Santa Cruz Mountains go back over 150- years when George Jarvis planted wine grapes in the Vine Hill area of Santa Cruz County. Many Santa Cruz Mountain winemaking pioneers followed and their names reflect a storied history lesson of California Pinot Noir: Charles Le Franc (New Almaden Vineyards), Leland Stanford (Palo Alto Vineyard), Agoston Haraszthy (Crystal Springs), Paul Masson (Paul Masson Champagne Company), Martin Ray (Mt Eden, photo right), David Bruce (David Bruce Winery), Dick Graff (Mt Eden), Merry Edwards (Mt Eden), and Randall Grahm (Bonny Doon).
The Santa Cruz Mountains Viticultural Appellation was federally approved in 1981 and was one of the first AVAs to be defined by geophysical, altitudinal, and climatic factors. The appellation includes the Santa Cruz Mountain range extending from Half Moon Bay in the north to Mount Madonna north of Gilroy in the south. The east and west boundaries are defined by elevation, including mountainous land above 400 feet on the western side, and from 400 to 800 feet on the eastern side. The squiggly outline of the Santa Cruz Mountains AVA reflects the fog line that surrounds the mountains (see map, page 2).
This large appellation rambles across 380,000 acres in three counties: Santa Cruz County to the west, Santa Clara County to the east, and San Mateo County to the north. Santa Clara County has the most vineyard acreage. Most vineyards are 1- to 20-acres. Beauregard Vineyards, the largest grower, manages about 100 acres. Because of the limited number of vines, many wineries source grapes from outside the appellation, but the Santa Cruz Mountains fruit remains the most prized.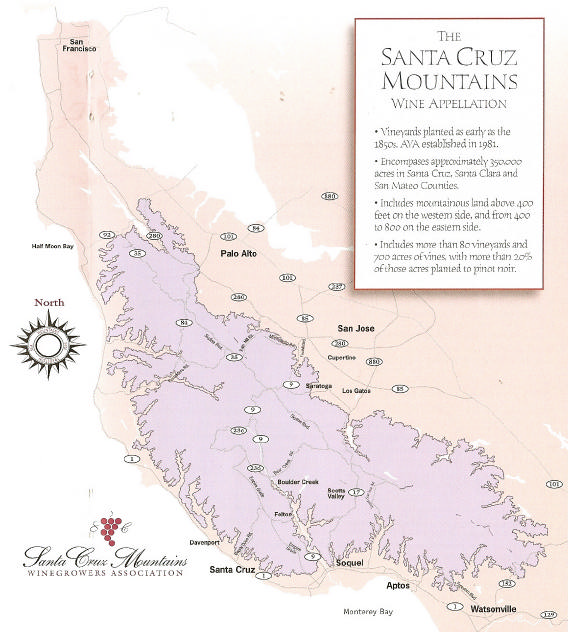 The location of the Santa Cruz Mountains allows for a coastal climate very cozy for growing Pinot Noir. Warm days, cool nights, coastal fog in the morning, and soft breezes in the afternoon lead to complex and balanced flavors, food-friendly acidity, and age-worthiness. Out of the total acreage planted in the Santa Cruz Mountains, only 25% or 300+ acres are planted to Pinot Noir. Slightly more acreage is devoted to Chardonnay, not surprising because the terroir on the western side of the mountains is ideal for both Burgundian varietals. There are upwards of 75 Pinot Noir vineyards in the Santa Cruz Mountains, primarily on the western mountain ridges above Monterey Bay, closest to the coast and cooling fog influence. Located at elevations of 800 to 2,600 feet, most are under 15 acres in size.
The soils are varied throughout the appellation, and include decomposed rock, clay, loam and limestone. The overriding effect in most areas is a fresh, mineral character in the wines. Although the soil type is not uniform, the ocean fog influence is consistent and ties the appellation together. The Pinot Noir vineyards in the Santa Cruz Mountains can be grouped into five sub-regions: Watsonville area (fog rushes into the valley "like a freight train" during the extreme fog events of summer), Corralitos (fog washes in and out like the tides, rising higher and staying longer in some areas), The Summits (west and south facing summit vineyards experience the cooling effects of lower fog events even when the fog has not risen to their heights), Ben Lomond (an area that faces the coast and receives the first ocean fog without it ever crossing much land resulting in dramatic temperature and moisture variations), and Portola Valley (in and out tidal motion of the fog). Photo below is a view from Silver Mountain Winery towards Monterey Bay on a chilly morning with fog apparent in the distance.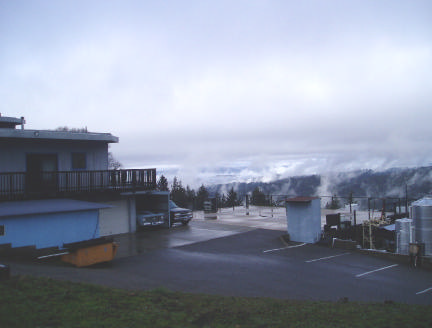 At the 2008 San Francisco Chronicle International Wine Competition, Santa Cruz Mountains wineries were awarded seven Gold, seven Silver, and five Bronze Medals for Pinot Noir made from appellation grapes. Gold Medals for appellation wines were won by Soquel Vineyards, Storrs Winery, Windy Oaks, and Hallcrest Vineyards. Hallcrest Vineyards won four Gold and two Silver Medals for wines from several different appellation vineyards. (For a complete list, go to www.vascm.org).
The Pinot Noirs from the Santa Cruz Mountains have lovely aromatics, luscious red and dark fruit flavors, easily approachable tannins, lively acidity, and are usually packaged in a light- to mediumbodied sensual style so juicy you can "nibble" at them. The Pinot Noirs are very modern in style with generous value-to-price ratios. The wines deserve every pinotphile's serious interest. I recently tasted a number of Pinot Noir releases from the Santa Cruz Mountains and my notes are included in the following pages. The wines from this appellation remain a relative secret, but if you visit and taste, you will be thoroughly charmed by the wines and the dedicated vignerons in the mountains. The region is still populated with eccentric and Bohemian folks who have plenty of interest in the other crop you can smoke rather than the one you drink, but the wine populace is more than welcoming.
The 4th Annual Pinot Paradise weekend is Saturday, March 29 and Sunday, March 30, 2008. On Saturday, drive the mountains on a self-guided tour of participating wineries and enjoy barrel samples and library wines as part of Pathway to Pinot Paradise. Be forewarned, arm yourself with a map (available from the Santa Cruz Mountains Winegrower's Association) as winery signage is practically nonexistent (the locals won't allow it and often remove any posted signage), and GPS systems are inaccurate and unreliable. Cell phones are usually worthless. Plan on visiting three, maybe four wineries a day at the most as you will inevitably be delayed on the narrow, zig-zaging roads, miss a turn, or become hopelessly lost. Allow plenty of time to travel between wineries, bring sufficient water along, and consider a designated driver. Despite the challenges, you will find your excursion a memorable one and you will be well-received upon your arrival. This is one of the few remaining wine country outposts where you will never see a limousine and the tasting room staffs are actually eager to see you. It is an adventure well-taken. Suggested travel itineraries are available on the event website (below). Participating wineries include: Alfaro Family Vineyards, Bargetto Winery, Beauregard Vineyards, Burrell School Vineyards, Byington Winery & Vineyard, Domenico Wines, Hallcrest VIneyards, Hunter Hill Vineyard & Winery, Nicholson Vineyards, Pleasant Valley Vineyards, Roudon- Smith Winery, Sarah's Vineyard, Silver Mountain Vineyards, Sonnet Wine Cellars, Soquel Vineyards, Thomas Fogarty, Windy Oaks Estate Vineyards & Winery and Wines of Vine Hill. Sunday morning, the Technical Sessions at Villa Regusa in downtown Campbell from 10:00 AM to 1:00 PM will feature experts discussing the growing and making of Pinot Noir in the Santa Cruz Mountains (may include some tasting), Lunch is included at a nearby restaurant. The Grand Cruz Tasting of Santa Cruz Mountains Pinot Noirs will be from 2:00 to 5:00 PM after the Technical Sessions. 35 wineries will be pouring their latest releases in a casual walk-around format and food will be served from local restaurants. Wineries participating in addition to those listed above include Ahlgren, Black Ridge Vineyards, Cinnabar Vineyards & Winery, Clos LaChance Wines, Clos Tita, Heart O' The Mountain, Kings Mountain Winery, Loma Prieta Winery, McHenry Winery, Mount Eden Vineyards, Muccigrosso Vineyards, Pelican Ranch Winery, Santa Cruz Mountain Vineyard, Sarah's Vineyard, Storrs Winery, Testarossa Vineyards, Trout Gulch, and Woodside Vineyards. Individual tickets are $25 for Pathway to Pinot Paradise, $65 for the Technical Sessions, and $55 (in advance) for the Grand Cruz Tasting. Passes for all events during the weekend are $125 per person. For tickets and information, phone 831-685-8403 or consult the Santa Cruz Mountains Winegrower's Association website at www.scmwa.com.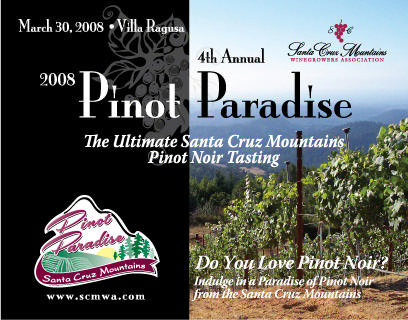 Burrell School Vineyards & Winery
Dave and Annie Moulton craft multiple varietals from estate and sourced vineyards in the Santa Cruz Mountains. A historic red schoolhouse dating to 1854 marks the property on Summit Road.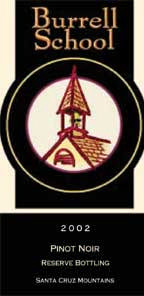 2003 Burrell School Veranda Vineyard Santa Cruz Mountains Pinot Noir
14.6% alc., 675 cases. The Veranda Vineyard sits 800 feet above Monterey Bay and is planted to Pommard and Dijon clones. Aged in 50% new French oak. · Rich aromas of black cherry, herbs and nicely toasted oak. Black cherry, anise and oak flavors carry the attack. A burly wine with a woody edge throughout. Soft in texture and finishing with still lively acidity.
2003 Burrell School Estate Reserve Santa Cruz Mountains Pinot Noir
14.6% alc., 325 cases. The first estate bottling. Pommard and Dijon clones, aged in 70% new French oak. · The nose features bright red scents of red cherries, cranberry, and rhubarb. Sweet tart black cherry and berry flavors are encased in fine French oak throughout. Better integration of oak here than in the above wine. Earthy and woodsy with a mildly dry finish that features refreshing acidity. Very primal.
Burrell School Vineyards & Winery is located at 24060 Summit Road, Los Gatos. 5,000 cases produced. Tasting room with beautiful view of estate vineyard and distant mountain peaks is open weekends. The website is www.burrellschool.com. 831-439-9238. Dave has been a driving force in the Pinot Paradise event . If you visit, ask to see his tractor collection.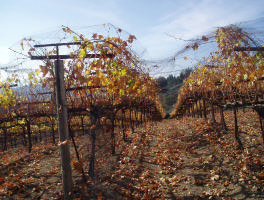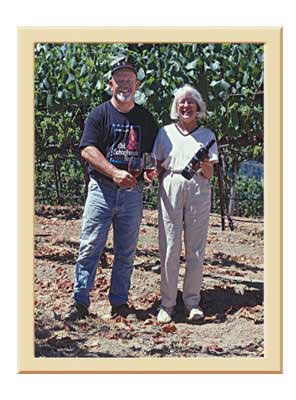 Clos Tita
David and Britta Estrada farm a one-acre estate vineyard at 900 feet in the Scott's Valley area of the Santa Cruz Mountains. The vineyard is meticulously managed by hand and all 700 vines are pruned by David, who is also the winemaker and cellar master. As a practicing dentist, his patients are always startled to see his purple fingers under his gloves during harvest. Production is tiny with only 75 to 150 cases of Estate Pinot Noir and a few hundred cases of a Pinot Noir Cuvee from purchased Santa Cruz Mountain grapes. The Estate Pinot Noir is aged for two years in 75% new French oak.
2003 Clos Tita Santa Cruz Mountains Pinot Noir
14.0% alc.. · Very attractive scents of bright red cherry, sawdust and cinnamon spice. Delicious cherry core with cranberry, raspberry, and earthy notes. Still has some tannins on a moderately lengthy finish and needs food to blunt the tannins.
Clos Tita Winery is located at 4 Kendall Lane, Santa Cruz. The wines are sold directly with limited retail distribution. The website is www.clos-tita.com. 831-439-9235.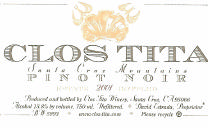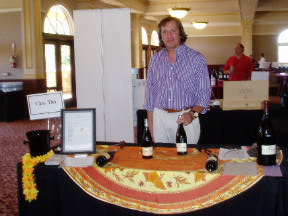 Loma Prieta
Paul and Amy Kemp have an estate home and vineyard at 2,600 feet in the Santa Cruz Mountains with sweeping views of the Monterey Bay coastline. Their 3-acre vineyard was planted in 2003 with primarily Dijon clones of Pinot Noir and is laid out in front of their home. Paul produced his own inaugural wine in 2003 from purchased grapes using a consulting winemaker for guidance. Essentially the wine was made in his garage. Both his 2004 Cabernet Sauvignon and Pinot Noir won Gold Medals at the 2006 San Francisco Chronicle Wine Competition. When I visited last year at this time he had just obtained a permit to built a winery on his property and hopes to produce 500 cases of Pinot Noir in the future from primarily estate grapes. The Loma Prieta label depicts a whimsical magician holding a glass of wine and flying over Mount Loma Prieta with an earthquake fault clearly visible.
2006 Loma Prieta Winery Saveria Vineyard Santa Cruz Mountains Pinot Noir
14.5% alc., 195 cases, $50. Gold Medal, 2008 San Francisco Chronicle Wine Competition ($35 and over category). · Confected cherry aromas. Plenty of well-spiced cherries on the palate with coffee and herbal highlights and an appealing soft texture. A well-bred Pinot that still has some tannins to shed on the long, stylish finish.
Loma Prieta Winery is located at 26985 Loma Prieta Way, Los Gatos. The wines may be ordered on the website at www.lomaprietawinery.com. A tasting room should be open this summer. 408-353- 2950.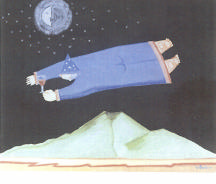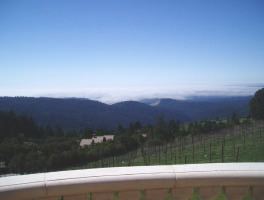 McHenry Vineyard Owner Henry McHenry (not a misprint) is an anthropology professor at the University of California Davis. A soft-spoken and reserved man, his quiet charm is reflected in the personality of his Pinot Noirs. The 2-acre McHenry Vineyard on Bonny Doon Road was planted by the McHenry family in 1972, but succumbed to Pierce's Disease in 1992. Replanting commenced in 1997, the last summer of Chancellor (University California Santa Cruz) Dean McHenry life who was an original partner in the venture. The vines are planted on a sandy mountain slope at 1,800 feet, five miles from the Pacific Ocean.
The McHenry Pinot Noirs are quite unique in today's market which is flushed with "Frankenpinots," big, extracted, alcoholic and generously oak-infused Pinot Noirs. The McHenry style is one of elegance and understatement. The wines are examples of pure Pinot Noir unencumbered by alcohol reduction, toasted oak, and super ripe grape flavors. There is a purity of Pinot Noir in the McHenry wines that I rarely encounter in wines made in California. Priced ridiculously low considering the quality, the average consumer may scratch their head after drinking these wines and wonder why I make such a fuss over them. The reason is, these Pinot Noirs personify delicacy, grace and power without weight. They force you to seek out subtleties rather than bludgeon you with a fruit onslaught.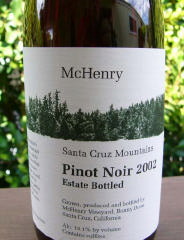 2004 McHenry Santa Cruz Mountains Estate Bottled Swan Clone Pinot Noir
13.2% alc., 62 cases, $28. From a Swan clone block of the McHenry Vineyard. The clone is planted on its own roots in the nonirrigated vineyard. Aged as the above wine. · Very light rose in color. Demure aromas of crushed strawberries, roses, spice and subtle new oak. A silky entry of red berry fruits, especially wild strawberry enhanced by Xmas spice, with a light and elegant format ending with perky acidity. A perfect food wine with lighter fare.
2004 McHenry Santa Cruz Mountains Estate Bottled Pinot Noir
13.1% alc., 320 cases, $22. Aged two years in Francois Freres French oak barrels. · Very light rose in color. A little deeper pitched aromas with more cherry. Slightly more fruit intensity on the attack with delightful tangy cherries, wood spice and herbs. A perfect example of "power in a velvet glove" that makes wines from Chambolle-Musigny so sensual and desirable.
McHenry Vineyard wines are sold thru email on the website at www.mchenryvineyard.com. 530-756- 3202. I don't know if older vintages are served in anthropology class.
Muccigrosso Vineyards This is a small family-run operation headed by Michael and Lynne Muccigrosso. They are long-time residents of the Santa Cruz Mountains who first planted vines in the early 1980s. Jacob Kauffman is the winemaker and David Agretelis the vineyard manager.
2005 Muccigrosso Vineyards Santa Cruz Mountains Pinot Noir
14.5% alc., $35. · Complex aromatic profile with wet leaf, minerals, flowers and shy stone fruits. Light-bodied and soft in texture with a cherry and earthy sole. A decent but not exceptional wine with dusty tannins and a mildly dry finish..
Muccigrosso Vineyards is located at21450 Bear Creek Rd, Los Gatos. The wines are sold on the website at www.muccigrosso.com.
Varner Wine Twins Jim and Bob Varner quietly farm a 14-acre vineyard in Portola Valley which was planted in 1980. They helped out during the 1980s at Thomas Fogerty Winery where they learned the business. Since their first wine was released in 1996, Bob has handled the winemaking and Jim directs the sales and marketing. The winery is located on the estate vineyard property.
2005 Varner Spring Ridge Vineyard Hidden Block Pinot Noir
14.3% alc., $42. · Light strawberry red in color. Appealing perfume of strawberries, baking spice, herbs and oak. Red Pinot fruits are framed with deft oak and grassy notes. Light on its feet and downy in texture, the style is straight-forward, elegant and likeable.
Varner Wine is located at 648 Menlo Ave., Suite 5, Menlo Park. The wines are sold on the website in half and full case lots at www.varnerwine.com. Varner has become more well known for their Chardonnays which are superb. Three separate bottlings come from the estate vineyard and a valuepriced Foxglove label Chardonnay is sourced from Edna Valley. 650-321-4895.
Windy Oaks Estate Vineyard & Winery Proprietors Jim and Judy Schultze are escapees from the high-tech world who have used their twenty years of interest and experience in artisanal winemaking and winegrowing to create Windy Oaks Estate in the Burgundian monopole model. Pinot Noir and Chardonnay are produced from a 15-acre vineyard located at 1,000 feet on a ridge overlooking the town of Corralitos and the Monterey Bay beyond.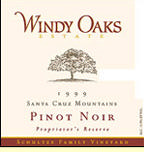 2005 Windy Oaks Estate Cuvée Schultze Family Vineyard Santa Cruz Mountains Pinot Noir
14.3% alc., 285 cases, $35. · A beautifully balanced Pinot with an attractive dusty cherry nose backed by a little barnyard and complimentary flavors of black cherries, pomegranate, spices, gingerbread and herbs. Oak adds interest and support. Everything is in proportion from oak tannin to acid to fruit intensity.
2005 Windy Oaks Estate Limited Release Wood Tank Fermented Santa Cruz Mountains Pinot Noir
14.3% alc., 26 cases, $44. Aged 22 months in 100% new French oak. · Intensity is the key word here. Flamboyant black raspberry fruit aromas fill the glass. Juicy black berry jam flavors have subtle oak, chocolate, and marzipan overtones. Power to spare in the mouth ending in a lovely raspberry-infused aromatic kiss on the back end. There is notable oak present and a touch of heat peaks out but is not intrusive.
Windy Oaks Estate Vineyard & Winery is located. 85% of the wine is sold to an eager mailing list of pinotphiles. I am also a fan of the Windy Oaks Chardonnay, produced from 1 acre of the estate vineyard. The Schultzes have just released a special bottling made from Burgundian-sourced vines of unnamed origin (26 cases, aged 26 months in 100% new oak, $95, special commemorative silk-screened label). The website is www.windyoaksestate.com. 831-786-9463, Tasting and tours by appointment.