Open Your Wallet for Pinot Pleasure
Confiscate your wife's Nordstrom credit card and subscription to Vogue magazine, cancel your kid's cell phone account, discontinue any superfluous insurance premiums, start riding your bike to work, anything to save some money for the following Pinot Noirs. Let's face it, the best sex you have ever had is still not as good as some of these sensual Pinot Noirs and they can give you prolonged ecstasy in a bottle for several hours. Cancel the gardener (big deal, you can mow the lawn), tell your wife to cut her own hair, and send your kids to public school. Pinot Noir is a life-changing, mood-altering experience and its time you jumped in and indulged with commitment. The following wines have just been released and you need to act now or Pinot nirvana will never be obtainable. Pop a cork and have an aromatic orgasm, how easy is that?
Drew Wines
Jason Drew has been making wine since 1991 when he helped out his uncle plant a vineyard in the Napa Valley. He received his winemaking training in both California and Australia. In 2000 he founded the Drew label with his wife Molly while he was associate winemaker at Babcock Vineyards & Winery in the Santa Rita hills. In 2003, he left Babcock to concentrate on his own label, and in 2004, purchased a ridge top property overlooking the Anderson Valley to the east and the Pacific ocean three miles to the west. A winery was built on the property and the Drews' first estate vineyard was planted. Currently the winery's Pinot Noir grapes are sourced from Santa Barbara County, Anderson Valley, Sonoma Coast and the Yorkville Highlands. I tasted the current releases and was stoked. All of the wines tasted have a pretty ruby color and similar moderate weight.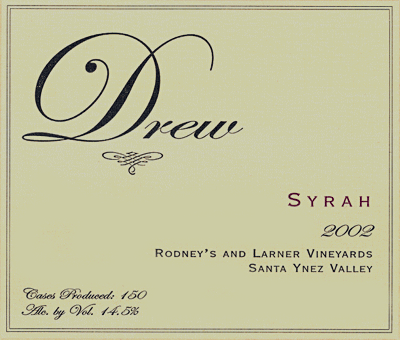 2006 Drew Cargasacchi-Jalami Vineyard Potbelly Block Santa Barbara County Pinot Noir
13.7% alc., 286 cases, $35 · This is a young wine and the nose is quite subdued with subtle notes of red cherry, grass and sanded wood. The lovely red Pinot fruits are accented with herbal and woodsy flavors. Light in body and offering some finesse and lively acidity, this is a good food wine whose flavors trump the aromas at this stage.
2006 Drew Weir Vineyard Yorkville Highlands Pinot Noir
13.9% alc., 187 cases, $50 (sold out, try www.wadeswines.com). Weir Vineyard is 15 acres which includes rare DRC and Rochioli selections. · Very enviable aromas of mineral-inflected black cherry fruit, strawberry and cookie dough. Highly likeable raspberry and strawberry fruit flavors with a glamorous fruity aftertaste accentuated with spice and a little white pepper. The fruity finish sneaks up and expands in the mouth over a minute - very sexy. The demure presentation of fruit is very attractive. I like this wine a lot and it is admirable for its perfect balance and purity. The best from this appellation I have ever sampled. Hock your kids for this one.
2006 Drew Fog-Eater Anderson Valley Pinot Noir
14.3% alc., 495 cases, $42. Made from two Anderson Valley vineyards heavily influenced by coastal fog. · This wine has the most flamboyant aromatics of the lineup with spiced cherries, watermelon, fresh sawn oak and a little barnyard. Plenty of lovable Pinot fruits, fine-grained tannins which could use some time to shed, and velvety texture. Doesn't have the twinkle that the Weir has, but perfectly fine in its own right.
Drew Wines have limited retail distribution and are sold on the website at www.drewwines.com. The phone is 707-877-1771.
Halleck Vineyards
I recently wrote a feature on Halleck Vineyards in the PinotFile (Volume 6, Issue 45). I recently tasted through the 2006 releases and I am happy to report that the wines are stellar. The winemaking here is very refined with tannins and alcohol well integrated. The velveteen texture that makes Pinot Noir so sensual and appealing are prominently featured in all of the Halleck Vineyards lineup of Pinot Noirs. These are fruit-driven wines of robust intensity that will reward cellaring. The Three Sons Cuvee is the most approachable now. After tasting the wines, I sampled them all with a corned beef sandwich (it was the day after St. Patrick's Day) and they all shined with the food, but the heightened acidity of the Three Sons Cuvee made it the best food wine of the lineup at this time. These wines are a true representation of California's interpretation of Pinot Noir and they deserve every pinoaficionado's attention. These are pure artisanal Pinot Noirs, lovingly crafted in small quantities from a producer who welcomes fans to connect with the winery family. Production is 1,500 cases each year.
Halleck Vineyards wines are largely sold through the faithful admirers on the mailing list at www.halleckvineyard.com. There is limited retail distribution. The address is 8088 Washington Ave, Sebastopol and the winery address is 3785 Burnside Rd, Sebastopol. Jennifer Halleck handles sales and marketing when she isn't trooping her three boys to their after school activities. 707-738-8383.
Roessler Cellars
Brothers Richard and Roger Roessler founded Roessler Cellars in 2000. Together with talented winemakers Wells Guthrie and Scott Shapely, they craft marvelous Pinot Noirs from appellations throughout California. I have been a fan for quite some time now and I recently tasted two of their newest releases. I feature them here because they are worthy of your immediate attention.
2005 Roessler Cellars Savoy Vineyard Anderson Valley Pinot Noir
14.1% alc., 250 cases, $45. Richard Savoy farms one of Anderson Valley's premier Pinot Noir vineyards located just west of the town of Philo. Seven clones are included in this wine. · Deep ruby color of great intensity. With air and coaxing, very nice ripe dark fruits emerge with some earthy and oaky notes. Substantial fruit core showy of black cherry and black raspberry with a hint of wild strawberry. Earthy, even tasting of soil-dusted fruit. Flirty tannins and plush in texture. More dirt-driven than the 2004 Savoy which I was ga-ga for, but equally appealing in its own way.
2005 Roessler Cellars Clos Pepe Vineyard Santa Rita Hills Pinot Noir
14.1% alc., 175 cases, $45. · Utterly charming aromas of a freshly-baked cherry pie with a hot browned crust. Delicious stone fruits, silky mouth feel, and a clean, scented and lip-smacking finish. Impeccable balance. This wine has the whole package and there is nothing to critique here, just pure, unadulterated drinking pleasure. Brilliantly crafted and one of the best wines from Clos Pepe Vineyard I have ever had. This one has everything you could hope for and some things you didn't know to ask for.
Roessler Cellars is located off the town square in Sonoma at 380 First St W. Tasting here by appointment - 707-933-4440. Production is 6,500 cases. Roger and Richard and very personable and passionate about wine. Make an effort to get to know them and their wines. The wines are sold on the website at www.roesslercellars.com.