Kosta Browne Winery

On Saturday afternoon, November 17, the Share Our Wine Foundation of Orange County, California, presented a tasting seminar with Michael Browne of Kosta Browne Winery to benefit local charities that provide specialized services to treat and prevent abuse and neglect of children. Attended by 100 eager wine enthusiasts, Michael graciously donated his time as well as 13 different Kosta Browne Pinot Noirs (including 2006 barrel samples and 2005 finished wines) for the tasting event. In addition, he gifted 3 magnums of 2005 Kosta Browne Russian River Valley Pinot Noir and a 5- liter engraved bottle of 2005 Kosta Brown Russian River Valley Pinot Noir for the auction. This was truly a unique tasting event, the scope of which was unprecedented in the wine community.
Michael Browne and Dan Kosta are alumni of a noted Sonoma County restaurant, John Ash and Co. Michael followed a circuitous route to get there. He was born in the San Francisco Bay Area, but grew up in Washington State. Upon returning to Santa Rosa in 1987, he enrolled in pre-requisite courses at Santa Rosa Junior College to become an architect.. During schooling, he worked in wine retail and at a number of restaurants. It was at John Ash and Co that Michael developed a deep love for wine and food and the agricultural pursuit of winegrowing. His ultimate goal became to make a living as a winemaker.
Dan Kosta was a native of Sonoma who grew uparound wine. Dan's father owned a wine store in Santa Rosa and wine was a frequent topic of discussion at the household dinner table. After joining the staff at John Ash & Co, Dan worked his way up to Head Sommelier. He too, had a desire to be involved in a winery, and in 1997, he teamed with Michael to make the first Kosta Browne wine. They put all of their tip money into a "co-op" cookie jar placed in the restaurant's kitchen. After raising $2,600, they bought a half ton of Pinot Noir grapes, a single barrel, and a used, hand-cranked de-stemmer-crusher to produce their first vintage.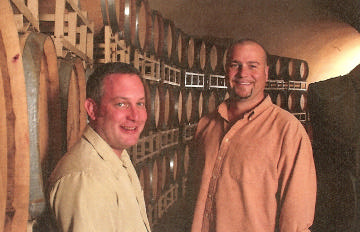 That same year, Michael left John Ash & Co and became assistant winemaker at Deerfield Ranch Winery in the Sonoma Valley. Dan and Michael attracted an initial investment group and in 1999 made 2,600 cases of Lake County Sauvignon Blanc. This venture proved financially unrewarding and the principals parted ways. In 2001, they teamed with Chris Costello and family who provided a fiscally conservative and thoughtful business plan and success followed shortly thereafter. Michael likes to say he learned his winemaking at " Hard Knocks University." It didn't take him long to achieve a measure of recognition. The 2003 vintage was highly regarded by wine writer James Laube of the Wine Spectator. He awarded all of the 2003 Kosta Browne Pinot Noirs scores ranging from 90 to 96. The mailing list quickly filled up and Kosta Browne was on every pinotphile's radar. Kosta Browne quickly became a member of the current band of prestigious Russian River Valley wine producers, many of whom had been crafting notable Pinot Noir since the 1980s. Michael (left) and Dan pictured.
Kosta Browne bounced around, sharing space in several wineries for awhile. Today, they have found a home in the old Vacu-Dry apple processing plant in Sebastopol. Here they will be able to further refine their craft and follow their commitment to producing better and better wines. Current production is about 10,500 cases which is comfortable for them.
I believe Kosta Browne's success stems from three sources. First, Dan and Michael are congenial and customer service oriented, they are well-liked in the wine community, and are willing to support many fund-raising activities. Secondly, they were able to use their long-standing friendships and contacts to source top growers in the Russian River Valley and Sonoma Coast appellations. Quality grape sources are critical to making fine wine. The precedent for this in the Russian River Valley was set by Williams Selyem whose success was built on acquiring fruit from vineyards such as Rochioli, Allen, Cohn (now Benovia), Hirsch, Olivet Lane, and Ferrington. Thirdly, Michael Browne knows how to make great Pinot Noir in a New World hedonistic style that appeals to a broad audience of wine lovers. Wine is one of the few areas of interest where art and science come together. Having met hundreds of winemakers in recent years, I have come to realize that some have exceptional artistic talent, much like great musicians, painters, sculptors and chefs. It is this artistry that separates their wines from the pack. Michael Browne is one of those winemaking artists who seems to have a touch with Pinot Noir.
The pages to follow include a summary of the Kosta Browne tasting seminar with some tasting notes of mine combined with comments by Michael. The entire event was recorded in audio and video format by Grape Radio and will be presented at www.graperadio.com in the near future. The moderators were Jay (Mr. Grape Radio) Selman, and myself.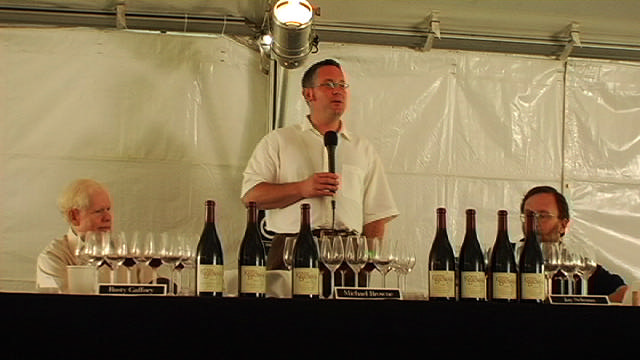 Flight One - Barrel Samples of 2006 Keefer Ranch Green Valley Pinot Noir Keefer Ranch is located in the headwaters of Green Valley Creek, with gently sloping, well-drained, south-facing exposure. The vineyard offers fruit that profits from a long, cool hang time resulting in outstanding color and extract with both power and grace due to perfect tannin ripening conditions.
Green Valley is one of the smallest appellations in Sonoma County and actually lies in the southwestern part of the Russian River Valley appellation. It is, however, distinctly delineated both geographically and climatically from the Russian River Valley. It is consistent in terms of soil, climate and flavor characteristics.
Defined by fog, Green Valley is the first place where the fog comes in and the last place where it burns off, making it the coolest, foggiest part of the Russian River Valley. The predominant soil type of Green Valley is Goldridge loam, noted for producing high quality Pinot Noir grapes. Keefer Ranch wines exhibit the typical flavor profile of Green Valley. Pinot Noir shows ripe cherry and cranberry fruit, spice, lively acidity, soft tannins, supple texture, and beautiful structure. Chardonnay presents a clean, fresh, crisp, Gravenstein apple, complex citrus flavor profile, with a core of minerality, a long finish and great focus.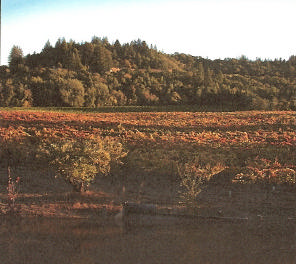 Keefer Ranch was started in 1989 on the site of a former apple orchard in Sebastopol, California and is farmed by Marcy Keefer and her son Craig Strehlow. They currently sell grapes to many notable wineries (A.P. Vin, Failla, Freeman, Kosta Browne, Loring, Pali, Siduri), and have now begun the adventure of producing their own wine under the label of Keefer Ranch.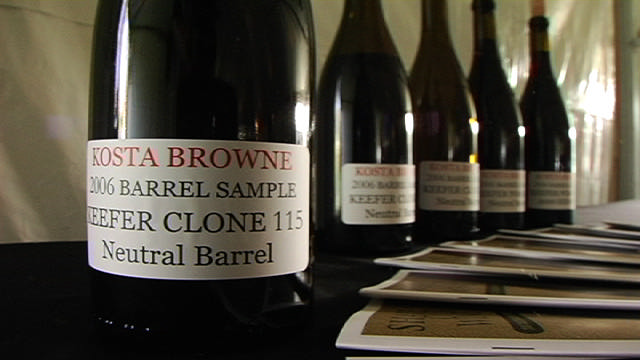 2006 Kosta Browne Keefer Ranch Pinot Noir, Neutral Barrel, Clone 115
Although 115 has the most potential of all of the Dijon clones for producing a complete wine on its own, it often stars when blended with other clones. It is a consistent producer with small to average clusters, early ripening, homogenous, with sugar levels above average and total acidity below average. 115 has strong color with purplish hues, superior rich aromatics, good structure, notable tannins and is suitable for aging. Red fruits dominate the scents and tastes. Round red cherry flavors with a kiss of spice.
2006 Kosta Browne Keefer Ranch Pinot Noir, Neutral Barrel, Clone 2A The Wädenswil clone was imported to the United States from Switzerland in the 1950s. The clone was originally from Burgundy but certified in Wädenswil, Switzerland, the site of a government research station for viticulture. More widespread in Oregon, it accounts for about 1/3 of the plantings there. It is very site-specific in terms of crop loads. 2A is often a blending component that adds finesse to a finished wine. Typically, 2A has brilliant, hi-toned red cherry and red berry fruit. Notable Xmas spice backbone. Fills the mouth with plush red fruits. Plenty of structure.
2006 Kosta Browne Keefer Ranch Pinot Noir, Neutral Barrel, Clone 23 The Mariafeld clone came to the United States from Wädenswil, Switzerland in 1966. It has large blueberry-colored berries, open clusters, resistance to bunch rot, is high-yielding, with higher acid. Typically, it offers strawberry and farmyard aromas with spicy, soft cherry and plum flavors. Concentrated fruit with good focused acid that adds a laser beam component. Plenty of red cherry and red apple skin flavor.
2006 Kosta Browne Keefer Ranch Pinot Noir, Neutral Barrel, Clone Pommard 5 Pommard is a Pinot Noir workhorse clone that is widely planted. It can make great wines on its own (a so called "stand-alone" clone), or as part of a blend. Pommard has good color, big clusters, intense fruit, considerable spice, a meaty/gamey edge to its black fruits, a velvety mouth feel, and good mid palate complexity. A terrific wine on its own, even without oak influence. Earth tones are appealing in the aromatics and flavors. Silky texture.
2006 Kosta Browne Keefer Ranch Pinot Noir, New Barrel, Cadus Allier, Clone Pommard 5 and 2006 Kosta Browne Keefer Ranch Pinot Noir, New Barrel, Remond Allier, Clone Pommard 5 Oak really adds complexity and interest. Spice, vanillin, smoke, char, toast. Pinot Noir loves oak!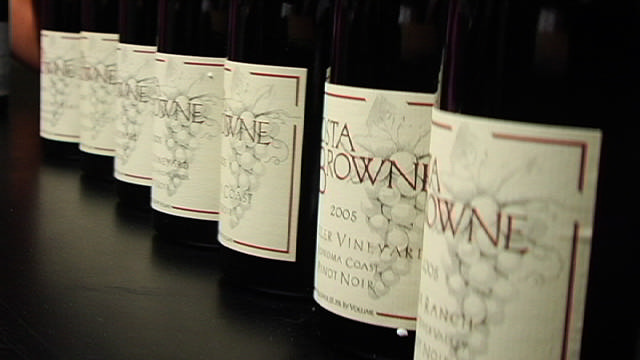 Flight Two - 2005 Current Releases "What Dan Kosta and Michael Browne have accomplished in 2005 is every bit as staggering as their watershed 2004 vintage." - James Laube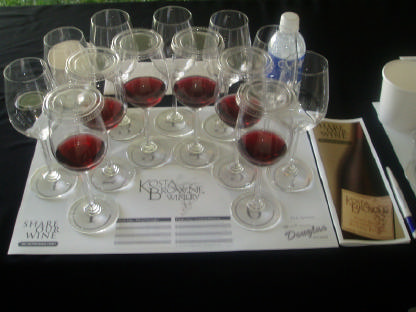 The Kosta Browne business address is P.O. Box 1555, Sebastopol, CA 95473. A waiting list is available on the website at
www.kostabrowne.com
. No tours or tastings at this time. 707-823-7430. For 2005 there is also a Miron Vineyard Pinot Noir (Green Valley), a Rosella's Vineyard Pinot Noir (Santa Lucia Highlands), and a 4-barrel Pinot Noir. Michael handles the grower relations and winemaking jobs, Dan directs the sales and marketing for the label. Look for Michael and/or Dan at any of the major Pinot Noir festivals, but get to their booth early as their wines are quickly sucked up by the crowd that bellies up to their offerings. Kosta Browne wines are available on the secondary market such as
www.winecommune.com
(prices vary from around $58 to over $200 per bottle).