Pinot Noir in Strangest Places
Norway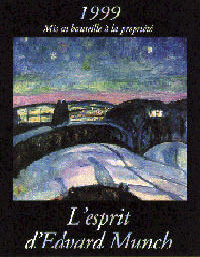 The most northerly vineyard in the world lies in Norway at latitude 60 degrees North. The Hallingstad Vineyard consists of 5 planted acres of primarily Pinot Noir, with smaller amounts of Riesling, Chardonnay, Viognier and some other hybrids. The site is appropriate for grape growing because of the neighboring Oslofjord whose waters keep the temperature mild in this unique microclimate. The first 2,000 vines were planted by Sveier Hansen in 1992 and the first Pinot Noir released in 1995.
The Pinot Noir is named after the painter Edvard Munch who lived in nearby Asgardstrand in 1897. Each vintage of L'Esprit d'Edvard Munch has a label showing one of Edvard Munch's paintings as a tribute to both the artist and the wine. The numbered bottles in the Munch series (1995-1999) are snapped up by collectors and a full series is worth considerable money.
According to www.wineweb.com, Harald Nordi, writing in the Swedish publication All About Wine, the Pinot Noir is "lighter than a Burgundy, but darker than a Beaujolais. A surprisingly intense and complex bouquet, dominated by wild raspberries."
Romania
On of the largest producers of wine in Romania, Halewood Romania LTD, began distribution of their wines in the United States this year. Halewood Romania was established in 1997 by Halewood International LTD, the largest independent wine and alcoholic beverage supplier in the United Kingdom. Three brands are being exported with the selection representing a mix of international and Romanian varietals. The Byzantium brand labels feature ancient mosaics and other artwork of the Byzantine period, and will feature a Pinot Noir Rosé. The Prahova Valley label features reserve wines aged in French and Romanian oak barrels for 6-12 months and will include the Prahova Valley Reserve Pinot Noir ($12). The Cherry Tree Hill label offers single-vineyard or special lots produced in best vintages.
Halewood Romania is currently undergoing a modern renaissance in winemaking with state-of-the-art technology and an international production team including winemaker Stephen Bennett with over 25 years of experience in Australia and Romania and viticulturist Valentin Resteman from Australia. The country's historical vineyards have been replanted with the latest rootstocks and clones and modern trellising systems are being utilized. Halewood Romania manages 968 acres of vineyards and operates five production facilities in Dealu Mare.
Winemaking in Romania dates back 3,000 years when the Greeks established vineyards near the Black Sea, and continued with the planting of Germanic varieties in Transylvania by the medieval Saxons. French varieties were introduced following the phylloxera epidemic in the 1880s. As a result, these varieties have been in Romania twice as long as other eastern European countries. Several indigenous varieties remain today.
China
There are minor plantings of Pinot Noir in China and China does make its own wine. However, labels like Great Wall and Dynasty do not nearly approach the quality of, say, fine California or French wine. Today, fine wines from the United States and Europe have become symbols of luxury to the Chinese. The Chinese are particularly fond of the Bordeaux first growths from the five great chateaux, but it won't be long before they start showing an interest in fine Burgundy as well. Imported wine remains extravagantly expensive to most Chinese, but it is only a matter of time when it will join the other modern lifestyle changes going on in that country. There are some old traditions that need to be discarded, such as mixing fine wines and adding Coke or green tea, habits that resulted from the country's past history of producing poor quality wines.
India
I could not discover any data indicating that Pinot Noir is planted in India (probably too warm), but the Indian middle class is developing a thirst for fine wine, including Pinot Noir. The market is growing at 30% per annum. A National Wine Board has been established to promote the health angle of wine and the wine industry in the country. India now consumes 3.5 million bottles a year (still a miniscule amount compared to the United States).
According to an interview of the Louis Jadot Chairman by Sommelier India (localwineevents.com), Jadot started exporting to India in 2003. Burgundy now constitutes 15% to 18% of the Indian wine market by volume (30% of the market in terms of value).
Pinot Noir might not be the first wine you think of to pair with Indian cuisine but it does fine with tandoori dishes. The lower tannins in Pinot Noir can be a plus for spicy dishes, and a little chilling may be beneficial, but high alcohol Pinot Noirs should be avoided. Because Pinot Noir and curry are not compatible, Merlot is a better choice especially with sweet curries. (see next article for wine and food pairing matches).