Small Sips of Pinot
Malm Cellars
Malm Cellars is a one-man winery. Like many small Sonoma gargistes, Brendon Malm helps farm the grapes he sources from several vineyards, makes the wine, designs the labels, and delivers the wine to his customers in his diesel pick-up truck.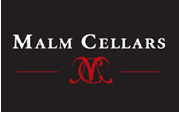 2005 Malm Cellars Sonoma County Pinot Noir
14.4% alc., $19. Surprisingly, the bottle sports a high-class wax cap, unusual for a valuepriced wine. · The aromatics are shy with hints of cassis and toast, but build in intensity with air time. A bit of heat peaks out as the wine warms in the glass. Easy to drink , this wine is soft in texture with red cherry and berry fruit. I wanted more structure and fruit, but I could not complain at this price. A simple Pinot that is perfectly fine for washing down a grilled hamburger.
Malm Cellars wines are sold primarily to retail and restaurant accounts. The address is PO Box 1524, Healdsburg, CA 95448. The phone is 707-363-0441, The website, www.malmcellars.com, has only contact information. Brandon Malm also crafts a 2005 Malm Sonoma Coast Pinot Noir ($38) which is a step up in quality. I did not sample it, but heard from a few sources who recommended it.
Lucas & Lewellen Vineyards
Winegrower Louis Lucas is originally from California's Central Valley. His father was a leading table grape grower in California for many years. He has over 35 years of viticulture experience. Royce Lewellen spent his career as a Superior Court Judge. He teamed with Louis in 1996 to found Lucas & Lewellen Vineyards in Santa Barbara County. Their vineyard holdings are extensive and are located in the Santa Maria Valley, Los Alamos Valley, and the Santa Ynez Valley. Their winemaker is Daniel Gehrs who has worked over 30 vintages in California starting with the old Paul Masson Vineyards in Saratoga. He has his own label, Daniel Gehrs Wines, as well, which specializes in Rhone and Loire varietals. I first became aware of Lucas & Levellen Vineyards after tasting their Pinot Noirs that scored well at the last two annual Pinot Noir Shootouts.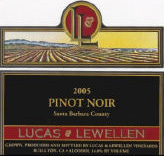 2005 Lucas & Lewellen Santa Barbara County Pinot Noir
14.0% alc., 3351 cases, $20. The grapes for this wine come from the estate Goodchild and Los Alamos Vineyards. Aged in neutral French oak for 8 months, it is intended to be consumed young. · A light-bodied Pinot Noir featuring cherries and sandalwood on the nose and spiced cherries on the palate. A decent quaff.
2004 Lucas & Lewellen Hilltop Santa Barbara County Pinot Noir
14.1% alc., 603 cases, $30. This is a limited bottling from the highest block of the Goodchild Vineyard, planted with Dijon clone 667. Barrel aged for 16 months in 40% new French oak barrels. · This wine is a step-up with more intense aromatics drifting towards super ripe dark cherries and prune. More body and more fruit than the above wine, it is black cherry-driven in the mouth with toasty oak overtones. Just fine with rotisserie chicken.

Lucas & Lewellen Vineyards
is located at 1645 Copenhagen Drive, Solvang, CA 93463. The phone is 888-777-6663. Wines may be ordered on the website at
www.llwine.com
. A third Pinot Noir with the
Queen of Hearts
label ($12) actually scored higher than the above two wines at this year's Pinot Noir Shootout and is a great value-priced play.
B. Kosuge Wines
Brian Kosuge was the head winemaker at Saintsbury for 15 years before starting his namesake label. He also makes wine for Miura in California and Kingston Family Vineyards in Chile. He currently has three releases: The Shop Carneros Pinot Noir, Hirsch Vineyard Sonoma Coast Pinot Noir $50, and a Hudson Vineyard Carneros Syrah $40.

2004 B. Kosuge Wines The Shop Carneros Pinot Noir
14.5% alc., 325 cases, $30. The name "The Shop", is in reference to Walsh Vineyard Management whose owners Brian worked with for many years. It also symbolizes his love for spending time in the vineyard and hanging out with vineyard workers. The grapes come from a small vineyard adjacent to the vineyard equipment shop. · This is a nice package which is deftly crafted and very easy to drink. The nose is tinged with black cherry, vanilla, and oak, and the flavor profile features darker fruits including plum and black cherry. Tannins are nicely integrated and the wine is beautifully balanced. Overall, a little more sappy and darker than the 2004 vintage of this wine which I also liked very much.
B. Kosuge Wines may be purchased on the website at www.bkosugewines.com. The winery address is PO Box 5413, Napa, CA 94581, The phone is 707-738-8396.
Portalupi Wine Company
This is one of those wines that comes out of nowhere and renews your faith in the Pinot God. Paul Root at Root's Cellar in Healdsburg turned me on to this Pinot Noir from a "famous" vineyard in the Russian River Valley (hint: it rhymes with cannoli). The wine was blown out of his shop in a few days and when I asked him about it, all I got was a sh..-eating grin. The label only says Portalupi Wine Co., Sonoma and the winemaker/owner is listed on the label as Tim Barges. Founded in 2002, Tim and Jane Borges have used their 30 years of experience making and marketing wines in Italy and Northern California to found their own artisan wine label. The name, Portalupi, is a nod to their Italian and Portuguese ancestry.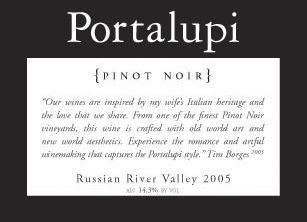 2005 Portalupi Wine Company Russian River Valley Pinot Noir
14.3% alc., 672 cases, $38. This is packaged in one heavy bottle— be careful trying to pour a glass with one hand. The wine, however, is not as heavy handed. · Light- to mediumbodied (more Volnay than Gevrey-Chambertain), the red and blue fruits and loamy highlights lead to a cherry kiss on a long finish. What is most striking here is the creamy texture which is Pinot Noir at is best. The balance is impeccable. The French would say merci!, I say pour me another generous glass, now.
Portalupi Wine Company website is www.portalupiwine.com. The Pinot Noir (and Zin and Barbera) are still available for sale on the website (discounted by the case). The phone is 707-481-5357. This is a future cult star in the making.
La Rochelle Winery
La Rochelle Winery has made a serious commitment to producing ultra-premium Pinot Noirs. The winery has launched its Heritage Series— small lot specialty Pinot Noirs which honor the Mirassou family's rich heritage of six generations of winemaking tradition. La Rochelle Winery is owned in partnership by Steven Mirassou, Mike Ghielmetti of Signature Properties, and Phil Tagami of California Commercial Investments.
Steven Mirassou oversees winemaking along with winemaker Tom Stutz, who has been crafting Pinot Noir for over 20 years. Steven acquired the La Rochelle label from family members who decided not to continue in the business after the sale of the Mirassou naming rights to Gallo four years ago. Steven, who is also proprietor and winemaker at Steven Kent Winery, wanted to continue his family's association with the La Rochelle brand. Said Mirassou, "I simply had to continue our long history of growing and making Pinot Noir from the Monterey vineyards planted in 1961. At the same time, I wanted to pursue my dream of making the finest Pinot Noir possible, in very small lots, from the best vineyard sites in the west that most truly express their unique terroir."
The first wine in the Heritage Series is the 2005 La Rochelle Classic Clones Arroyo Seco Pinot Noir. Additional releases in the series are planned throughout 2007, including the 2005 La Rochelle Santa Lucia Highlands Pinot Noir and 2005 Garys' Vineyard Santa Lucia Highlands Pinot Noir.
2004 La Rochelle Garys' Vineyard Santa Lucia Highlands Pinot Noir
15% alc. · There is a nice mélange of red berries and mushrooms on the nose with a solid core of plush red fruits and a kiss of oak and toast in the background. Remarkably balanced considering the high alcohol. In my family, this was controversial, as my wife noticed the alcohol right away on the finish, but I could not detect any heat on the backend. This wine will appeal to those who cherish fruit-driven, big-boy Pinot Noirs.
2005 La Rochelle Classic Clones Arroyo Seco Pinot Noir
14.7% alc., 235 cases, $42. This is the first wine in the Heritage Series, sourced from the Mission Ranch in Arroyo Seco and Garys' Vineyard in the Santa Lucia Highlands. It is composed of Pommard, Wädenswil and Mariafeld clones from the Mission Ranch, and the Pisoni clone from Garys' Vineyard. Aged 10 months in French oak. · The nose trumps the flavors at this stage in the wine's evolution. I wanted to drink the aromas of cherry vanilla cola. Light in weight, the flavors of red fruits, herbs and oak travel smoothly over the palate. The fruit is very shy at this point. I would cellar this wine for a year.
La Rochelle Winery has a tasting room at 5443 Tesla Road in Livermore, CA which is open from 12:00 to 4:30 daily. The wines may be purchased from the website at www.lrwine.com. The phone is 925-243-6442.
Andrew Lane Wines
Andrew Lane Wines is a small, family-owned winery, named after the owner and winemaker David Dickson's two sons (Andrew and Lane). The winery has released a Gamay Noir from one of the few remaining Gamay vineyards in Napa Valley (over 50 years old). The grapes for this Gamay Noir are gamay noir a' just blanc (true Gamay planted in Beaujolais, France).

2004 Andrew Lane Gamay Noir Napa Valley
12.9% alc., $19. This wine was aged in neutral oak barrels. · Humus and red cherries perfume the wine which has dark red grape flavors more akin to Merlot than Pinot Noir. Fine tannins and ample acidity spark the finish. Slightly chilled, this wine would be a good companion to barbecue.
Andrew Lane Wines are available for purchase on the website at www.andrewlanewines.com. There is also some retail distribution.