Santa Lucia Highlands Winegrowers Event
The winegrowers and wineries of the Santa Lucia Highlands formed an alliance in 2005, The Wine Artisans of the Santa Lucia Highlands. The association consists of vineyards and wineries that grow grapes here or use this region's fruit to craft their wines. The goal of the organization is to promote this unique viticultural region and increase awareness and appreciation of the wines of the Santa Lucia Highlands. The Santa Lucia Highlands appellation encompasses more than 4,000 acres of prime vineyards, planted on the southeast-facing terraces of the Santa Lucia mountain range, overlooking the Salinas River Valley. The area's unique character was recognized with an official AVA status in 1991.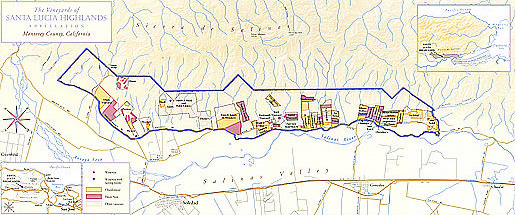 On Saturday, May 19, The Wine Artisans of the Santa Lucia Highlands will hold their inaugural event from 3:00 to 6:00 PM at Paraiso Vineyards. Consumers will have the opportunity to sample rare wines poured by the vintners themselves along with food delicacies prepared by Cal Stamenov, renowned chef of Bernardus Lodge. It is the public's first chance to explore the area's producers side-by-side in one location. Winery participants include Belle Glos, Bernardus, Hahn, La Rochelle, Loring, Manzoni, McIntyre, Morgan, Novy, Paraiso, Pelerin, Pessagno, Pisoni, ROAR, Robert Talbott, Siduri, Testarossa, Tondre, Tudor, and others. Tickets are $85 per person and can be purchased online at
www.santaluciahighlands.com/events
.