Inman Family Wines: Born in a Tasting Room
"She broke away from a discreetly sipping couple and approached us with a bouncy step and an alacritous smile. She was all of five feet five with short blond hair, framing a pale, lightly freckled face"

Miles, Sideways
Englishman Simon Inman was visiting Napa Valley a number of years ago when he stepped into Napa Creek Winery's tasting room and spied Kathleen McGowan, a college student working the first day of her summer job at the winery. Being a little more discreet than Jack and Miles, he wrote a letter to the owner of Napa Creek Winery asking him to pass along a second letter to the "assistant" to whom he had spoken briefly in the tasting room. Two years later, they were married.
After living in England for fifteen years, the Inman's developed a passion for both New World and Old World Pinot Noir. In 1998 they left their careers and arrived in California. After searching for a year, they discovered a farm for sale located at the junction of Olivet and Piner Roads in the Russian River Valley. The Greeott family had owned the farm since the 1880s and a vineyard and winery had stood on the site until Prohibition. The Inmans acquired the property and named it Olivet Grange Vineyard, after the family's English country home: The Grange at Elvington. (Note: because of a challenge from Australia's famous wine label, Grange, the Inmans have had to display OGV instead of Olivet Grange Vineyard on the front label of their wines beginning with the 2005 vintage).
In 2000, 7,2 acres of Pinot Noir and Pinot Gris were planted on the 10.45 acre property, using carefully selected rootstocks and clones (114, 115, 667 and 777 for Pinot Noir, 145 for Pinot Gris) appropriate to their Russian River Valley location. From the start, farming of the vineyard has been organic with the aim of promoting a healthy ecosystem Interestingly, Kathleen uses "Four-Course Compost," which is obtained from high-end San Francisco restaurants and hotels and is a valuable, nutrient-rich alternative to synthetic fertilizers.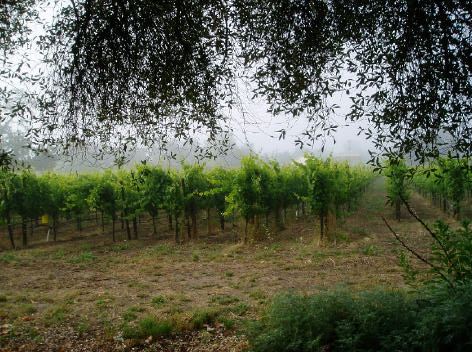 The three-bedroom farmhouse (below) was lovingly restored and became both a respite for friends and family visiting from England and a vacation rental for wine enthusiasts (Olivet Grange Farmhouse:
www.olivetgrange.com
). A private tour and tasting of Inman Family wines is part of the rental.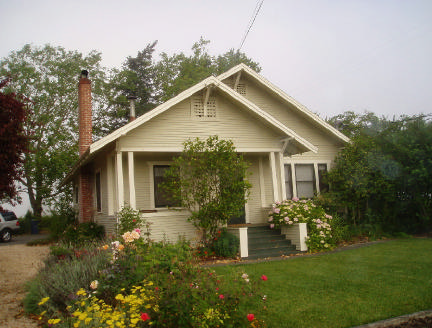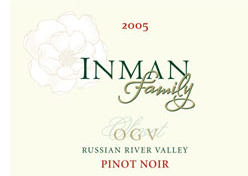 2005 Inman Family OGV Olivet Grange Vineyard Russian River Valley Pinot Noir
13.2% alc., 750 cases, $45, screw cap. 2005 was a long, cool, even growing year. The wine is a blend of all clones grown in the vineyard. Aged 11 months in 35% new French oak. · This wine shows great purity of fruit. It is softer, lighter and "prettier" than the above wine with more red fruits evident, especially red raspberry. There are attractive spice and sandalwood notes. Beautifully balanced and a joy to drink.
2004 Inman Family Olivet Grange Vineyard Russian River Valley Pinot Noir
13.7% alc., 1,050 cases, $45, screw cap. The 2004 growing year was very warm which is reflected in this wine when tasted side by side with the 2005 vintage. · The aromatics are enchanting with deep, dark Pinot fruits and a sidecar of subtle oak The flavors follow suite, featuring succulent black cherries and a touch of herbs and clove. Tannins are well concealed and the finish is clean and satisfying.
Inman Family wines can be purchased on the website at www.inmanfamilywines.com. There is some retail and restaurant distribution. Beginning in 2006, fruit was obtained from Thorn Road Ranch Vineyard farmed by Ted Klopp in the hills beyond Sebastopol. This unique site will provide an additional bottling of Pinot Noir. Some Olivet Grange fruit has been sold in the past to Pali and Siduri who have released vineyard designate bottlings. The Inman Family Rosé (Endless Crush) and Pinot Gris are also excellent and quite popular. Tasting is by appointment at the tasting room, 5793 Skylane Blvd., Suite C, Windsor. 707-395-0689.