Aussie Pinot Noir Celebration a Ripper
Pinot is hitting a high note worldwide and in Australia the leader of the band is David Lloyd of Eldridge Estate, a distinguished producer of Pinot Noir in the Red Hill area of the Mornington Peninsula (Victoria) in southeast Australia. Known to many of his cronies as "The Clone Ranger," because of his research and interest in the clonal diversity of Pinot Noir, David is the director of the Mornington Peninsula International Pinot Noir Celebration, held every two years in early February and modeled after the International Pinot Noir Celebration in McMinnville, Oregon. The most recent event was February 9 & 10, 2007. David has sent me a full report on the happenings at this, the third MPIPNC, titled "Celebrating Pinot Noir Down Under."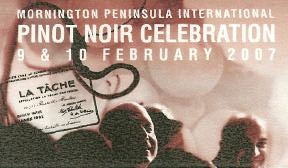 At this point, many readers are probably asking, "Why bother?" Everyone knows Australia is famous for Shiraz and to some extent, Cabernet Sauvignon, but Pinot Noir? It turns out, there is considerable international interest in Pinot Noir from Australia. Australia produced about 36,000 tons of Pinot Noir in 2005, a significant amount (although it pales in comparison to the 420,000 tons of Shiraz).
The MPIPNC is held at a 5 star venue (Lindenderry at Red Hill) about 90 minutes south of Melbourne in rural Red Hill. The event is centered around tasting celebrated Pinot Noirs from top winemakers in beautiful surroundings. The Aussie bonhomie and hospitality adds to the appeal of the celebration.
Guest wineries included Domaine de la Romanee-Conti, J.J. Confuron, Domaine de l'Arlot, and Domaine Mongeard-Mugneret from Burgundy, Cristom and Domaine Serene from Oregon, Kosta Browne and Littorai from California, and Felton Road, Mountford, and Valli from New Zealand. A host of Australian Pinot Noir producers were present as well.
The first tasting was moderated by the famous Australian wine author, Jeremy Oliver, and the influential UK wine writer, Matthew Jukes. Jukes is a wine buyer for London's Bibendum restaurant, recent judge at the Sydney Wine Show, the creator of the online 100 Best Australian Wines, and author of the recently released The Wine Book. The session was titled, "An Exploration of International Pinot Noir Styles." The 2003 Littorai Hirsch Vineyard was well received and a great example of fruit power balanced with lovely oak handling. Many tasters preferred it to the 2001 Mongeard-Mugneret Echezeaux. The 2003 Domaine Serene Evanstad Reserve was a shift to the world of the fruit bomb reinforced when compared to the 2004 Valli Bannockburn from Central Otago which showed classic sweet and sour cherry fruits. The final wine was the very stylish and elegant 2004 Main Ridge Estate from the Mornington Peninsula. A luncheon followed the tasting, prepared by local chefs and held at seven wineries across the region.
The second tasting was "An Exploration of Australian Pinot Noir" with wines from South Australia, Victoria, and Tasmania, all from the 2004 vintage. One of the highlights was Kooyong from the Mornington Peninsula (imported to the United States by Vine Street Imports).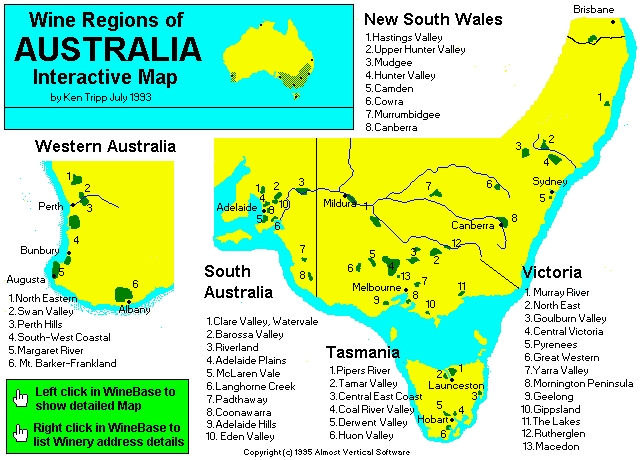 The wine was rich with sweet cherry fruits and a nice dose of plum on the finish.
Curly Flat
from the Macedon region of Victoria was equally admired with its intense maraschino cherry fruit and subtle oak highlights. Jancis Robinson raved about this wine on a recent visit down under. The other wines in this bracket,
Savaterre, Pirrie, DeBortoli Reserve, and Baratt
showed lovely fruit, length and texture, but David's palate was nudged back by the
Kooyoung
and
Curly Flat.
It was refreshing to hear the candor and honesty of the winemakers from these wineries discussing oak influence and alcohol and other technical issues.
The final tasting of day one contrasted the styles of two Burgundy domains, Jean-Jacques ConfuronThe day concluded with a sensational al fresco meal on the beautiful grounds of Lindenderry. A wide range of 34 local Australian Pinot Noirs, along with a similar quantity of Pinot Gris and Chardonnay were offered. David did notice that many of the visiting winemakers seemed to prefer a cold beer in the warm evening. In fact, David says he was sure he has a photo of Michael Browne of Kosta Browne sitting back having a "cold one."
Day two commenced with a session titled "An Exploration of Pinot Noir from Benchmark Producers across the World." The first flight consisted of wines from producers in New Zealand, Oregon, and California. Felton Road from Central Otago and Mountford from Waipara, Cristom from Oregon, and Kosta Browne from the Russian River Valley of California all discussed their wines and the unique terroirs where their wines originatel Michael Browne gained enormous respect from the audience defending his lush, fruity style of Pinot Noir in the face of criticism from the session facilitators.
The second flight featured wines from the host region, the Mornington Peninsula. The most famous of these was Paringa Estate which seems to have a firm grip on the Australian wine show circuit bolstered by a long line of success as a Gold Medal and Trophy winner. The wine had lovely, rich cherry flavors balanced with oak in a style that had great length. Ten Minutes by Tractor is a group of vineyards that share equipment and they showed a wine from the cooler part of the Mornington Peninsula. The wine had darker cherry flavors and a hint of blackberry in a style that could well have been slotted in any of the previous brackets. The Yabby Lake Vineyard Pinot Noir was from one of the warmer parts of the Mornington Peninsula. It was a plush style of Pinot Noir, oozing ripe red berry flavors with a plum finish that lasted a long time. This was a very popular wine at the event. The other three wines showed the same contrast across the region. Hurley Vineyard was an opulent style with some spicy, forest floor complexity. Stoniers Reserve is sourced from a vineyard close to Hurley, but the style was more elegant at the cherry end of the spectrum. Port Phillip Estate is on an east-facing block on a hillside and had sweet, Bing cherry flavor with elegance and nice weight.
The attendees were then herded into a fleet of minibuses and sent across the Mornington Peninsula to various wineries for lunch. Each winery served several flights of wine matched with wines from their own vineyard along with those of one or two nearby wineries. Jim Clendenen of Au Bon Climat and Terry Speizer of Domaine Alfred supplied some wines for the luncheon. These 2004 Pinot Noirs were in the big and rich style, well-suited to pair with a Saint Agur cheese dish prepared according to a recipe supplied by The Painted Lady Restaurant of Newberg, Oregon.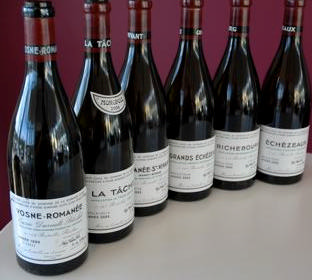 The final session was a "Domaine de la Romanee- Conti Tasting and Conversation with Aubert de Villaine and James Halliday." Halliday initially covered the geological history of the DRC vineyards, along with, to steal a phrase, a brief history of time. The key point was that DRC has records of extreme heat, drought and cold extending back many, many centuries. In the context of this time frame, all present left feeling that the current period of climate change is not such a new phenomenon. Furthermore, DRC respects the soil as a living entity and cultivates it under biodynamic principles. The five DRC wines presented for tasting were all from the 2004 vintage. and
Domaine de l'Arlot.
The wines were represented by their Australian importers. One of the facilitators set up quite an elaborate options game with his colleagues and the rest of the attendees, trying to look at the terroir and then the hand of the winemaker. Keynote speaker Matthew Jukes did a credible job of explaining these features as he untangled the six wines in front of the whole audience.
2004 Domaine de la Romanee-Conti Echezeaux Gorgeous! The nose had rich Bing cherry aromas and on the palate this was joined by some dark cherry fruit and a little blackberry. Great length and power. The wine was quick to open up, and Aubert said that this is typical for this wine.

2004 Domaine de la Romanee-Conti Grands Echezeaux This wine showed red berry fruits, a bit of five spice, and feral forest floor. It promoted quite a deal of discussion both positive and negative, to which Aubert seemed to give a knowledgeable shrug of agreement.
2004 Domaine de la Romanee-Conti Romanee St Vivant I have had wines from these vines many times, but none were as fine as this example. The glass seemed to ooze cherries. It breathed up to show great power and length with the red cherry/ berry flavors giving way to a plumy finish. Power and elegance.

2004 Domaine de la Romanee-Conti Richebourg This opened slightly reduced. I actually like to see a little reductive character in Pinot Noir as it helps to protect the wine. This wine was pretty tight and some described it as masculine. It had lovely cherry and spice notes with a superb mix of fruit and oak. The wine lingered for some time on the palate and left memories of plums as well as cherries.

2004 Domaine de la Romanee-Conti La Tache Le Tache
was the wine that changed David's life some 30 years ago so this description may be a bit ambling. David used to make and drink Cabernet and wondered why people drank Burgundy until someone served a 1943 La Tache at dinner. It was served blind so David had no warning that he was about to meet something special. The was very pale and more brown than red, but the perfume and palate power sent him to another place. The 2004 La Tache is quite a different experience. It was served unmasked, yet it still seemed to grab his attention. It opened on the nose with what he described as cherry and char. He has seen this in many California Pinots, but not with the same understated fruit quality as experienced with this wine. With continued evolution, the nose revealed floral notes of roses and violets as well. On the palate, it had intense sweet red cherry flavors that expanded across the palate with a little mocha, clove, and toasty oak. It was a very complex and harmonious package.

After two days of heavenly pinotphilic endeavors ending with the 2004 La Tache, David was thoroughly satiated, but a few hours later, there was another surprise in store. The Grand Banquet is the closing event of the celebration and has a similar feel to events David has experienced in Oregon and New Zealand. A feature of the Grand Banquet was Pinot Noirs served from vintages 1999 to 2004 perfectly matched to the food courses. But David's focus was on the last wine, the
1999 Domaine de la Romanee-Conti Vosne-Romanee.
He has had many 1999 Burgundies, and regards it as a great vintage. This DRC wine reinforced his beliefs. The guest speaker, British sports legend, wine collector, consumer and lover, Ian Botham, seemed to sneek quite a bit of this stuff. To be honest, David was waiting for the police to come and get him, because he was convinced that this was mass vinocide. The wine still seemed very youthful. Aromas of dark cherry and plum plus a little cinnamon. The palate was sheer muscle power with weighty cherries, plum and and enjoy the wine and soak in a lovely summer evening at beautiful Red Hill.
The next event will be held in February, 2009. Information will be forthcoming from David Lloyd at fizz@eldridgeestate.com.au or the event website at www.mpva.com.au.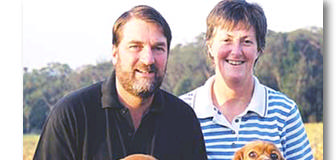 David and Wendy Lloyd
The Pinot Noirs from Australia that I have been fortunate to taste have been exceptional. If you peruse older issues of the PinotFile, you will find reviews of Bindi and Curly Flats from the Macedon Ridges, and Main Ridge Estate, Yabby Lake, and Kooyong from the Mornington Peninsula, among others. Vine Street Imports (www.vsimports.com) imports Bindi, Moondarra, and Kooyong to the United States. Yabby Lake is handled by Paterno Wines International (www.terlatowines.com). Select retailers such as Hi Time (www.hitimewine.net) in Costa Mesa and The Jug Shop (www.jugshop.com) in San Francisco carry some Australian Pinot Noirs.
Matt Kramer, a noted American wine writer, recently spent three months touring Australian wineries. Known for being frank, Kramer told Jeni Port at www.theage.com.au his opinion of the local wine industry. Kramer laments, "Whether Australians know it or not - and I don't know whether they do or not - Australia has emerged in the last decade as the most powerful wine force in the world." The problem is, as Kramer points out, "Australia is dominated by a relative handful of mega wine companies who are not only masters of wine marketing, but also at creating quite good, stunningly inexpensive wines. But the big wineries of Australia don't give a damn about expression of place. Their business is blending, concocting wines. The biggest difference between Australia and California is that in California it's the high-end little guys who are setting the pace and the big boys try to copy them as best they can." During his stay in Australia, Kramer became known on the Mornington Peninsula, and everywhere else good Pinot Noir was made. When he attended the Mornington Peninsula Pinot Noir Celebration, he liked what he saw, "Nearly all of the Mornington Pinots were lovely, even ethereal, wines that traded strongly on deftness with no inadequacy of flavor or depth."