Screw Caps Pioneered at Boisset
According to Nielsen Company's annual summary of the retail alcohol beverage market, 2006 sales of screw caps saw a 24.6% growth and accounted for 4% of all 750ml table wine sales. A poll conducted by the Portland Business Journal asked consumers, "Is a cork an essential part of the fine wine experience?" 50% of respondents said, "Who cares how the bottle's closed as long as the wine is good," 26% said, "Without a cork, it's just not the same," 12% said, "I've got better things to worry about," and 10% said, "Screw caps are OK for cheap stuff, but I want a cork with the good stuff." Some of the other comments were quite humorous. "Just keep filling my glass with Pinot Noir, OK?" "Screw tops for fine wine are about as acceptable as Dixie cups for a dinner party."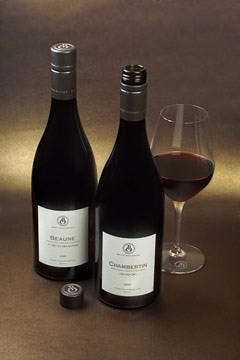 For the first time, a prominent Burgundy wine merchant is going to bottle grand cru Burgundy reds under screw cap. According to a recent press release, Maison Jean-Claude Boisset plans to bottle half of their 50-case production of 2005 Chambertin with a metal screw cap and half with a traditional cork. Both versions of the 2005 Chambertin will be available in France, the UK and the US. Boisset has used screw caps on several of its wines since 2003, including its Santenay Premier Cru Clos Rousseau, Chambolle-Musigny and Gevrey-Chambertain. Whites were offered with screw caps beginning in 2004. Boisset plans to also offer its 2005 Beaune Premier Cru Les Bressandes with both screw cap and cork closure.
The Boisset family has conducted a four-decade cellar test in which they compared the tastes of wines bottled with metal closures and traditional corks. The comparison that sealed the deal, so to speak, for Boisset winemaker Grégory Patriat, was a tasting of 1964 Nuits St. Georges Premier Cru and 1966 Mercurey. The wines sealed with a metal closure tasted fresher, retained more fruit flavors, and were more consistent from bottle to bottle. The wines sealed with cork had more bottle variation. According to Patriat, "The future of great wines lies with screw caps."
Boisset uses the Stelvin Lux+ model which allows a small amount of oxygenation to reach the wine through the seals. The thread is hidden inside the cap, giving the cap a pleasing and elegant appearance. The screw cap closures are more expensive than traditional corks.