The Pinot Czarina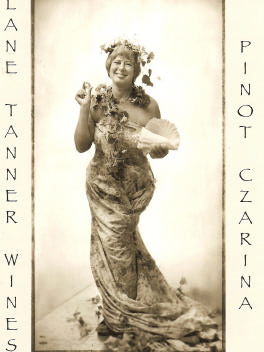 Lane Tanner is a California treasure. Working at Konocti Winery in Lake County on the bottling line in the mid 1970s, her employer found out she had a degree in chemistry and put her in the lab. The first day she was in the lab, she was introduced as the new enologist to the winery's consultant, Andre Tchelistcheff. The only problem was that Lane had no clue what an enologist was. Andre kept telling the winemaker, "Have Lane test this, have Lane test that." Fortunately, Andre liked her spunk and her future career was born. Her experience with Andre has led to her current alias, "Pinot Czarina."
Lane moved on to Firestone Winery in Santa Barbara County and then started her own label, Lane Tanner Winery, in 1984. She was previously married to the owner of the Hitching Post restaurant and made the house wine for that restaurant made famous in the movie Sideways.
She now produces about 1,500 cases of Pinot Noir and Syrah at Central Coast Wine Services in Santa Maria. Her style of winemaking is distinctive. She strives for elegance and avoids high and intrusive alcohol at all costs. Oak treatment is understated, with 20-30% new French oak used during a 12-18 month period in barrel. She remains a one-woman show and does everything from start to finish herself. You won't find her wines prominently promoted, but pinotphiles know to buy everything she makes every year. The 2005 lineup is the best since 1986 according to Lane and she calls them the "Yum Yum Lineup."
2005 Lane Tanner Santa Barbara County Pinot Noir
13.5% alc., 556 cases, $24.50. The back label says, "Dogs, Men, Wine, I Love Them All." A drop of Syrah in this one. · Terrific aromatics of toasty spiced cherries. A wine of finesse with tart cherry, pomegranate and oak spice flavors. Very light on its feet and thoroughly satisfying. As Lane says, goes with everything and everyone.
2005 Lane Tanner Bien Nacido Santa Maria Valley Pinot Noir
13.0% alc., 264 cases, $30. The back label says, "When are we going to live, if not now?" Sourced from 30 year old vines in the Bien Nacido Vineyard (almost as old as Lane). · This Pinot has a really nice perfume of ripe cherries, cassis and toast. The wine has more backend power than the wine above with a sexy cherry kiss at the end which lasts an eternity. Very nicely composed and balanced. Who says great Pinot Noir can't be made at 13% alcohol? I have seen the Chapel of Love and it is good.
2005 Lane Tanner Julia's Vineyard Santa Maria Valley Pinot Noir
14.5% alc., 375 cases, $33. · This is the richest wine of the lineup but still has lively acid for balance. Decant this wine or wait an hour after pouring a glass or you will be cussing Lane that she sold you a bill of goods! Once it flowers, it offers an attractive nose of plums and currents with a plump mouth feel and a fruit and herbal finish. A little alcohol peaks out on the nose with time. I would drink the above two wines and cellar this busty one for later enjoyment.
Lane Tanner Winery wines are available in Santa Barbara County retail stores and on the winery website at www.lanetanner.com. Join the Pinot Czarina Wine Club for discounts.