Et Fille Wines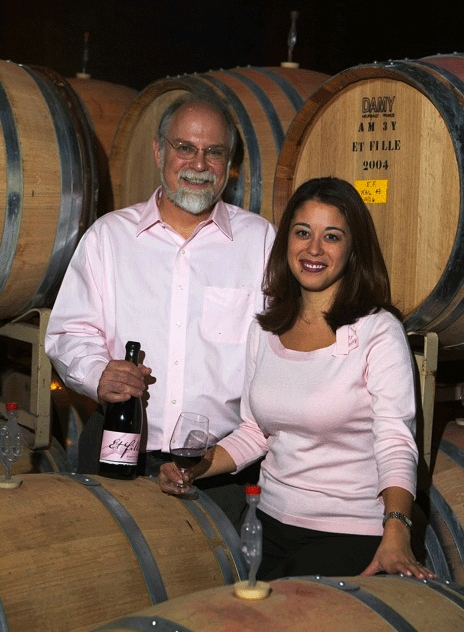 The Mozeico family is quietly turning out some of Oregon's finest Pinot Noirs. Father Howard, whose background is in software, has been making Pinot Noir since 1984. Daughter Jessica first assisted in the winemaking with the 2000 vintage and the name Et Fille was born. Et Fille means "and daughter." Howard jokes that "Mozeico et Fille" just wouldn't work.
The goal here is to make small, manageable amounts of distinctive singlevineyard Pinot Noirs in a style that is adapted to the character of each individual vineyard. No attempt is made to craft every vineyard-designate Pinot Noir in the same fashion. Mozeico believes each vineyard gives something unique, and this precious expression of terroir is preserved in the artisan Pinot Noirs made here by father and daughter.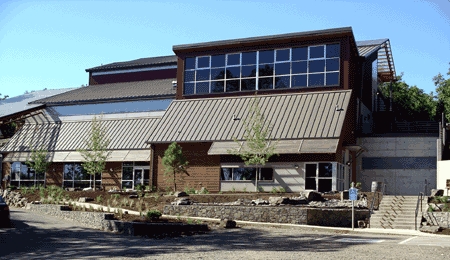 The wines are made at August Cellars, a state-of-the-art gravity flow winery just off Hwy 99W near Newberg, Oregon. A tasting room here offers some of the wines and is open weekends all year, weekdays during the summer. Private tastings are available by appointment (503-449-5030). Sales and marketing are handled by Jessica.
2005 Et Fille Willamette Valley Pinot Noir
13.5% alc., 140 cases, $22. Aged 10 months in 10% new French oak. · A delightful wine that is not terribly complex, but nicely balanced and beautifully composed. It is a red-fruit driven Pinot with hints of pepper and a gentle touch of oak. Reasonably priced, this wine could be a daily companion at the table.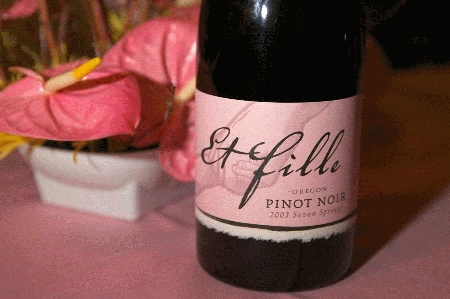 2005 Et Fille Palmer Creek Vineyard Eola-Amity Hills Willamette Valley Pinot Noir
14.5% alc., 100 cases, $32. This 22-acre vineyard is located near Shea Vineyard and planted to Pommard and Wädenswil clones. The wine is aged for 10 months in 50% new French oak. · A Pinot of noticeable heft with a deep and complex nose of black cherries, black berries, roses, and vanillin that attracts your attention. The texture is soft and pillowy and the finish of ripe cherries and raspberry tinged with mocha lingers. There is good acid to support the prodigious fruit. A rose and a Baby Ruth.
Et Fille Wines are sold through the tasting room and a mailing list. I got mine from www.avalonwine.com. The Palmer Creek Vineyard and Kalita Vineyard Pinot Noirs are sold out at the winery. In the Spring of 2007, two wines will be released: 2005 Et Fille Elton Vineyard Willamette Valley Pinot Noir and 2005 Et Fille Maresh Vineyard Willamette Valley Pinot Noir. The phone number is 503-449-5030 and the website is www.etfillewines.com.