Segue Pinot Noir
Stephen Yafa has written about wine professionally for many years including contributions to the San Francisco Chronicle. He decided to embark on an adventure of making his own wine and writing a book about the experience. Although he has not found a suitable and willing publisher as yet, he has found an outlet for his experience in his Big in the Mouth Blog at www.seguecellars.com. The blog is very entertaining as it takes the reader on adventures in and out of winemaking. "Cheap shots, unsolicited opinions, and erratic journal entries on my segue from writer to Pinot Noir winemaker."
Along with guidance from noted winemaker Greg LaFollette, he crafted a 2005 Russian River Valley Pinot Noir. The wine is a blend of three outstanding Pinot Noir vineyards: Balletto, Van der Kamp, and Sangiacomo. All of these vineyards are in an area of the Russian River Valley where daily fog cools the grapes as it funnels in from the Pacific Ocean, which is about 15 miles to the west. The grapes were cold-soaked for 7 days, then fermented using native yeasts and hand punch downs. The wine was aged in 50% new and 50% neutral French oak for 11 months and bottled unfined and unfiltered. Bottled October 20, 2006.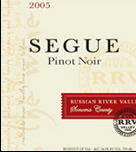 2005 Segue Russian River Valley Pinot Noir
14.2% alc., 50 cases, $42. As the label says, "Like a silky transition between sunset and twilight, the wine in this bottle has been crafted to segue fluently from grape to glass." · The nose is classic Pinot Noir with cherry and berry goodness with toasty oak highlights. A little heat is evident but it is not over the top. Perfectly fine cherry cola fruit is presented in a gentle and lighter style. The texture is satiny and the wine finishes with lively acidity. Only some bitter oak tannins on the finish mar the experience. Certainly a very drinkable Pinot and one to be proud of considering this is an initial effort.
Segue Cellars 363 N. Ferndale Ave, Mill Valley, CA 94941. The website is www.seguecellars.com. Stephen Yafa can be reached at 415-389-1183 for ordering wine. 20 cases remain.