Molnar Family Pinot Noir
Nicholas Molnar is a Hungarian refugee who escaped Communist rule in 1956. In the late 1960s, he discovered Napa Valley and the wines reminded him of those from his homeland. He began buying land and developing vineyards throughout the Napa Valley. In 1973, he planted Poseidon's Vineyard at the confluence of Carneros Creek and the Napa River at the northern edge of the San Francisco Bay. This was one of the few vineyards in Carneros which at the time was largely composed of sheep ranches. Cooling winds blow through the Petaluma Gap from the Pacific Ocean and bring fog throughout the growing season to temper the heat. Over the next 30+ years, Molnar supplied grapes to notable wineries such as Joseph Phelps, Heitz Cellars, Sterling, Pride Mountain, Acacia, and Mumm Napa Valley. There is a rumor that local Carneros legend, Boonfly, is buried in Poseidon Vineyard.
The Molnar sons wanted their own label and so they partnered with Michael Terrien to make Chardonnay and Pinot Noir from their own vineyards in the cool southern end of the Napa Valley. Michael Blaise Terrien is a University of California Davis trained winemaker who crafted wine at Acacia for a number of years and is now at Hanzell. He also makes wine for Kazmer & Blaise and Obsidian Ridge, which like Molnar Family, is part of the Tricycle Wine Company group (www.tricyclewineco.com).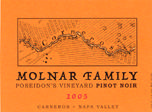 2005 Molnar Family Poseidon's Vineyard Carneros Pinot Noir
13.9% alcohol, 1228 cases, $28. The label shows an 1860 Coastal Survey of the distinctive bends of Carneros Creek which have been used as landmarks. This Pinot Noir is unusual in that the cooperage used was Budapesti Kadar Tokaj oak barrels from Hungary which is also owned by the Molnar family. 34% new barrels were used and the wine was aged for nearly a year. The aromatics are extremely subdued with faint cherry and spice notes. · The flavors, however, are very delicious, with cherry pie filling the most evident. Sleek and easy to drink, this lighter styled Pinot has appealing style and grace. Hungarian oak is very tight grained and imparts little to no oak aromas or flavors. It is said to offer a distinctive spice note to Pinot but I don't have enough experience to detect that in this wine. This Pinot Noir is a solid daily drinker that would pair well with simply grilled salmon or roast chicken.
Molnar Family wines are distributed to fine wine retail stores such as Roots Cellar in Healdsburg. There is a mailing list signup at www.tricyclewineco.com