Sonoma Coast Vineyards
John and Barbara Drady founded this label. John is a reserve-duty Gold Ridge Sonoma fireman who wears many hats including assisting with winemaking, marketing the Sonoma Coast Vineyards portfolio of wines, and tending to his pet side project, Fire Engine Red Zinfandel and Syrah wines (a portion of the profits from which support Sonoma County firefighters). Barbara is well known in wine circles for her company, Affairs of the Vine, which conducts educational wine tastings for corporations and other groups, offers several weekend "Wine Boot Camps" where wine enthusiasts can obtain some hands-on grape farming and winemaking experience, and directs the yearly "Pinot Noir Shootout and Summit" in San Francisco. She has developed a trained and exquisite palate from her many prior years in the retail wine business, and her opinions lend great sophistication to the Sonoma Coast Vineyards wines.
The vineyards selected for Sonoma Coast Vineyards wines are situated within a 3-4 mile radius of Freestone and are complemented by vineyards in the Two Rock area on the far southwestern reaches of the Sonoma Coast. Barbara likes to refer to the true Sonoma Coast as "living on the edge." She offers the following distinctions that typify the true, or as she calls it, the extreme Sonoma Coast: (1) Production limited by temperature, (2) Temperatures which are marginal for ripening, (3) Long growing seasons, (4) Vines that produce grapes with mature fruit at lower sugar levels, (5) Crop loads that are very small, and (6) Thin, rocky, shallow soils that have not been farmed previously and are framed within a very cool climate.
Sonoma Coast Vineyard's inaugural vintage was 2002. This was winemaker Anthony Austin's 28th vintage. A University of California Davis graduate in enology, Anthony studied under the great Andre Tchelistcheff. He directed the first crush at Firestone in 1976. Firestone was the first modern-day commercial winery in the Santa Barbara region. The Firestone family in partnership with Suntory Limited of Japan spent $7.5 million dollars (a sizable sum at the time) to build a 40,000 square foot winery north of Santa Ynez. By 1978, Firestone Chardonnay had won a Double Gold in a prestigious London wine competition and multiple awards followed under Austin's direction. In 1981, Anthony left to establish his own label, Austin Cellars, in Los Olivos. He made two legendary Pinot Noirs in 1982, a Sierra Madre Vineyard and a Bien Nacido Vineyard Pinot Noir. The winery was sold in 1992 after one of Austin's partners was convicted of dealing cocaine to help bankroll the winery.
I recently spent some time with John Drady and Anthony Austin as they drove me around the Freestone area pointing out the landmarks and significant vineyards. We saw the Phelps Freestone vineyard and new winery construction. Later, we walked the Ballistreri Vineyard, which provided grapes for Sonoma Coast Vineyards' first vineyard-designate Pinot Noir in 2004. The pastoral scene was charming, with sheep grazing in a newly planted portion of the vineyard dining on weeds on a brisk morning in December (photo below). Anthony pointed out that the region contained many microclimates with markedly different terroirs. The Ballisteri Vineyard sits in the fog line, but winds at the site blow off the fog regularly opening the vineyard to the sun.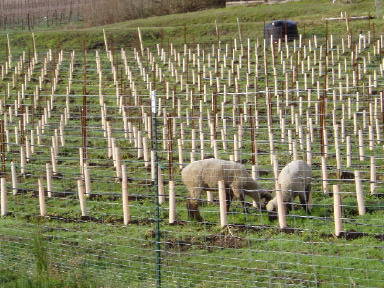 The three of us returned to the Drady residence in Sebastopol and tasted the 2004 Sonoma Coast Vineyard Pinot Noirs.
2004 Sonoma Coast Vineyards Sonoma Coast Pinot Noir
14.23% alc., 1043 cases, $60 was released in January, 2007. It is composed of grapes from 6 vineyards (60% Freestone area) and 7 French clones including Pommard 3, 113, 114, 115, 667, 777, and 828. · It is still un-evolved at this stage. I find that the Drady's Pinot Noirs take at least a year after purchase to really strut their stuff. The 2003 is just now coming into its own (see page 7), Still, the pedigree is evident. There are copious and dense dark Pinot fruits, some earthiness and mushrooms lurking and a lush texture with a strong but but sensible tannic structure.
2004 Sonoma Coast Vineyards Ballisteri Vineyard Pinot Noir
14.37% alc., <200 cases, $100. Will not be released until the summer of this year. I wanted to get my hands on some of this now. The wine is from the Ballistreri Family vineyard, Freestone View Block , consisting of Dijon clones 114, 115, 667, 777, and 828. · Still tight like its estate brethren, the aromatics attack the senses with wondrous Pinot extracts. It is fat in the mouth with dark stone fruit, game and soy flavors accented by healthy tannins and an explosive finish. The generous acid backbone portends a long life.
You may still find some of the 2002 and 2003 vintage for sale on the Sonoma Coast Vineyard website (www.sonomacoastvineyards.com) and at fine retail wine stores. The prices may seem high, but you must remember that grapes are expensive to farm in the Freestone area of the Sonoma Coast. In addition, the Sonoma Coast Vineyard Pinot Noirs spend extended time in barrel (19 months in 50% new French oak) and in bottle before release. Many Pinot Noirs are rushed to market before they are ready. A number of 2005 Pinot Noirs have been out since mid-summer. The Drady's passion for fine wine allows them no shortcuts and they are fanatical about the quality.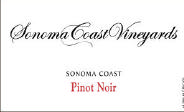 2002 Sonoma Coast Vineyards Sonoma Coast Pinot Noir
14.28% alc., 715 cases, $60. · Deep plum, blackberry and black cherry aromas set the stage for an onslaught of dark fruit flavors highlighted by herbs, wet earth and oak. Easy to drink, and Burgundian in spirit, this Pinot has the right balance of acid and dusty tannins to complement food.
2003 Sonoma Coast Vineyards Sonoma Coast Pinot Noir
14.16% alc., 783 cases, $60. · This was very sexy juice when young and now it is totally scandalous. Full bodied in texture and lush, this smells like earthy mushrooms and dark cherries. In the mouth there are plush ripe berry flavors that carry over into a finish that lasts an eternity. This wine has plenty of structure for the long haul. It builds in intensity over time in the glass which is a sign of a great wine. Still good the next day from an opened bottle.
Besides their Pinot Noirs, Sonoma Coast Vineyards has two other wines of great interest. The Chardonnay is a node to Chablis and an excellent example of this style. The Hummingbird Hill Vineyard (photo below) Sauvignon Blanc preserves its varietal purity by partially fermenting the wine in aged French oak and partially cold fermenting it in stainless steel. Sommeliers have loved this wine and it is poured by the glass at some notable Bay Area restaurants.
Sonoma Coast Vineyards wines enjoy a good retail distribution and are also available through the website. For the complete experience, visit John and Barbara at their tasting room in their residence in Forestville (707-874-1993). You cannot help be caught up in their enthusiasm for their wines. Look for them pouring at the 2007 World of Pinot Noir in Shell Beach, California.