Oregon Pinot Noir 2004
Oregon may seem anachronistic in comparison to California, but it's Pinot Noirs are thoroughly modern. Oregon got a bit of late start in winegrowing. The first serious vinifera vineyards were planted in the mid 1960s by pioneers such as David Lett, Dick Erath, and the Sokol-Blossers, among others. It did not take Oregon long to catch up. In 1970, there were 5 wineries and 35 vineyard acres; today there are more than 11,100 vineyard acres and 364 wineries. Oregon has the third largest numbers of wineries in the United States behind California (1,905) and Washington state (430). Pinot Noir is the most widely planted grape by far (nearly 50% of all vineyard plantings), but 41 varietals are scattered in vineyards throughout the state.
Although Oregon has done well to promote its healthy wine industry, a few curiosities arise. The state beverage is milk despite the fact that wine is now the state's most visible agricultural product and the state flower is the Oregon grape which is actually a holly bush and not a wine grape at all. Rain is synonymous with Oregon, but unfairly so, for in the Willamette Valley where much of wine grape farming occurs, there is no more rain than other cool-climate wine growing regions of the world. That is not to say that rain isn't a problem, for much of Oregon's rainfall occurs in the spring and fall (as well as through the winter), with dry conditions in mid summer.
The Willamette Valley was Oregon's first formal American Viticultural Area (AVA), created in 1984. Unofficially, it is divided into north and south halves along the 45th parallel and extends from Portland in the north to Eugene in the south. There are now 15 AVAs in Oregon and 6 sub-AVAs in the Willamette Valley. The newest AVA, Chehalem Mountains, was only recently approved. The sub-AVA designations have started to appear on wine labels (replacing 'Willamette Valley') with the 2004 and 2005 vintages. A map of the sub-AVAs of the Willamette Valley is on page 2.
The AVAs are largely characterized by their soils. There are two main types: (1) red volcanic basalt soils known as 'Jory' from 13 million year-old lava flows, and (2) brown marine sedimentary soils known as "Willakenzie' laid down under the ocean 20 million years ago. The AVAs encompass hillsides with vineyards located at 200-1000 ft. The valley floor is composed of rich, alluvial soils which are best suited for crops such as grain, grass seed, and fruit trees.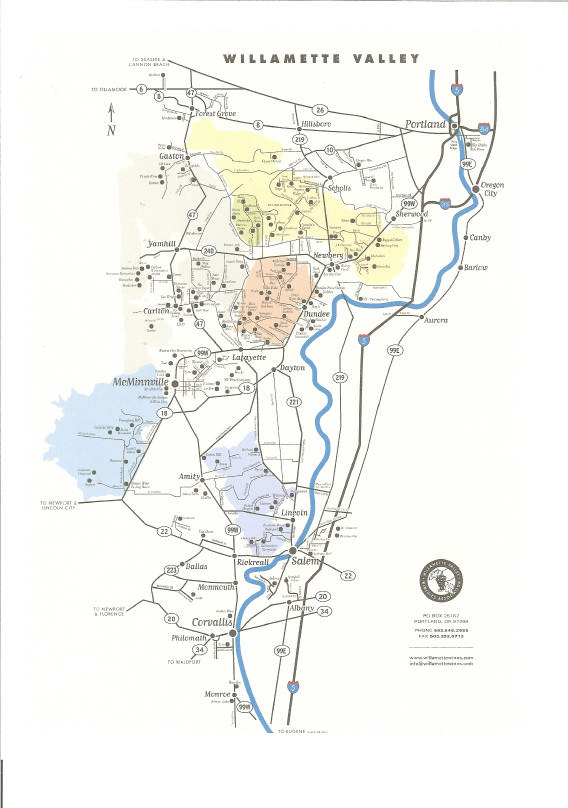 Key: Yellow - Chehalem Mountains; Beige - Yamhill-Carlton; Green - Ribbon Ridge; Orange - Dundee Hills; Light Blue - McMinnville; Dark Blue - Eola-Amita Hills
Some generalizations regarding flavor and style of Pinot Noir can be made for the appellations based on the differences in soil type. The AVAs with Jory soils like Dundee Hills, Eola-Amity Hills and parts of Chehalem Mountains and McMinnville tend to produce Pinot Noirs with bright red fruits including cherry and raspberry, and are softly textured. The Pinot Noirs from AVAs with Willakenzie soils like Yamhill-Carlton, Ribbon Ridge, and parts of Chehalem Mountains and McMinnville typically offer more dark fruit, spice (cola, anise), and wet leaf flavors and tend to be more tannic and structured. By magnifying the map on page 2, you can pinpoint many prominent Oregon wineries to their appellation. The best way to get a feel for the Willamette Valley terrain is to visit. All of the appellations are contiguous, easily explored by car over the course of a few days, and only a 45-90 minute drive from Portland.
Vintages in Oregon are, like Burgundy, at the mercy of climatic conditions during the growing season. From 1995-1997, Oregon experienced extremes of rainfall which led to poor vintages for Pinot Noir. Then there was a run of consistently fine vintages from 1998 until 2002. 2003 was an anomaly, the hottest and driest year on record in the Willamette Valley. The Pinot Noirs had elevated sugar levels, high extraction, high alcohol, and raisin flavors. 2004, 2005, and 2006 resumed the string of fine vintages prior to 2003. According to winegeeks.com, the following vintages were "great": 1998, 2000, 2001, and 2003, and the remaining ones "outstanding": 1999, 2002, and 2004. Oregon Wine Press (Dec 2006/January 2007) calls the 2006 vintage 'close to perfect,' with plentiful yields combined with mature flavors.
The Oregon Pinot Noirs from the 2004 vintage are available now as many of the early 2005 vintage wines began to appear in the marketplace. Jean, at avalonwine.com, glows: "We love Oregon's 2004 Pinot Noir vintage. There's a juicy, sweet, uplifting raciness to the wines, a product of cooler temperatures, great natural acidity, and well-ripened fruit harvested before the rains. I like the 2004 Pinot Noir's hallmark quality - a combination of an initial burst of sweet fruit with an enlivening streak of acidity and tannins that structure the wines but don't interrupt the enjoyment of layers of flavors in the finish."
avalonwine.com, 9/21/04) as a "vintage of complex challenges that required skillful viticulture techniques and good decision making in the vineyard." 2004 began in January with a winter freeze that damaged many young vines. In April, warm days were followed quickly by colder weather and sporadic rains that decreased fruit set, caused irregular cluster and berry size and reduced overall crop size. But, as grower Dick Shea pointed out, poor fruit set is not necessarily a bad thing for it limits yields to about 2 tons per acre which is ideal. In essence, nature does some of the crop thinning for the grower. Also, smaller berries mean increased ratio of skin to juice and potentially more flavorful wine. The summer was warm and dry, but cold and wet weather set in early in September. Mildew threat was evident. Luckily, sunny, cool weather prevailed by the end of September and winds kept rot at bay. The crop, although reduced in size, reached maturity and the quality of the fruit was generally good.

I recently had the opportunity to blind taste through a number of premium Oregon Pinot Noirs from the 2004 vintage. After the blind tasting, I revisited the wines over a few hours. The wines ranged in price from $25 to $50, and wouldn't you just know it, my favorite was the most expensive. The alcohol levels were moderate, ranging from 13.0% to 14.5%. The most striking feature to me was the healthy acid spine in all of the wines making them more welcome at the table than in a blind tasting lineup. Several had hard tannins that I suspect will soften over time in the bottle. The perceived tannins were probably accentuated by the notable acidity. The best displayed alluring aromatics, beautiful plump, sweet fruit, and extended, complex finishes. Most of them are still available on the market (look to www.avalonwine.com in Corvallis, Oregon as an excellent source). I have also included a number of other Oregon Pinot Noirs I sampled in my usual fashion (non-blind).

Top Beaver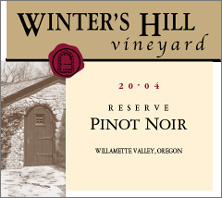 2004 Winter's Hill Vineyard Reserve
14.3% alc., 155 cases, $50. · This wine has an extraordinary nose of cherries, cola, spice and chocolate leading to a complex depth of flavors of rich red cherries, Coke, and baking spice. There is an underlying earthiness that adds to the appeal. What really wows is the caressing texture of silk and satin. The lovely spiced cherry back end lasts an eternity. This sensual pleasure is everything you could hope for in a Oregon Pinot Noir.
Winter's Hill Vineyard also has released a 2004 Pommard Clone Cuvee ($38) and a 2004 Dundee Hills Pinot Noir ($28). The winery has a tasting room at the vineyard, 6451 Hilltop Lane, Lafayette, Oregon, open Fri-Mon or by appointment (503-864-4610). The wines are available for sale on the website, www.wintershillwine.com.
Prime Beavers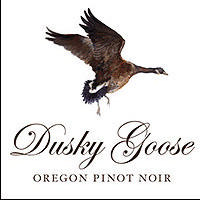 14.5% alc., 770 cases, $50. This is a small label currently owned by John and Linda Carter and Tamara Lundgren. The estate Goldschmidt Vineyard is one of Oregon's heritage own-rooted vineyards, first planted in 1974. The 17 acres are composed of Pommard, Wädenswil, and Coury clones. Noted winemaker Lynn Penner-Ash sourced fruit from this vineyard while at Rex Hill from 1988-1996, and now uses the grapes for her own Penner-Ash bottling as well as crafting the Dusky Goose release. · This is a substantial Pinot Noir that takes a while to reveal its charms. Enticing aromas of raspberry, cherry and mocha carry through in the flavors with added notes of tea, herbs, smoke and spice. The acidity is refined and the back end oak tannins smooth out nicely with air time. The wine wears its alcohol well. The finishes echoes with a grin-inducing mega-dose of plump cherries.
Dusky Goose address is PO Box 40, Dundee, Oregon 97115, and the phone is 503-542-4298.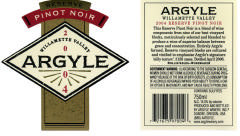 2004 Argyle Reserve Pinot Noir
14.5% alc., 3156 cases, $29, screw cap. This Pinot Noir is produced entirely from estate fruit and is sourced from nine of the best vineyard blocks. Rollin Soles is the winemaker. · A Pinot that is very true to the Pinot Noir ideal, it is light in color, gentle, perfumed and ethereal in style. The nose has delicate cherry and floral notes. Spry red fruits, Asian spices, and dark chocolate highlight the complex flavors and the wine closes with bright acidity. The whole package is beautifully balanced. Not a blockbuster, just the right stuff.
Argyle Winery is located at 691 Highway 99W, Dundee, Oregon 97115. The tasting room is open 11-5 daily. The wines may be purchased online at www.argylewinery.com or by phoning the winery at 1-884-ARGYLE. They are one of the few wineries in Oregon to make sparkling wine as well.

2004 Le Cadeau Vineyard Coté Est Willamette Valley Pinot Noir
14.1%, $45. In 2004, three cuvees were made from the Le Cadeau Vineyard by three different winemaking teams. This one was made by the crew at Bergstrom Winery. The grapes were sourced from the east side of the vineyard. I featured this vineyard in a past PinotFile (Volume 5, Issue 52). Tom and Deb Mortimer are the dedicated owners and farmers of this vineyard. Only 480 cases of wine were produced in 2004. · I loved the assertive aromatics in this wine which offered ripe dark cherries, baking spices, and oak. This is a lush and voluptuous style with a velveteen texture. The wine finishes cleanly with powdered oak tannins, dark fruit, and a hint of alcoholic heat. A charmer.
Le Cadeau Vineyard is located near Newburg and north of Dundee, Oregon. The phone is 612-799- 8969. The two other 2004 releases are reviewed below. The wines have limited retail distribution including www.avalonwine.com.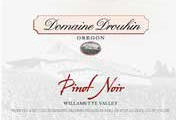 2004 Domaine Drouhin Willamette Valley Pinot Noir
14.1% alc., $45. This French-owned winery is one of the most visible and consistently fine producers of Pinot Noir in the Willamette Valley. Veronique Drouhin has crafted the wines here in every vintage since the beginning in 1988. She calls the 2004 vintage, released in January, 2007, "the quintessential Pinot Noir." · This wine is still very young and closed and needs some air time if you want to drink it now. It is marked by great purity and finesse over fruit heaviness, both hallmarks of Domaine Drouhin. The nose is redolent of red fruits including strawberries. A silky body of fruit (think dry cherries) is uplifted by bright acidity. There are still some notable tannins on the finish that will resolve with cellaring. Domaine Drouhin Pinot Noirs are very age worthy so keep a few bottles in your cellar for down the road.
Domaine Drouhin Oregon is located at 6750 NE Breyman Orchards Rd, Dayton, Oregon 97114. A tasting room is open Wed-Sun from 11-4. Tours are available by appointment (503-864-2700). The wines are available on the website, www.domainedrouhin.com. There is also good retail distribution for this Pinot Noir.



Choice Beavers
These wines were perfectly decent and recommended as well.
Other wines included in this blind tasting were: 2004 Daedalus Cellars Labyrinth Pinot Noir 14.1% alc., $40, 2004 Carabella Willamette Valley Pinot Noir 13.9% alc., $43, 2004 Cherry Hill Winery Estate Willamette Valley Pinot Noir 13.4% alc., $31, 2004 Cubanismo Willamette Valley Pinot Noir 13.0% alc., $28, and 2004 Stevenson Barrie Freedom Hill Vineyard Pinot Noir 13.0% alc., $30.
Additional Oregon Pinot Noirs
2004 White Rose Wines Quiotee's Lair White Rose Vineyard Willamette Valley Pinot Noir
13.8% alc., $40. 20-25 year old own-rooted Pommard clone vines. Owner and winemaker Greg Saunders has renovated this vineyard and built a winery and tasting room on his property which is adjacent to Domaine Drouhin and Domaine Serene in the Dundee Hills. Greg has quite a sense of humor and this is reflected in the names of his wines. He is, however, passionate about Pinot Noir and very serious in his winemaking approach. · This is an elegantly styled Pinot Noir with plenty of cherries, red currents, cola, and oak to please. More fullness than the Nekaia with more interest. The wine possesses a good acid backbone and a clean finish. The oak may be a little overdone, but this is being picky and some drinkers may welcome this wood accent.
White Rose Wines are sold at fine retail stores in California and Oregon and through the winery located at 6250 NE Hilltop Lane, Dayton, Oregon 97114. The phone is 949-275-8021. The website is www.whiterosewines.com. Find out more about Greg from his interview on graperadio.com.
Domaine Serene is located at 6555 NE Hilltop Lane, Dayton, Oregon 97114. The phone is 503-864- 4600. The website is www.domaineserene.com. A tasting room is open much of the year. This is a magnificent winery that has all of the state-of-the-art goodies. Winemaker Tony Rynders is talented and his wines have been revered by a faithful consumer base and the wine press for years (the winery is now celebrating a 15 year anniversary). I come away with a feeling that the Pinot Noirs are manufactured and without soul. I have also been put off somewhat by the steep prices and my tasting of the above wines would seem to reinforce my previous lack of interest. There is no doubting, however, that this winery is fully committed to quality premium wines and those with the wallet to investigate should seriously look at this winery's portfolio. The 2003 vintage, a difficult and extremely hot one, may not be representative of the best this winery can offer.

2004 St. Innocent Shea Vineyard Willamette Valley Pinot Noir
13.9% alc., 875 cases, $38. St. Innocent is a well-established and prestigious maker of Pinot Noir with a winery based in Salem, Oregon. The winemaker, Mark Vlossek, recommends decanting this wine when young although he feels it is drinkable upon release. The wine is sold out at the winery, but may be available in the retail market. · I found this to be a very fine Pinot Noir. The nose was complex with darker fruits, some vanillin from oak, a touch of funk and alcohol. There was a very nice fruit spectrum with soft tannins, a very soft mouth feel and an enduring finish. Beautifully balanced and the real deal.
2004 Cardwell Hill Cellars Willamette Valley Reserve Pinot Noir
13.2% alc., $28. The first reserve bottling from this relative new producer in Philomath, Oregon, this Pinot Noir is a blend of the six best barrels in the cellar. · This is an admirable effort in the style of Pinot I prefer. It is quite light, but with plenty of punch from red fruits and spice. The wine is enhanced by exotic wood highlights in the nose and on the finish. The silky mouth feel is very sexy. Really good juice for the money.

If you love Oregon Pinot Noir, or even if you are the least bit curious in finding out what the fuss is all about, you should attend the annual International Pinot Noir Celebration in McMinnville, Oregon. The 2007 Celebration, which marks the 21st year, will be held July 27-29, 2007 on the campus of Linfield College. This is an annual weekend of international friendship, wine, food and fun, where winemakers and Pinot lovers from around the world gather to celebrate Pinot Noir. The event emphasizes the spirit of friendship and the common pursuit of Pinot Noir in all of its grand diversity. No competition allowed. Registration is very limited and still open at www.ipnc.org. Come drink Pinot with the Prince! I would love to meet you there.