Aubert Wine Dinner
This past Saturday I was fortunate to attend a major wine tasting event at Pinot Provence Restaurant in Costa Mesa, California. Jay Selman of GrapeRadio.com assembled an impressive lineup of wines of Mark Aubert which were presented along with a four course dinner (menu on page 12). The 45 wine enthusiasts who attended were energized by the wines and the room rang with conviviality. All of the wines were donated by those lucky enough to be on the Aubert mailing list and this provided an opportunity for others to sample wines they had only heard about. In addition, the evening began with 1998 Dom Perignon and finished with both the 2001 and 2002 d'Yquem. Unadulterated decadence!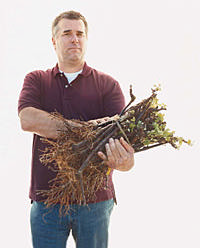 Mark Aubert has a distinguished winemaking career including ten years at Peter Michael. He grew up in the Napa Valley where he was more likely to drink wine and Champagne than beer. His father was a pharmacist who made Petite Syrah and Cabernet on the side. Mark graduated from Fresno State with a degree in enology and minors in chemistry and viticulture. He began his life as a winemaker at Monticello where he made their first leesstirred Chardonnay. He struck up a friendship with Helen Turley who was consulting for Peter Michael. When the assistant winemaker at Peter Michael departed, Helen hired Mark. In 2000, Mark left Peter Michael to become the winemaker for Colgin, again replacing Helen Turley. At the same time, he started his own label, Aubert Wines. He bought a 7-acre Chardonnay vineyard in the Vine Hill area near Forestville (renamed Lauren Vineyard) and near by planted another vineyard with 6 acres of Chardonnay and 1.5 acres of Pinot Noir (Reuling Vineyard). The budwood for the Reuling Vineyard is from a famous source in Vosne-Romanee. He currently has four vineyard-designated Chardonnays (Ritchie Vineyard, Quarry Vineyard, Reuling Vineyard, Lauren Vineyard) and two Pinot Noirs (Reuling Vineyard, UV Vineyard), all in the Sonoma Coast appellation. Mark is a true garariste and his tasting room is an unpretentious metal shed.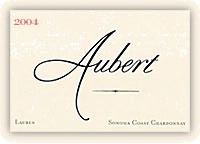 Mark has a love for Burgundy and is a fan of Dujac, Jayer, Leroy and Meo-Camuzet (who isn't?). His initial Pinot Noir releases were the 2004 Reuling Vineyard Sonoma Coast Pinot Noir (100 cases - 4 barrels) and the 2004 UV Vineyard Sonoma Coast Pinot Noir (also made in very small quantities). These wines are sold by invitation through a mailing list (www.aubertwines.com, 707-942-5611). Mark's wife, Teresa handles the business side of the label.
2004 Aubert Reuling Vineyard Sonoma Coast Pinot Noir
15.6% alc.. Mark's notes on the vintage: "The old world Pinot Noir selections survived the September heat nicely. The grapes were vatted for nearly 30 days and then aged in new French oak for 14 months. This cuvee has a real intensity of power in and across the palate." Parker has called his wines "packed and stacked," and he's got that right. · This is an excellent example of the California fruit-forward style. The fruit here, however, is ripe, not over-ripe, in other words, it is concentrated Pinot extract rather than super-ripe juice. One taster likened this wine to a "purple velvet pillow." A very plush and profound wine that is fat in the mouth. Noticeable oak but in a good way. The alcohol peaks out slightly. Great with the duck.
2004 Aubert UV Vineyard Sonoma Coast Pinot Noir
15.8% alc.. The UV Vineyard is a 30-acre Sonoma Coast vineyard leased by Mark Aubert and vineyard manager Ulises Valdez, planted to Chardonnay and Pinot Noir. The Pinot Noir clone is Calera selection, reputed to be, but never proven, cuttings from La Tache in Vosne-Romanee. Mark's notes on the vintage: "This vineyard is juxtaposed to our other Aubert vineyard sites (Lauren and Reuling). The blocks were planted on a rare soil type called "Sebastopol Clays," and grafted to low vigor rootings. Very intense soil driven aromas of wet clay-earthen notes." · This Pinot has more subdued aromatics than the Reuling, but there were definite wet leaf, earthy notes combined with mushroom and tea aromas. The flavors exhibited strong loamy characters along with interesting anise, tea leaves, and spice highlights. The consensus was that this wine was more "Burgundian" than the Reuling, whatever that means. It was a teeth-staining, masculine Pinot Noir, rich, long and pure on the palate. The wine was blessed with lively underlying acidity and a finish that left a lasting impression. It was almost criminal that we opened a magnum of this wine in addition to some 750s, as this will prove to be a marvelous wine down the road.