Clos Saron: Artisan Wines
The Sierra Foothills is not a region that comes to mind when you think about sources of California Pinot Noir. However, this appellation has a history with Pinot Noir dating back to the 1880s. According to John Winthrop Haeger (North American Pinot Noir), Eugene Hilgard of the University of California directed the planting of experimental vineyards in the foothills of the Sierra Nevada near the town of Jackson in Amador County. More than 150 varietals including Pinot Noir were planted. The Jackson station was closed in 1903 as the experiment proved untenable. Some surviving Pinot Noir vines were discovered in 1963 and the so-called Jackson clones remained of interest , presumably because they exhibited some resistance to cold, having become adapted to frigid winters in the Sierra Nevada. University of California Davis classified them as UCD 1, UCD 9, UCD 16 and UCD 29. The Jackson clones were never widely planted. According to Haeger, "The Jackson clones have the distinction of being the earliest documented imports of Pinot Noir still under cultivation in North America, having unarguably been imported before 1890 - and perhaps considerably earlier."
The Sierra Foothills appellation is a sprawling AVA of 2.6 million acres that includes Amador, El Dorado, Nevada, Placer, Calaveras, Tuolumne, Mariposa, and Yuba counties. The AVA is characterized by hot days and very cool nights, the range depending on the elevation. There are now well over 100 wineries that call the Sierra Foothills home and the area has developed a deserved reputation for hearty Zinfandel.
Gideon Bienstock and wife Saron Rice have developed a very small and young vineyard in the northern limits of the Sierra Foothills AVA. Gideon has over 28 years of experience in the wine industry as buyer, seller, educator, writer and winemaker (he is also the winemaker for the famed and nearby Renaissance Vineyard & Winery) and Saron has considerable knowledge of viticulture. Together, they have set a goal to transcend all of the preconceived notions that exist about what winegrowing possibilities exist in this region. What they have started, and what they have accomplished to date, is highly unusual from just about every point of view. They only work with organic fruit and farm all of their grapes, including sourced grapes, themselves. They specialize in Pinot Noir and non-traditional blends of other red and white varietals. Winemaking is pure and simple - no acid corrections, no fining or filtration, no inoculations, no racking and very minimal sulfur dioxide additions during barrel aging. The barrels are sourced from the Rousseau family in Gevrey-Chambertain, the wine is aged on its lees for as long as necessary, often until the day of bottling. The wine is then bottled manually, direct from barrel. Each bottle is numbered. Not surprisingly, the result is highly unique wines available in very limited quantities and consistently high in quality. One-of-a-kind to be sure.

The Home Pinot Noir Vineyard and tiny winery are located in a cool microclimate in the Oregon House Valley just west of the Sierra Nevada mountain range. 4,500 vines are planted on a gentle, well-drained, north-east facing slope. The soil is clay loam on top of volcanic ash, decomposed granite and quartz. According to Gideon, the soil "is a mish-mash of alluvial layers and fractured volcanic rocks." The microclimate is cool by Sierra Foothills standards. Harvest dates are typically from early September to early October. The vineyard is surrounded and protected by hills on three sides. Until around 1980, when the first half acre was planted, this area was all forested. The expansion to 2½ acres in 1999 required clearing of the rest of the area, which was still densely wooded. The climate is continental, with typical summer daytime highs of 90°-95° and nightime lows of 55°-65°, with winter highs of 45°-55° and lows of 25°-35°. The site is prone to spring frosts. The main pest pressure is from birds and bird netting is used to protect the fruit."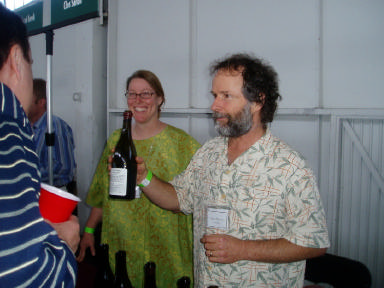 Farming of the vineyard is 100% organic although there is no organic certification. No herbicides, pesticides, insecticides are used and very limited elemental sulfur is employed to control mildew. There is limited mowing, leaving 25% of the surface untouched to preserve the natural habitat for insects and a variety of plants which would vanish if the whole area was mowed. No soil amendments and/or fertilizers are used other than organic compost and compost tea, and occasionally some of the biodynamic preparations. Rabbits and chickens are farmed on the property and their "production" is used to supplement purchased compost. Plans are afoot to introduce a few mini-sheep next year to assist in the mowing and composting programs. Irrigation is minimal, primarily to keep younger vines alive. Cover crops are used to help balance topical imbalances in the soil and to enrich the top soil, which is poor and humus.

Originally the site was planted with Cabernet Sauvignon and Merlot but these varieties rarely ripened here properly because of the cool microclimate. In 1995, the vines were grafted to Pinot Noir. In 1999, an additional 1.75 acres of mixed clones (113, 115, 667, 777, Wente, Swan, Pommard, and a few reportedly imported from Burgundy) were planted. Crop levels are extremely low with older vines yielding around 1 ton per acre and the younger vines less than half that much.
Gideon notes that harvest is done over 3-4 weeks, with repeated passes through the vines, picking only perfectly ripe fruit (perfectly ripe is determined by the grapes' color, stem and seed maturation and a very slight softness to the touch of the grapes). The grapes are destemmed and fermentation follows in open-top fermenters lasting anywhere from 4 to 14 days. The wine is pressed at dryness very gently, directly into barrels, about 50-100% new. Aging is typically 13-16 months, at which time the wine is racked off the lees by compressed nitrogen into a blending container and bottled manually by gravity.
The result is a Clos Saron Home Vineyard Pinot Noir and Clos Saron Pinot Too (from young Home Vineyard vines and sourced fruit) that are very uniquely expressive of this region. The wines in no way duplicate that of any other California Pinot Noir. They are not especially suited for comparative tastings, but best enjoyed at the dinner table, where they interact with food. Their tannins are easily neutralized and harmonized by the proper table companions. Gideon says, "I like to think that they offer a respectable alternative for those whose palates get overwhelmed and tired of the superalcoholic, super-rich, and super-thick. The wines are for those who keep tasting and following what is happening in their glass past the first couple of sips and throughout dinner."
Personally, I find Clos Saron Pinot Noirs highly distinctive and among the most, dare I say, "Burgundian," Pinot Noirs in California with an emphasis not on flashy fruit, but on gamy, earthy, mushroom, mineral and barnyard highlights, along with a healthy tannic structure that bodes well for aging. It takes a real Pinot Noir connoisseur to appreciate these wines.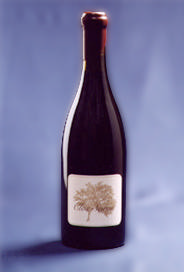 Gideon describes his Home Vineyard Pinot Noir as follows. "Tends to be structured, spicy, minerally and earthy, with strong vintage variation in terms of balance and expression. It tends to age slowly and improve over time in terms of texture, refinement, harmony and added flavor complexity. In my view, only the 2000 vintage is sort-of fully mature. With the exception of that vintage, earlier vintages were more structured than more recent ones. To this point, none of the aging wines have developed symptoms of over-the-hillness, and to my mind, this indicates that this terroir produces long-lived Pinot Noirs by California standards, reaching maturity at 8-12(?) years in the bottle."
With regards to his Pinot Too Pinot Noir he comments. "In 2002 and 2003, the young vines started producing very limited quantities of grapes. I did not want to blend these with the older vine fruit and chose to buy some grapes from the nearby Renaissance vineyard. This blend was named "Pinot Too" and the older vine Pinot Noir became the "Home Vineyard " (the 1999-2001 vintages were simply labeled Clos Saron Pinot Noir). The Pinot Too proved to be fruitier and earlier maturing than the Home Vineyard version of the same vintages. Beginning with the 2004 vintage, I found the quality and character of the young vine fruit to be "worthy" of being blended with the older vine grapes to produce the Home Vineyard Pinot Noir."
2005 produced 51 cases in a more elegant, reserved style with the tannins more refined and better integrated into the wine. Gideon notes, "To my taste, this is another big step in the right direction and the wine will reward the patient ones." I tasted the 2005 vintage at this year's Pinot Days: "A strikingly refined Pinot Noir with appealing cherry and berry flavors and lovely elegance." 2006 was just bottled and produced nearly 100 cases. At this stage, "it seems extremely well balanced, with polished tannins and a soft texture, both rich and sensuous at the same time." I tasted a 2006 barrel sample at Pinot Days also and found it equally impressive compared to the 2005. 2007 produced about 100 cases again, following another severe frost season. The style is close to the 2006, perhaps a tad lighter.
In 2005, Gideon began sourcing grapes from Texas Hill Road Vineyard which is in the same locale. I tasted the 2005 and 2006 (barrel sample) at this year's Pinot Days and my comments were as follows. "The 2005 is more structured and tannic and quite apart from the Home Vineyard in style, but retains its own rustic and earthy charm. The 2006 barrel sample was even better. Gideon began farming the Texas Hill Road Vineyard in 2006 and it shows."
The Clos Saron Pinot Noirs are a work in progress and it is a revelation to see an accomplished winemaker dealing with the vagaries of each vintage and searching for the best way to express the terroir of his vineyard. Gideon says, "Over these years, I see a progression towards more refinement and balance. I believe that our current vintages will prove to be as long lived as the early ones, but have better integration and class, while preserving the individuality and distinctive expression. I like to think they offer a respectable alternative for those whose palates get overwhelmed and tired of the super alcoholic, super rich and super thick… .for those who keep tasting and following what is happening in their glass past the first couple of sips and throughout dinner. Our wines are not ideally suited for comparative tastings but for the dinner table, where they interact with food. Their tannins are easily neutralized and harmonized by the proper dishes and table companions. I have enjoyed our Pinot Noirs with Epoisses, Brie and Pond l'Eveque cheeses, with grilled salmon, sushi, duck, home grown rabbits in endless variations, pheasant and wild turkey."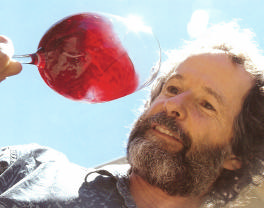 Clos Saron is located at 9269 Collin House Rd, PO Box 1004, Oregon House, CA. 530-692-1080. The website is
www.clossaron.com
. I have visited and tasted in the small winery on the property with Gideon in the past. For those looking for a unique setting and an adventurous trip, I highly recommend a visit. Tiny quantities of older vintages are held back for the benefit of those brave few who take the trouble to visit ($65-$75 per bottle). Magnums of the 1999 and 2000 Clos Saron Pinot Noir and 2003 Clos Saron Pinot Too are still available. Gideon also crafts a number of interesting special cuvees from leased vineyards he and Saron farm at Renaissance (see below). Their blocks are at altitudes of 1700-2400 feet on a wide range of soil types and exposure combinations. The vines are over 25 years old. An example is Black Pearl which is a blend of Merlot, Cabernet Sauvignon and Syrah.
Renaissance Vineyard & Winery Gideon Bienstock has been the winemaker here since 1994 and he has been responsible for bringing refinement and elegance to Renaissance wines. Production has been downsized and focus has turned to expressing the multitude of unique Renaissance terroirs. Gideon notes, "You can taste the remarkable difference from various parts of our vineyard. Over many years of experimentation, we have learned to match every grape variety to the right microclimate, exposure, and soil combination and we maximize these differences by our organic viticulture and by vinifying separate lots individually." Noted wine writer Matt Kramer (New California Wine) has called Renaissance "one of the most unusual and exciting wineries in California." James Halliday (Wine Atlas of California) claimed, "If there is a more remarkable vineyard in California, I did not see it." Renaissance was created by The Fellowship of Friends in the 1980s, and its founding winemaker was Karl Werner, formerly of Schloss Vollrads in the Rheingau. There are currently 60 acres of vineyards on steep, terraced slopes, all drip irrigated. Production is about 3,500 cases. The winery has had most success with Cabernet Sauvignon and it is the flagship wine of the Renaissance label, but there have been notable examples of Rhone varietals such as Viognier, Roussanne, Syrah, Grenache and Mourvedre. I have never sampled the Pinot Noir from Renaissance and I have not visited, but I understand the tranquility and charm of the estate is unmatched in California. There are antique fountains, a famous rose garden, a French Potager kitchen garden and olive trees from which award-winning Apollo Olive Oil is produced. Renaissance is a 75 minute drive from Sacramento, located on E21 off Hwy 20 east of Marysville at12587 Rices Crossing Road, Oregon House, CA. 800-655-3277. The website is www.rvw.com.