Ramey Schulten
Ramey Schulten is essentially a spinoff of Renaissance, much like Clos Saron. It is a partnership between Grant Ramey and Edward Schulten that dates back to the early 1980s Ramey is a Yuba City native and the vineyard manager for Renaissance. He has been instrumental in rehabilitating and downscaling the vast vineyards at Renaissance, directing the removal of many vines that he planted between 1976 and 1982. Schulten is a native of the Netherlands who studied winemaking at the University of Bordeaux and worked in the vineyards of France. Together they produce about 700 cases of multiple varietals in small lots including Cabernet Sauvignon, Grenache, Merlot, Syrah, Zinfandel, Sangiovese, Cabernet Franc, Pinot Noir, and even Port. They lease a portion of the Renaissance vineyard for their wines. In a few years they plan to change the name of their label to "Grant and Eddie." Photo shows Grant (left), Marie Ramey, and Edward (right).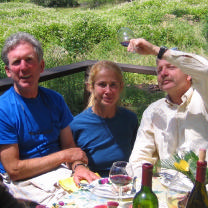 The Pinot Noir comes from the Whitman Glen Vineyard (Renaissance District) where the vines are 25- 30 years old and are planted in sparse soils of clay and decomposed granite at 1,900 ft elevation. Yields are below 1.5 tons per acre. The summer temperatures can be quite high ( mid-90° or even over 100°), but wind from the Sierra Nevada range of mountains tempers the warmth and the evenings are quite cool. These mountain-grown Pinot Noirs are for the adventurous and lovers of big-boned, tannic wines. Cabernet lovers will find them appealing.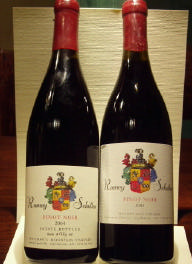 2004 Ramey Schulten Sierra Foothills Pinot Noir
13.0% alc., 25 cases, $18. Current release. · A big shouldered wine featuring robust dark Pinot extract and earth-based flavors. Very attractive nose of wood spice, ripe black raspberries and tea. Substantial tannins. Much preferred over the 2003 vintage.
2003 Ramey Schulten Sierra Foothills Pinot Noir
13% alc., $18. · Dark ruby in color. Muscular and earthy with plenty of oak influence from start to finish. Iodine and truffles are complimentary. The fruit is subdued at present. Plenty of unresolved tannins on the finish.
Ramey Schulten wines are sold primarily to restaurants and local retail stores. They are available online direct from the winery at www.rameyschulten.com. Tours and tastings are by appointment by contacting Grant at 530-692-1084.