The New Saintsbury
I was recently in Napa (I know, hard to believe), and stopped by Saintsbury to talk with the newest winemaker, Jerome Chery. I had been impressed with the 2004 vineyard-series Saintsbury Pinot Noirs. The 2004 Saintsbury Lee Vineyard Carneros Pinot Noir and the 2004 Saintsbury Brown Ranch Carneros Pinot Noir both made my 2006 "All-American" Pinot Noir teams. Somehow, I had never visited Saintsbury, although I have been a fan of their wines for many years.
Saintsbury cofounders David Graves and Richard Ward celebrated their winery's 25th anniversary last year. They were true pioneers in Carneros. After meeting in 1977 at University of California Davis where they were taking classes in enology, and realizing they had a shared passion for Pinot Noir, they started Saintsbury in 1981. This was about the same time as another well-known Pinot producer, Williams Selyem was starting out in the Russian River Valley (the winery is celebrating 25 years in 2007). They decided to stake their claim in Carneros and sourced all of their grapes from that appellation. Carneros had the right climate for Pinot Noir and Chardonnay, but the clay soils generally drained poorly and the low annual rainfall made water for irrigation very precious. Despite no real business plan and very little money, they took the plunge. They released 2000 cases of Pinot Noir from purchased grapes in 1981 and have never looked back. By 1991, production had increased to 35,000 cases and their Pinot Noir was on practically every restaurant wine list in the United States. Graves and Ward like to kid about their success, thankful because "Our attitudes and work habits make us otherwise unemployable!"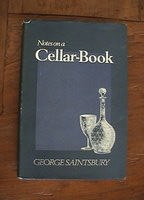 Saintsbury is named in honor of George Saintsbury, a journalist and Professor of rhetoric and English literature at the University of Edinburgh. He was also a wine lover and in 1920, at the age of 75, published Notes on a Cellar. This was an unusual collection of opinions and notes about wine and other alcoholic drinks as well as reminiscences about his wine cellar and wine dinners over the years. One of his famous quotes was: "It is the unbroken testimony of all history that alcoholic liquors have been used by the strongest, wisest, handsomest, and in every way best races of all times."

Saintsbury owed its success through the years to offering a high quality to value ratio. In addition, the wines have been consistent from vintage to vintage and have offered elegant, ripe fruit with supple textures. The wines have gotten a bit riper in recent years, but have never gone too far to the dark side. Saintsbury has about 13 acres of vineyard around their unpretentious and weathered barn-like winery (photos on next page show winery and original plantings of Pinot Noir) and own the Brown Ranch Vineyard nearby, but they source most of their grapes from Napa Carneros growers through long-standing relationships.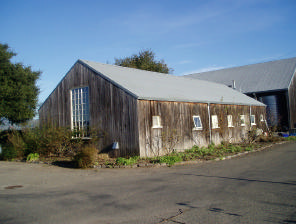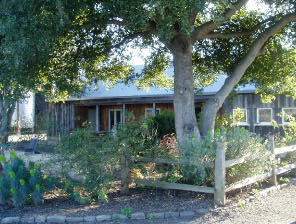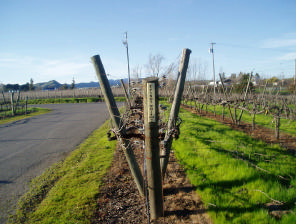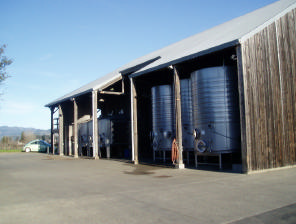 The legacy of Saintsbury will show the following distinctions: (1) They limited their production to Pinot Noir and Chardonnay and focused on one appellation only (Carneros became an American Viticulture Area in 1983), (2) They were one of the first to plant the Pommard clone of Pinot Noir (1986), (3) They were vineyard pioneers, using vertical shoot trellising in their vineyards at a time most vineyards were still either head-trained or used two-wire California sprawl, (4) They planted the Brown Ranch Vineyard in 1992 (23 acres of Pinot Noir, 8 acres of Chardonnay) using the newer Dijon clones 115, 667, and 777 along with Pommard, (5) They routinely avoided filtering their wines since 1989, and (6) They were one of the first wineries to produce a vin gris of Pinot Noir. They first made theirs in 1989 from a saignee of a portion of the crop to concentrate the wine and named it Vincent Vin Gris.
Through the years, the Saintsbury lineup of Pinot Noirs has included Garnet, Carneros Pinot Noir, Reserve Pinot Noir, and since 1996, Brown Ranch Vineyard Pinot Noir. The Chardonnay program has consisted of a Carneros and in some vintages a Reserve Chardonnay.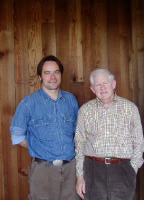 Frenchman Jerome Chery joined Saintsbury as winemaker with the 2004 vintage. He succeeded Brian Kosuge who left Saintsbury in 2000. Chery has a well-traveled background including apprenticing with Littorai's Ted Lemon from 2000 to 2004. 2004 marks a significant change in Saintsbury, for they abandoned their Reserve bottling, and began a series of vineyard designate Pinot Noirs from Napa Carneros. Chery's training and experience with Lemon, who espouses terroir-based vineyard designate Pinot Noirs, made it natural for Saintsbury to make the transition. Chery says his goal is to improve the aromas and texture of the Pinot Noir lineup. From my experience in tasting the 2004 and 2005 wines, he has shown great prowess in achieving his goal.
Over the last several months, I tasted through the entire lineup of 2004 Saintsbury Pinot Noirs. During my recent visit, I also sampled the 2005 vintage vineyard designate Pinot Noirs with Jerome. This was the first vintage that Jerome had complete control throughout the growing season to completion of the wines. He feels that 2005 was a better vintage than 2004 overall, and happily for consumers, there is more wine available. The wines were bottled in August of 2006, and will be pre-sold in March and officially released April 1 (no joke). Based on my tasting, I would allocate some space in your cellar for these magnificent wines. I liked them all and will certainly purchase some of each for my own future enjoyment.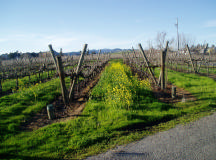 Saintsbury
has a very informative website at
www.saintsbury.com
. There is a mailing list and wine club which offers first crack at these wines. With fairly high production, there is decent retail distribution as well. For inquiries or to order, phone the winery at 707-252-0592. Jonathan Nahrgang is the Director of Sales and Marketing and is eager to supply you with any wine information. There is a very friendly crew here, the whole operation is very unpretentious, and visits are possible with a pre-arranged appointment.