Joseph Swan Vineyards: A Classic
Sometimes we have a tendency to get caught up in the "Pinot of the Moment" mentality where we chase the latest Pinot maker who has received a high score from one of the prominent wine critics. We often ignore our California heritage Pinot Noir producers whose pedigree is proven and worthy. Joseph Swan Vineyards is just such a producer. No marketing hype here, no samples submitted for scoring, no overblown wines made to satisfy the wine press. Just honest, good Pinot that reflects the sensitivities and goals of the winemaker.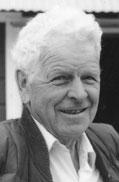 I have written extensively about the legacy of Joseph Swan (PinotFile, Volume 5, Issues 25 and 28). In 1967, at the age of 45, Swan was working as a Western Airlines pilot when he bought a run-down Zinfandel vineyard, barn and house on Laguna Road in the Russian River Valley. The house on the property had at one time been a general store for the tiny town of Trenton that is no longer in existence. The area, called the Laguna Ridges, is only a few miles from Westside Road, but the climate here is much cooler, foggier and wetter than the Middle Reach area to the north. He planned to farm grapes and make wine after his retirement. Swan began a replanting of the vineyard to Pinot Noir, Chardonnay and Cabernet in 1968. This was at the same time that Joe Rochioli planted his famous East Block of Pinot Noir at Rochioli Vineyard (although only a few miles apart, there is no written record that they knew much of each other's intentions). The original Pinot Noir field clonal selection was from Mt Eden (via France, Paul Masson, and then Martin Ray). The vines prospered and produced very good Pinot Noir and the cuttings from the vineyard became widely distributed to other vineyards as the Swan clone or selection. There are now twelve different clones in the Joseph Swan Trenton Estate Vineyard, including some DRC suitcase clones given to Joe as a gift many years ago.
The first vintage of Joseph Swan Pinot Noir was 1973 and was produced with consultation from the legendary Andre Tchelistcheff who was a friend of Joe's. Subsequently, Swan made a string of outstanding Pinot Noirs from his vines. Despite their high quality for the time, Swan was such a perfectionist that he never was satisfied. He traveled to France every year to improve his winemaking techniques. He experimented with whole cluster fermentation, manual punch downs, and the use of new French oak barrels - all techniques that were unusual for California winemakers in the early 1970s. His legacy will include his popularization of the old, Burgundian winemaking methods, his search for better clonal material, and his openness to new idea.
Joseph Swan passed away in 1989, but his legacy and vineyard lives on thanks to the talents of Swan's son-in-law, Rod Berglund. Rod became a winemaker in 1979, largely due to Swan's encouragement. Rod married Swan's daughter, Lynn in 1986 and help Swan with his last harvest in 1987. He has taken over management and winemaking at Joseph Swan Vineyards and has continued the tradition of excellence that Joseph Swan was known for. The personification of Joe has been retained in the winery's wine club which is called "Joe's Drinking Buddies." Rod has continued Joe's espirit de core by maintaining the philosophy that "While consumers are demanding that wines deliver flavor, there seems to be a growing number of people who are embracing the concept of wines with food, who understand what it takes for wines to age gracefully, and who are looking for elegance and complexity instead of sheer power. The age of chocolate and vanilla may be coming to an end! Hurray for 57 flavors! It is a thrilling time to be a wine drinker."
I recently tasted two recent Joseph Swan Vineyards Pinot Noirs beautifully crafted by Rod Berglund. These are wines of great breeding that have a heritage at heart. I encourage you to sample and explore the wines of this legendary producer. The wines produced here also age extremely well. The 1999 Joseph Swan Vineyards Mancini Ranch Zinfndel is just now entering into its peak stage of drink ability and should hold at this level for many more years. A few case are still available at the winery.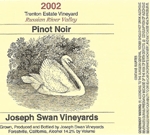 2003 Joseph Swan Vineyards Cuvée de Trois Russian River Valley Pinot Noir
13.6% alc., $23. This is the most popular wine in the winery's lineup and sells out quickly after release each year. The first year of production was only 100 cases, but this has gradually been ramped up to 1,100 cases. It is a blend of lots including grapes from the young vines of the estate Trenton Vineyard and other vineyards including Saralee's Vineyard. It is meant to be an easy drinking Pinot from the time of release and is not as complex as the vineyard designates. · What a nice surprise! Very lovely berry, raspberry tea and spice aromas and flavors. The aromatics are flat-out terrific. Not at all overblown, no alcohol or tannins to spoil the party. Very good acid kick at the end. If you like Pinot Noir, this is your cup of tea.
2002 Joseph Swan Vineyards Trenton Estate Vineyard Russian River Valley Pinot Noir
14.2% alc., $40. · Terrific aromatics with a little spicy cherry, cola and toast. Nicely-weighted pure, sweet fruit with a gentle oaky edge and a lively finish uplifted by bright acidity. This wine is not a voluptuous wine in the full-throttle California sense, but it is thorough satisfying and really what Pinot should be but so often falls short. Not surprisingly, it is a winner with food.
Joseph Swan Vineyards has just announced their 2007 Spring releases. There are three Pinot Noirs offered: 2004 Cuvée de Trois, 603 cases ($24), 2004 Great Oak Vineyard, 96 cases ($35), and 2004 Trenton Estate 327 cases ($45). No allocations here, but the wines do sell out quickly. 10% discount is offered on case purchases. There are also Zinfandels of great merit. The informative website is www.swanwinery.com, and do sign up for the newsletters which are well written by Rod Berglund. The phone is 707-573-3747. The tasting room is open from 11:00 to 4:30 Saturday and Sunday and Monday and Friday by appointment.