Breggo Cellars: Join the Flock
Breggo is a new winery in the Anderson Valley. The word Breggo means 'sheep' in Boontling, the private language Anderson Valley locals used in the late 19th and early 20th centuries. Boontling uses the syntax of English, but replaces parts for wholes and refers to things by their uses. For example, Boonville was referred to as "Boont," people living around Boonville were "Boonters," Philo was "Pleeko," good food was "bahl gorms," and "seeps'n'chiggle," was good wine. The Breggo estate is a 203-acre farm located just north of Boonville. It was a former sheep ranch and the sheep, like Pinot Noir vines, found the inhospitable cool climate to their liking.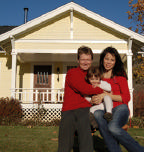 The co-proprietors and husband and wife are originally city folk. Douglas Ian Stewart is a native of Sonoma who found early success producing Brazilian sorbet. Ana Lucia Benitez-Stewart hails from Ecuador where her family had a dairy farm that she visited in the summertime from her home in Quito, but she had little interest in farming as a career. She found an exciting string of jobs that included being a park ranger at the Galapagos Islands and tour guide in the Amazon. Douglas proposed on a hillside in the Anderson Valley and now they too have come back full circle to a setting in the countryside of Mendocino County.
Plans to start a vineyard on the property have been momentarily derailed, but a winery has been built and wines are being produced from purchased grapes. Pinot Noir is sourced from three well-known Anderson Valley vineyards: Ferrington, Savoy, and Donnelly Creek. The consulting winemaker is Ryan Hodgins, a U.C. Davis trained vintner who also makes wines at Hanzell Vineyards in Sonoma.

2005 Breggo Cellars Anderson Valley Pinot Noir
14.5% alc., 679 cases, $35. Sourced from Donnelly Creek vineyards near Boonville. Pommard, Stang and Dijon 113 clones. · The nose is subdued but offers black cherries and cinnamon. The mouth feel is rich with copious dark Pinot fruits, tobacco and anise. The lengthy and smooth finish echoes oak.
2005 Breggo Cellars Ferrington Vineyard Anderson Valley Pinot Noir
14.8% alc., 193 cases, $50. Both Wadenswil and Dijon 777 clones. · The aromas of ripe cherries and toasty oak are shy and alcohol peeks out. The texture is fat and opulent with plum and black raspberry flavors and sweet oak. There are prominent oak tannins on the backend which smooth out some with air time.
2005 Breggo Cellars Savoy Vineyard Anderson Valley Pinot Noir
14.9% alc., 165 cases, $50. Martini 15, Pommard 4, Dijon 115 and 667 clones. · This is a full-throttle Pinot for those who like their wines fat in the mouth. There is high alcohol but it is never apparent as there is sufficient acid and fruit to bring everything into balance. This one fills the mouth with Pinot pleasure and finishes beautifully.
Breggo Cellars is located at 11001 Highway 128 in Boonville, CA 954115. The phone is 707-895-9589 and the website is www.breggo.com. The wines may be purchased on the website. There is retail distribution as well through Springboard Wine Company (Sybil Ajay) at 415-516-5988.