Napa Pinot Noir is No Misnomer
For years, Napa has been synonymous with Cabernet Sauvignon (or car parts as the Sonomans like to say) and Sonoma County has been associated with Pinot Noir. But Napa has also been caught up in the Pinot Noir craze. How could they ignore the fact that Pinot Noir is the fastest-growing varietal in this country. According to Impact Databank, Pinot Noir consumption is expected to rise 30% to nearly 3.75 million cases in 2006.
Truth be known, the Napa portion of Carneros and some mountain vineyards in Napa County (Mayacamas Vineyards, Kuleto and El Molino for example) have been producing Pinot Noir for years. In addition, many wineries in Napa Valley own vineyards in, or source grapes from, Napa Carneros, and belong to the Carneros Wine Alliance (see map). A newer development finds some of Napa's most visible Cabernet producers spending small fortunes to play the Pinot Noir game. Prominent among these are Phelps, Pahlmeyer, and Del Dotto along the true Sonoma Coast
The Los Carneros appellation is split about in half with both Sonoma and Napa portions. On Ramal Road in Carneros, this is noted by a sign drawn on the pavement (photo).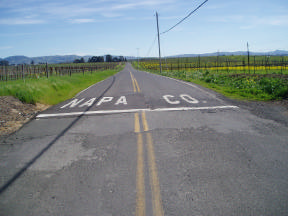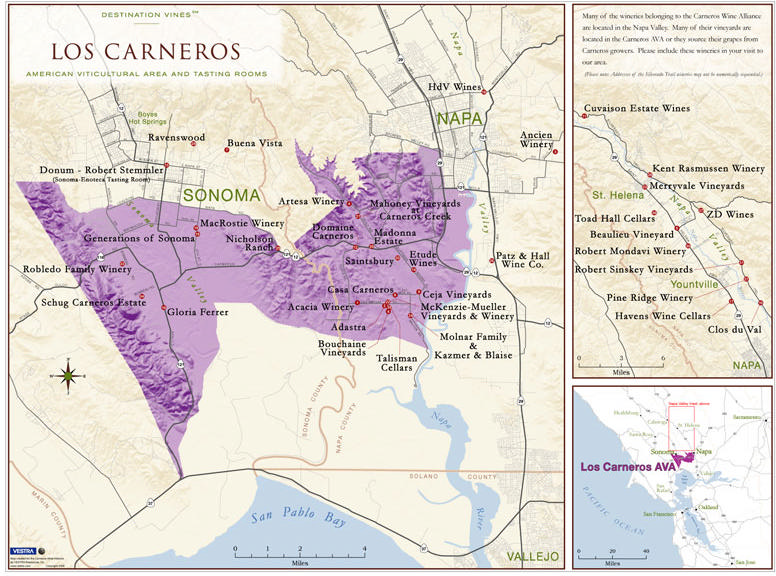 I have compiled a partial list of the wineries in Napa that produce Pinot Noir.
Wineries in Los Carneros
Acacia Wines, Artesa Vineyards & Winery, Adastra, Bouchaine Vineyards, Carneros Creek, Casa Carneros, Ceja Vineyards, Domaine Carneros, Etude Wines, Kazmer & Blaise, Madonna Estate, Mahoney Vineyards, McKenzie-Mueller Vineyards & Winery, Molnar Family, Saintsbury, Talisman Cellars, and Truchard Vineyards.
Other Napa Wineries producing Pinot Noir
Abiouness Wines, Ancien Winery, Anderson's Conn Valley Vineyards, Andretti Winery, Arger- Martucci Vineyards, August Briggs, Barnett Vineyards (Santa Lucia Highlands), Beaulieu Vineyard, Beringer, Cakebread Cellars, Cartlidge & Browne, Caymus Vineyards (Belle Glos), Cliff Lede Vineyards, Clos Pegase, Cosentino, Cuvaison Estate Wines, Del Dotto Vineyards (Sonoma Coast), DomaineChandon, Duckhorn Vineyards (Goldeneye), Dutch Henry Winery, Elizabeth Spencer, Elkhorn Peak, El Molino Winery, Flora Springs, Franciscan Estates, Hagafen Cellars, Joseph Phelps Vineyards, Judd's Hill, Kent Rasmussen Winery, Kuleto Estate Family vineyards, Louis Martini, Markham, Mario Perelli-Minetti Winery, Mayacamas Vineyards, Miner Family Vineyards (Santa Lucia Highlands), Merryvale, Monticello, Patz & Hall, Phelps (Sonoma Coast), Peter Michael Winery, Reynolds Family Winery, Robert Mondavi Winery, Robert Sinskey Vineyards, Signorello Vineyards, Sterling, Sutter Home/Trinchero, Toad Hall Cellars, Twomey, V Sattui Winery, Villa Mt Eden, and ZD Wines.
Besides the "pinofication" of Napa, there is an ongoing "napafication" of Sonoma. Sonoma used to be very laid back and rural, some might say unsophisticated, and people in Sonoma relished their lifestyle. Healdsburg, however, now personifies everything that St Helena does, with high-end restaurants like the Dry Creek Kitchen and Cyrus, luxury hotels like Hotel Healdsburg and Les Mars, and chic boutiques that rival any along Highway 29. Tina Caputo, writing in the San Francisco Chronicle recently, pointed out that visits to Sonoma wineries are increasing and Sonoma is attracting more of the high-end travelers of the type that always headed for Napa. She quotes vintner Jeff Mayo who predicts that Napa and Sonoma will someday be thought of as a single wine region. Mayo said, "People used to only say 'Napa' or 'Sonoma,' but now I hear people saying 'Napa-Sonoma.' The Napa portion of Carneros remains more Sonoma-like (see photo), while the Sonoma portion of Carneros is becoming more Napa-like (note the new spectacular Jacuzzi Winery on Hwy 121).