Pinot Events
Hospices of Sonoma
Hospices of Sonoma weekend is patterned after the famous Hospices de Beaune. Last year's event raised more than $450,000 for various Sonoma charities. This year's event will be held May 2-4 and will include winery dinners at various locations on Friday evening, May 2, a Barrel Tasting and Big Board Auction of 2007 vintage Sonoma Pinot Noirs and Gala Dinners at five host wineries in the evening on Saturday, May 3, and a La Paulee at Lynmar Winery in Sebastopol on Sunday, May 4. Nearly forty wineries will introduce Pinot Noirs crafted exclusively for the Hospices of Sonoma WCC Charitable Foundation, which disperses funds to a select group of charities dedicated to helping children at risk and disabled American military personnel and their families. Wineries participating include Capiaux, Davis Family vineyards, DeLoach, Donum Estate, Dutton Estate, Emeritus, Failla, Foppiano, Freeman, Freestone, Gary Farrell, Halleck Vineyards, Hartford Family, Iron Horse, J, Keller Estate, Kosta Browne, Kutch, Landmark, Lynmar, MacMurray, MacPhail, Martinelli, Marimar Torres, Mueller, Papapietro Perry, Olivet Lane, Patz & Hall, Paul Hobbs, Roessler Cellars, Rutz, Schug, Siduri Wines, Elliott Family Cellars, and Wild Hog. For tickets and information, visit the website at www.hospicesofsonoma.org. You can also bid in absentia by contacting Jane Hodges Young, Executive Director of the Hopsices of Sonoma through the website. I attended last year and enjoyed the event immensely.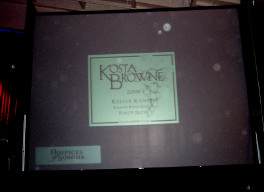 Santa Lucia Highlands' Winegrowers Annual Gala
The Wine Artisans of the Santa Lucia Highlands, an alliance of the appellation's winegrowers and the wineries that rely on the district's fruit, is sponsoring the 2nd Annual Gala Tasting, "Highlands' Fling," Saturday, May 17 at Paraiso Vineyards from 2:00 to 5:00 PM. The event will feature a strolling wine tasting hosted by the Santa Lucia Highlands' artisan winemakers paired with foods prepared by Master Chef Kurt Grasing. Participating wineries include Pelerin, Roar, Morgan, Testarossa, Pisoni, Pessagno, Tondre, Siduri, Paraiso, Manzoni, Hahn, Robert TAlbott, La Rochelle, Novy, Joullian, Bernardus, McIntyre, Tudor, Tamayo, Six Strings, Belle Glos, Mer Soleil, and more. Tickets are $85 per person and can be purchased online at www.santaluciahighlands.com.
Paraiso Vineyards, the oldest estate in Monterey's Santa Lucia Highlands appellation, is staging an airshow over the vineyards. The 6th Annual Paraiso Airshow will be on Mother's Day, May 11, from 10:00 AM to 4:00 PM. Besides many of the country's best stunt pilots performing their precision aerobatics, there will be plenty of wine, a gourmet luncheon by Moveable Feast, and live music and dancing. Tickets are $100 per person and are available online at www.ParaisoVineyards.com.
Rosé Avengers & Producers Annual PINK OUT!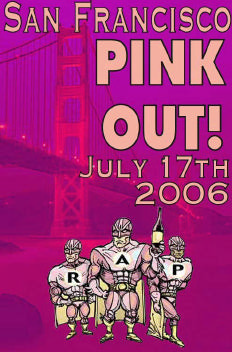 Rosé Avengers & Producers (RAP) will present their signature tasting event, PINK OUT! in San Francisco on Tuesday, May 13th at Butterfly Restaurant on the Embarcadero at Pier 33. This is the 4th annual fine rosé tasting and will feature 45 still and sparkling rosés from around the world. Many winemakers will be present and appetizers will be served by Butterfly's Chef, Robert Lam.
Since the inaugural event in 2005, PINK OUT! has drawn full house crowds. The trade and media portion takes place from 4:00 to 6:00 PM and the consumer tasting is from 6:30 to 8:30 PM. Consumer tickets are $35 in advance and available online only at www.rapwine.com. Media and trade credentials can be obtained by emailing RAP@paigepoulos.com.
According to The Nielsen Company, rosés priced $8.00 and up grew 53.2% on dollars and 49.1% on volume over the past 52 weeks ending February 9, 2008 (Total United States Food, Drug, and Major Liquor Markets). Rosé sales grew nearly 8 times faster on dollars and 17 times faster on volume than total table wine sales. Miami led the way with 89.4% growth, followed by Seattle (86.6%), New York (75.2%), and San Francisco (39.4%). In domestic versus imports, domestic rosés saw the greatest surge with 62.6% growth in dollars and 51.0% in volume. Imports continue to dominate the category, owning a 76.7% share on dollars.
Rosé Avengers and Producers was founded in 2005 by Jeff Morgan, Daniel Moore, Jim Kopp, Carol Shelton, and Paige Poulos. The organization consists of an international group of winemakers and wine drinkers dedicated to advancing the knowledge and appreciation of fine rosé. RAP is currently offering free memberships to keep everyone up to date on the latest events and developments in the world of fine rosé. To learn more about RAP and sign-up for free membership, visit www.rapwine.com.
An article from Australia published at www.decanter.com (March 18, 2008), reports a rising popularity of rosés in that country. The surge has been led by the drier style of both still and sparkling rosé as opposed to the sweeter wines that had been popular. The Aussies often use Shiraz, Grenache, Cabernet and Pinot Noir grapes in making their rosés. A comment posted about the article indicated that this "rosé revolution" has been going on for 3-4 years in Australia, especially in the warmer regions where barbecues are so popular.
Many California Pinot Noir producers are now releasing rosés to compliment their lineup of Pinot Noirs. These have become serious wines, not an afterthought made with left over juice or press wine as in the past. The producers of Radio-Coteau just announced the release of the 2007 County Line Anderson Valley Rosé. This wine was whole cluster pressed from a suitcase Champagne clone of Pinot Noir grown in the cool Anderson Valley. The wine is not a saignée. Its fruit was harvested specifically for this bottling, pressed immediately, and fermented in tank and neutral oak barrels. The winemaker notes that "You may find this wine more akin to the Brut Rosés of Champagne than to most of its counterparts in California, as it manages to balance a clean aristocratic structure with a fresh aromatic lift. 400 cases were produced, $18 per bottle. Contact County Line Vineyards at 707-823-2578.
2008 Dundee Hills Appellation Passport Tour
The Heart & Soil of Oregon Wine
Travel the Dundee Hills wine growing region armed with a passport good for visits to 20 wineries and vineyards in the Dundee Hills Appellation of the Willamette Valley. The dates are Saturday and Sunday, April 19 and 20, 2008 and times are generally 11:00 AM to 5:00 PM. At each stop, participants can enjoy the wines from this region as well as learn from experts about the unique climate, red volcanic soil (Jory soil), geology, and earth-friendly farming practices that make this appellation special. Prominent wineries include Archery Summit, Argyle Winery, Daedalus Cellars, DE Ponte Cellars, Dobbes Family Estate, Domaine Drouhin Oregon, Domaine Serene, Dusky Goose, Erath Winery, Ponzi, Sokol Blosser Winery, Stoller Winery, Torii Mor Winery, White Rose Wines and Winter's Hill Vineyard. Download your Dundee Hills Passport and map online. Full details as well as vineyard seminar sites and times are available at www.dundeehills.org.
Santa Barbara County Wine Futures Tastings
This year marks the 19th offering of Santa Barbara County Wine Futures started by Doug Margerum, the past owner of the Wine Cask Restaurant and retail wine store in Santa Barbara. The new owner, Bernie Rosenson, and the Wine Cask wine director, Cheryl Stanley, carry on the tradition (with Margerum's help as well who remains as a wine consultant for the Wine Cask). The goal is to bring to the wine enthusiast 100 or so top wines produced in Santa Barbara County that will be released in the next twelve months. Because they are offered on a futures basis, prices are reduced by about 20%. Two tastings of the wines are held on Saturday March 29 and Saturday April 12 at the Wine Cask Restaurant and El Paseo Restaurant, 813 Anacapa Street, Santa Barbara. These tastings are free to the public. An order form with a listing of the wines and a downloadable catalog are available at www.winecask.com.
As I perused the catalog, there were several Pinot Noirs that caught my eye and deserve your attention. The wines have to be purchased in 3 or 6 bottle lots in most cases. It is a good idea to find a couple of wine buddies and purchase several lots and share the bounty.
5th Annual Malibu Wine Classic
Over 60 wineries from Santa Barbara, San Luis Obispo, Los Angeles and Ventura Counties will showcase their wines on Saturday, April 5, from 12:00 to 5:00 PM. More than 20 hot Malibu and Los Angeles Restaurants will participate as well. Being in Malibu, it is not surprising that there will be several celebrity guests as well. Some of the wineries known for Pinot Noir that are participating include: Consilience, Demetria, Domaine Alfred, Fess Parker, Fiddlehead, Ken Brown, Laetitia, Lucas & Lewellen, Stephen's Cellar, Summerland, Talley Vineyards and York Mountain. A portion of the ticket sales benefit Childhelp, one of the oldest and largest national non-profits, dedicated to the treatment and prevention of child abuse. Public advance purchase tickets are $79 per person at www.malibuwineclassic.com.