Pinot Briefs —Newsletter 6.56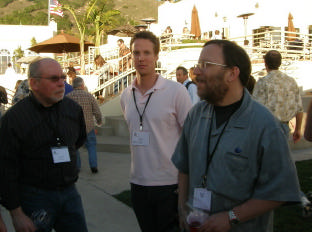 Grape Radio Receives James Beard Nomination The video, "Stewards of the Land," has been nominated in the Broadcast Media- Webcasting category for a 2008 James Beard Foundation Award. The James Beard Foundation Media Awards honor all facets of media including broadcast, webcasting and print media. A complete list of nominees is available on the website www.jbfawards.com. You can view the video at www.graperadio.com. "Mr Grape Radio," Jay Selman is pictured right (the shaggy beard dude) with Mark Ryan (the young cinematographer for the video) and Eric Anderson of Grape Radio and Grape Nutz at the recent World of Pinot Noir.
New Winemaker at Sea Smoke Winemaker Kris Curran has left Sea Smoke Cellars to become the winemaker at both Foley Estates Vineyard & Winery and Lincourt Vineyard in the Santa Rita Hills. The new winemaker at Sea Smoke is Don Schneider, the former assistant at Sea Smoke and previous winemaker at Ampelos Cellars.
Pisoni Chardonnay Say what? Jeff Pisoni has teamed up with wine business associate Sara Floyd to produce a limited bottling of 100% Santa Lucia Highlands Chardonnay. Sara Floyd has the prestigious MS certification and was formerly Sommelier at San Francisco's Postrio Restaurant. Jeff is the son of Gary Pisoni and is the winemaker at Pisoni/Lucia Vineyards and Winery. The Chardonnay is released under the Bacchant label and called "Luli." The tab is a measly $20. According to Paul Root who is featuring this wine on his website (www.rootscellar.com), "this blows all other nineteen bucks n'change Chardonnays clean out of the water and onto the dock."
Amazon.com to sell wine? According to Slate (www.slate.com), the Financial Times reported recently that Amazon.com was gearing up to sell wine and Decanter reported (erroneously) that Amazon. com would be teaming with Wine.com. Amazon.com still has an ad posted for a senior wine buyer, but they have not confirmed that they are entering the wine business.
Antica Terra is new Oregon star Maggie Harrison was the assistant winemaker at Sine Qua Non winery in California under Manfred Krankl. Maggie left Sine Qua Non and joined three partners in purchasing Antica Terra Winery in the Willamette Valley of Oregon just before the 2005 vintage. Antica Terra had been in business since 1989 making small amounts of premium Pinot Noir. No 2005 Antica Terra was released. For 2006 there is the 2006 Antica Terra Willamette Valley Pinot Noir ($46), and 2006 Antica Terra Botanica Willamtte Valley Pinot Noir ($62). Available from www.storytellerwine.com
Insider Oregon Pinot Noir Familiar with Jim Arterberry Maresh, Cubanissimo, Natalie's Estate, Cancilla Cellars, J Daan or Quercus Winery? Doubt it. Even I cannot keep up with all of the newest Pinot Noir producers in Oregon. Avalon Wine has a Insider Pinot Noir Club which sends you the new hot Oregon Pinot Noirs of the future. Four Pinots a quarter for $99.95 with 15% discount on reorders. Check it out at www.avalonwine.com.