Pinot Noir Harvest 2006
The gambling in 2006 is over. It is always about risking the weather. Do you risk everything and wait, hoping to make a superior wine? Or do you risk nothing and gain nothing special in return? In some vineyards this was the case scenario in 2006 as extended growing seasons in some areas of California were complicated by late-season rains. Maybe you pick before, maybe you pick after, or maybe you do both. Pinot Noir and Chardonnay are thin-skinned varieties and particularly susceptible to outbreaks of botrytis after rain and this necessitated extra time in the vineyard to prevent bunch rot. The scenario was quite different for every microclimate in California, and Bouchaine's Michael Richmond said that" the harvest will vary from vineyard to vineyard." Fortunately, most growers of Pinot Noir are now so adept at farming the finicky grape that practically any weather problem can be suitably dealt with. Overall, 2006 was an excellent harvest for Pinot Noir throughout the world with some exceptions. A number of general impressions of the Pinot Noir harvest in 2006 follow.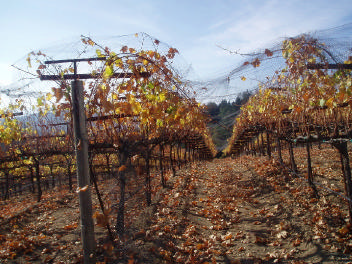 California

The California Association of Winegrape Growers reported that the 2006 California crush will be about 2.65 million tons of wine and grape concentrate compared to 2.5 million tons in 2005. Botrytis was more prevalent than any vintage in recent memory. According to Michael Richmond of Bouchaine Vineyards in Carneros (www.sfgate.com, 10/14/2006), there is no nobility in this rot for Pinot Noir. If the fungus, Botrytis cinerea, affects a cluster of red wine grapes, the grapes must be discarded because they will produce wine with poor color extraction and undesirable flavors. Richmond described the taste as "rancid tea leaf." The fungus (pictured right) has a whitish-greenish color on Pinot Noir and can easily take over the entire cluster. It actually looks pretty on Chardonnay, kind of a pink color, and can even add interest to Chardonnay's flavors in small amounts. To protect grapes from water damage and botrytis, extra time must be spent in the vineyard removing leaves to allow sun and wind to keep the fruit as dry as possible. Ed Kurtzman of Freeman Cellars told me that at Keefer's Vineyard in the Russian River Valley, they went through the vineyard prior to harvest and turned all of the clusters around (the fungus hides on the shady side of clusters) so pickers could see affected bunches. Any botrytized grapes that are picked must be removed on the sorting table.
Central Coast
In some areas of the Central Coast, the crop was reduced by 50% due to cold and rain during spring flowering. In the Santa Maria Valley, Pinot Noir tonnage was off by 75% in some vineyards. Overall, production in the Central Coast will be off about 10-20% compared to last year. From Santa Barbara north to Monterey, the growing season was extended by spring rains and a few late storms delayed ripening and caused botrytis (bunch rot). Quality was good for vineyards that avoided the bunch (noble) rot, others had to pick around it. The Paso Robles Templeton Gap area, an emerging Pinot Noir region, had a long growing season in 2006. Some rain in mid-October did cause some bunch rot, but quality overall was outstanding. The sugars tended to be a little lower than 2005.
Marin County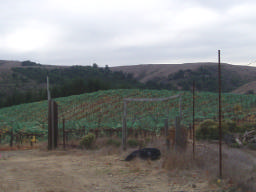 According to Jonathan Pey, owner and winegrower of Pey-Marin Vineyards, heavy winter rains and a cold spring were followed by a breezy summer with plenty of sun and cool nights. The county's vineyards were spared from botrytis, presumably because Marin's warmer winters accelerate bud break and this was followed by a very long, cool and dry growing season. Harvest officially began on September 16, with grapes from Mark Pasternak's Devil Gulch Vineyard going to Schramsberg for sparkling wine. The majority of the harvest took place between October 6 and 30 under sunny conditions. Yields averaged 1.3 tons for Pinot Noir and quality of the grapes was superb. Mark was ecstatic and said that he had a record harvest in 2006, with Pinot Noir tonnage exceeding the total for the last three vintages (he had no grapes in 2005). Devil's Gulch Vineyard pictured right.
Marin has become famous for it's flavor-packed "microberries." Many growers feel that "size matters," that is, smaller grapes deliver more concentrated flavors.
Jonathan shared with me a study he did at this harvest which showed the typical small Pinot Noir clusters so prevalent in Marin. He compared 15 clusters of Pinot Noir grapes from the Santa Lucia Highlands (SLH), Anderson Valley (AV), and Marin County (MC). The clones were Pommard for SLH and AV and 115 for MC. Brix was 26.2 for SLH, 25.9 for MC, and 25.2 for AV. Average cluster sizes were: SLH - length 4 inches, weight 144 g; MC - length 3.25 inches, weight 68 g; AV - length 4 inches, weight 184 g.
Santa Cruz Mountains
It was a particularly cool growing season in the Santa Cruz Mountains and light rains in mid October caused some consternation. Most growers, however, brought their grapes in before the rains came. Some vineyards had grapes with low sugar and high acidity but overall, winemakers were pleased with the quality and ideal sugar/flavor balance. Yields were larger than last year. Jim Schultze, winegrower at Windy Oaks Vineyard and Winery in Corralitos, found harvest delayed nearly two to three weeks compared to the previous year. Punch downs at Burrell School Vineyards and Winery below.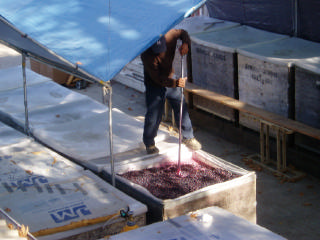 Sonoma
The 2006 growing season was challenging and unpredictable requiring that many extra hours be spent in the vineyards. Heavy rains during the early season brought out botrytis, but it was tempered by the warm, dry weather during much of the season. A July heat wave caused vines in some areas to shut down, extending harvest. Then late-season rains threatened the re-emergence of botrytis. Crop thinning and leaf pulling were critical to the resulting quality of the crop. Chardonnay was most hit by bunch rot and yields were down significantly, especially in the cooler climates. Greg La Follette, winemaker at DeLoach Vineyards and Tandem Winery, noted that there was more Pinot Noir rot in the Carneros and Sonoma Mountain than the Russian River Valley or Green Valley. Dan Goldfield, who makes Pinot Noir at Dutton-Goldfield in the Russian River Valley, finished harvest on November 2. He observed that in an extended growing season like 2006, the coolest sites that typically have tiny crops got a chance to shine. Don Baumhefner, of Copeland Creek in the Sonoma Coast, told me he lost a considerable amount of Chardonnay and some Pinot Noir. He said that some growers panicked and picked too early, others waited too long. He said, "Hopefully, some people got it right."
Jamie Kutch, owner and winemaker of Kutch Wines, experienced his second vintage in Sonoma, and offered some interesting insight into the vintage. He said that many winemakers had seen a fair share of what's called sour berry or water berry in 2006. Sour berry refers to clusters of fruit that are translucent and taste very sour. Some believe it results when temperatures exceed 100 degrees (as in July of this year). The heat shuts down clusters permanently and the grapes never ripen. The grapes do not achieve normal color and hang plump loaded with water and with low sugars making them sour. Jamie believes 2006 will be a fantastic vintage for those who prefer their Pinots with structure and high acidity. With a string of cool nights during the growing season, the acid levels are exceptionally high. Botrytis was an issue in some vineyards where leaves were not pulled sufficiently to open the canopy. Some savvy farmers pulled leaves early in the season and sprayed to avoid bunch rot.
Jamie sent some photos from the Oneel Vineyard in the Russian River Valley. He harvested the fruit here on the last day of September. What is notable is that the color of the fruit is nearly black (but isn't why they call it Pinot Noir?).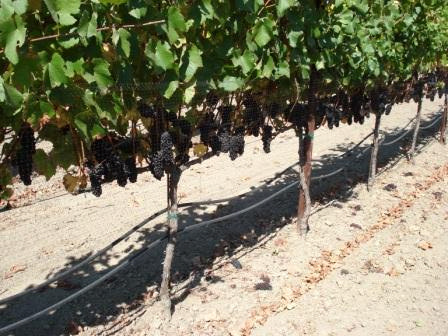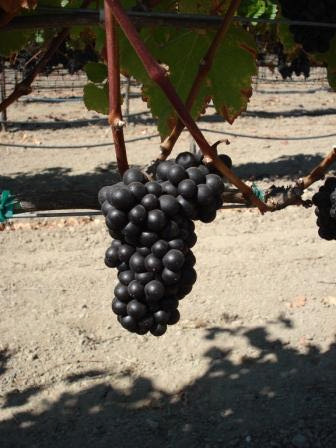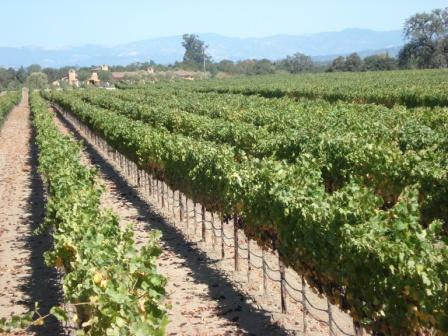 Mendocino County
The Pinot Noir crop was moderately large after two very difficult vintages with lower than normal yields. There was good balance at lower sugar levels and the grapes from the Anderson Valley are priced at record levels. Alcohol levels should be more moderate. Like elsewhere in California, there were winter rains and a long, hot summer, but for those who pruned early, ripening came on schedule. Mary Elke of Elke Vineyards reported that the last of her crop came in October 1. Grape quality is superior to 2005. No botrytis concern here, only flocks of starlings and wild turkeys with their eyes on ripe grapes.
Oregon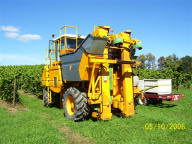 Besides a nasty frost that affected some areas of the Willamette Valley in April, the growing season went smoothly with a long, warm summer and a mild start to fall. The vintage will certainly top last year's crop by at least 25%. Crop loads were good and various vineyards saw yields of 1.8 to 3 tons. According to Harry Peterson-Nedry, winemaker for Chehalem Wines, later harvested sites that were not damaged by the six days of heat during the final ripening stages were equal to the best he has seen in 22 vintages. Dan Cardwell, owner of Cardwell Cellars in the southern Willamette Valley, was ecstatic about the gorgeous weather. His main problem was wild turkeys. He said that a band of wild turkeys shows up on his doorstep just when Thanksgiving was around the corner. They are nasty critters with filthy feet and personal hygiene which leaves a lot to be desired. Unfortunately, Dan went out and bought shells for his shotgun, but the shells were the wrong size and became stuck in the mechanism. Someone above is looking out for those birds. Frenchman, Laurent Montelieu, formerly of WillaKenzie and now winemaker for Evergreen Vineyards in McMinnville, Oregon, used a mechanical harvester for this year's grape harvest. The harvester picked clean 3.5 tons of grapes in 20 minutes. With the rising scarcity of immigrant workers, new state-of-the-art French harvesters may become a handy helper at harvest time.
Australia
In South Australia's wine-growing regions, drought, dry, cold winds, and black frosts have caused a reduction in the grape crop of at least 25% and $100 million in losses for the 2007 vintage. Some growers lost their entire crop. David Lloyd, owner and winemaker at Eldridge Estate in Red Hill, Victoria, had his Shiraz vineyard of 7 acres completely wiped out. Some farmers were using helicopters at great expense to fly over the vineyards, trying to push down pockets of warm air. Others were spraying a silicon product onto the vines for protection. The Mornington Peninsula region of Victoria, which is producing world-class Pinot Noir, lost about 14 acres, according to David, but he notes that the Pinot Noir production from Victoria in 2007 will probably be about 50% of what it was in 2006. The smaller crop will decrease the grape glut in Australia (currently at 800-million quartssurplus). The stricken vines will also produce a small crop in 2008. Fortunately, the Australian government offers a drought aid package to affected growers.
New Zealand
The 2006 vintage was of expected size and very high quality. Grape production was 185,000 tons, up 11% from 2005. According to New Zealand Winegrowers, exports of wine are growing rapidly and are expected to exceed $1 billion dollars by 2010. In October, 2006, threats of frost throughout the winegrowing regions of the South Island, from Taupe in the north to Queensland in the south, brought out fleets of helicopters to force warm air onto the vines and prevent frost burn.
Burgundy
The official start of the 2006 Burgundy harvest was proclaimed on Monday, September 18. By the time rains came over the weekend of September 30-October 1, the harvest was finished. All reports are that the grapes are excellent in quality, with plenty of fruit, good sugar levels, and enough acidity for proper structure. In the Cote de Beaune, there were some vineyards affected by the onset of rot, but the best growers escaped difficulty. For a full report on the 2006 harvest in Burgundy, go to The Burgundy Report (www.burgundy-report.com). According to that excellent website, "the Cote de Beaune reds were closer to 2004 than 2005 quality and the Cote de Nuits grapes (on average) were slightly below 2005 quality, but in some places higher. It was a mix of hot and cold during the year so this will hopefully provide a full spectrum of flavors." I found it interesting that more Crémant de Bourgogne, Burgundy's sparkling AC wine, is finding its way to the United States, with total exports rising 22% in volume from January to June in 2006. Another informative source of insight on the Burgundy harvest 2006 is the wine blog at www.chezpim.typepad.com.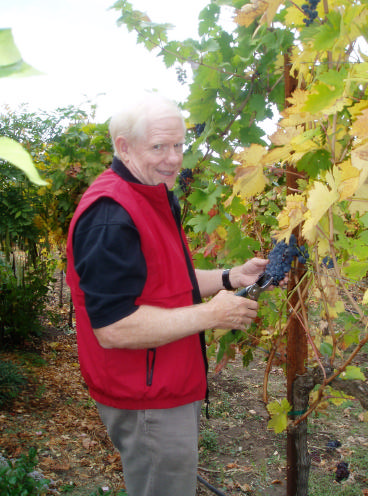 Pruning is not quite the same as surgery, it's all nip and no tuck