Pinot Noir & Journey Unite for Charity
Wine and music are both the works of artists, but as Matt Kramer has pointed out, "art (music) is creation; wine is expression." The musician starts with a blank sheet while wine is an expression of place. The end product in both cases is the same: something to embrace, enjoy, and celebrate. Of all of the world's varietals, Pinot Noiris the one that has garnered the most songs of praise. Robert Del Grande of Café Annie Restaurant so eloquently said: "Pinot Noir is the master musician. Where one wine is dissonant with food, Pinot Noir finds the harmony. Where another is brash, Pinot Noir is pianissimo. Where the food is robust, Pinot Noir plays multi-forte."
Family-owned and distinguished producer De La Montanya Estate Vineyards & Winery in the Russian River Valley has teamed with the legendary rock band Journey to release a unique limited edition red wine with 100% of the proceeds going to the Greater Bay Area Make-a-Wish Foundation. Only 300 bottles, handsigned by the five current members of the band, are available.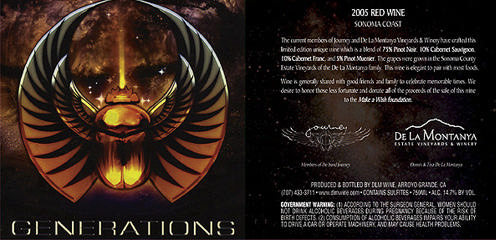 The front label features the cover art from the band's latest CD, Generations. The Egyptians regarded the divine scarab beetle as a symbol of self-creative power, rebirth, renewal, transformation, and regeneration. The scarab has also become the long-time symbol for the band Journey.
Journey started as an experimental rhythm section formed around guitar prodigy Neal Schon in 1973. The name originated from a contest on radio station KSAN-FM in San Francisco. Neal Schon had been a member of the band Santana from 1971-72. In 1977, the band was joined by vocalist and front man Steve Perry and went from jazz-rock explorers to mega-pop stars. A string of highly popular albums ensued including Infinity (1978), Evolution (1979), Departure, Captured (1981) and Escape (1981). Escape had three top 10 singles including "Who's Crying Now," "Don't Stop Believin'," and "Open Arms," and the album topped the charts. Through the years the personnel in the band have changed, the one constant being guitarist Neal Schon. The early members reconvened in 2001 to release both the Arrival and Generations albums and went on a 30th Anniversary Tour. Over these 30 years there have been 18 U.S. releases and 75,000,000 in album sales. Their popular melodic rock style has made them the 29th best selling rock group of all time.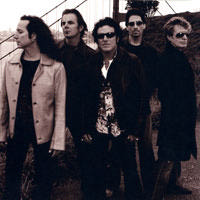 The current five members of Journey (pictured right) who signed the back wine label are: Neal Schon (guitar), Jonathan Cain (keyboard), Ross Valary (bass guitar), Steve Augeri (vocal) and Deen Castronovo (drum).
What makes this wine unique is that although several musical stars have lent their name to wines, a couple of these band members are wine enthusiasts who actively drink and cellar wine and are ardent consumers of De La Montanya wines. In addition, this project was not created for profit, but rather to benefit a very deserving charity.
2005 Generations De La Montanya-Journey Sonoma County Red Wine
14.7% alc., 300 bottles, $95 (2 bottle limit). The Generations red wine is sourced from De La Montanya's vineyards in Sonoma County (currently over 160 acres). It is composed of 75% Pinot Noir, 10% Cabernet Sauvignon, 10% Cabernet Franc, and 5% Pinot Meunier. · A deep, richly colored wine with a toasty nose of dark stone fruits. Black raspberry, mocha and a hint of tobacco march on the palate. More Pinot in the mid-palate and more Cab on the finish. Even better the next day when the fruit becomes sweeter and more lush.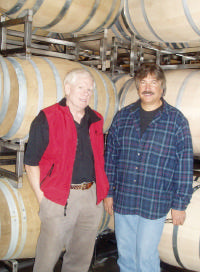 Dennis De La Montanya (the one with hair to the right) is the type of winemaker you love to hang out with. Unpretentious and humorous, with a twinkle in his eye, he never takes himself or his wines too seriously, although the wines are produced with the utmost care and attention. He has won his share of awards and medals after only a few short years of operation, but he keeps them in a drawer in the tasting room. The last thing he wants you to do is buy one of his wines because it won an award. He prefers you purchase something you like to drink, and with 32 different wines offered (most in 50 to 250 case lots), it is easy to find a wine that appeals. I do not think there is another vintner in the Russian River Valley that offers so many choices, including Primitivo, Zinfandel, Syrah, Pinot Noir, Cabernet, Pinot Meunier, Tempranillo, Petite Sirah, Rosé, and Chardonnay, Fumé Blanc, Pinot Gris and more. And just to make things fun, he bottles a "Pin Up" series of wines featuring attractive gals in pin-up poses on the front labels (not government approved) for sale only at the winery.
De La Montanya Estate Vineyards & Winery was profiled in a previous PinotFile (Volume 5, Issue 24). The barn-inspired tasting room and winery is located on Foreman Lane just off of Westside Road, a mere three miles from Healdsburg. Dennis has installed a new wood-burning pizza oven on the premises and has a picnic area shaded by mature apple trees. He also rents out an adjacent lodging known as the "Little Yellow Cottage," which has all of the comforts of home adjacent to his Felta Zinfandel Vineyard (for information contact Tina De La Montanya at tina@dlmwine.com). The winery's website is www.dlmwine.com.
When I popped into Dennis's tasting room last week, he knew it wasn't to taste his Tempranillo. Lucky for me, he had recently bottled his 2005 lineup of five Pinot Noirs and one Pinot Meunier and we tasted through them along with his entire lineup of wines. The Pinot Noirs are not officially released and Dennis advises customers not to drink them now if they insist on purchasing them. Dennis gave me the open bottles to take home, and I tasted through them the next day along with friends who were traveling with me. I can give some preliminary comments about the wines, but they are still closed and un evolved from the recent bottling. Overall, I was very favorable impressed and these are wines to seek out. The order in which the wines were served to me by Dennis turned out to be about the order of preference and that order is duplicated below. I also tasted a few Pinot Noirs from barrel from the recent 2006 vintage. Infanticide for sure, but the 2006 Flying Rooster Ranch Sonoma Coast Pinot Noir will be outrageous. A word here also about the overall style of De La Montanya Pinot Noirs. Dennis, himself, has no aversion to big, bold wines, but his style is more one of restraint, elegance and finesse intended to pair nicely with food. Power in a velvet glove if you catch my drift. Aging is usually 11 months in 40%or less new oak. Almost entirely, the wines are sold through the tasting room, a mailing list, and the winery wine clubs. Prices are very sensible.
All of the wines including the Generations DLM-Journey Charity wine may be ordered by phoning 707- 433-3711. If possible, plan to visit and set up an appointment with Dennis (dennis@dlmwine.com).