Root's Cellar: Pinot Noir Shrine
Paul Root has been a wine retailer since, well, Prohibition, I think. He takes the time to know the small producers and most of his insider offerings are scooped up by an eager clientele before the word gets out through the stodgy wine publications. I cannot emphasize enough that Paul sells no wine before it is time to make some money. No crapola, no second bottlings of orphan juice, no losers. He can be found at Root's Cellar, 1401 E Grove Street, Healdsburg, California. Sign up for his e-mail alerts at www.rootscellar.com (don't be turned off by the website— Paul is planning a make-over) or call 1-866- 808-0124. Here are a few recent boxes of juice that will warm any pinotphile's heart. I can't promise you any of the wines are still available.
2005 Molnar Family Vineyards Pinot Noir and Chardonnay. Michael Terrien is the winemaker and general manager of Hanzell Vineyards which was ne of the first credible Pinot Noir producers in California. He has partnered with Peter and Arpad Molnar to create Molnar Family Vineyards with the goal of producing ultra-premium wine from the Carneros region. The Molnars own Budapest Kadar, a cooperage of some renown in Budapest where they have complete control over every barrel made for the Molnar Family lineup of wines. The family also owns and manages Pinot Noir and Chardonnay vineyards in Carneros (Poseidon Vineyards). Paul says their wines have been a secret and not "Parkerized" or "Expectorated" as yet. Paul is offering a mixed case of the 2005 Molnar Family Vineyards Pinot Noir and Chardonnay for a discounted $285 (Paul how do you pay for the repairs on your 1972 Accord?). Paul has sampled the Pinot and says "the Budapesti Kadar oak infuses the wine with a unique spice flavor profile that is indigenous to the forests of Budapest." He also says "he can pick out Hungarian oak in the nose of a wine as there is a unique blend of sweet clove, cinnamon and nutmeg followed by unmistakable vanilla which is not found in either French or American barrels." Paul can also smell competing retailers a mile away who are trying to steal his allocation.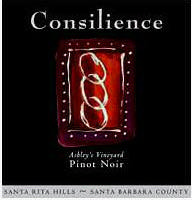 2005 Consilience Pinot Noirs. Paul tried to explain the word consilience as "an abstract interpretation of an old world scientific term used to unite the various branches of a complex and multi-dimensional theory." The label depicts a chain of three, white inter-connected rings on a red background bordered by four white streaks surrounded by twenty-nine dots. The human skull is composed of twenty-nine bones, the atomic number for copper is 29 and so on and so forth. What really matters is that they make good wine at their place in Santa Barbara County and none of the wines are "weak-kneed." There are rumors of their sign in Los Olivos that states, "Proudly Not Featured in 'Sideways'." Paul is offering a mixed case of the 2005 Consilience Bien Nacido Pinot Noir and 2005 Consilience Santa Barbara Pinot Noir for $410. Paul swore the wines were terrific, but he was all lathered up at the time starring at those seriously heavy, low-shouldered, sexy Burgundy-styled bottles.
2004 Robert Mueller Emily's Cuvee Pinot Noir and 2004 Lemelson Thea's Willamette Valley Pinot Noir. The Mueller Pinot is Paul's "I told you so wine." He reviewed it and eagerly sold out of it over 3 months before the Speculator gave it a score of 93. He is offering 4 bottles of this impossible to find Pinot with 8 bottles of the Lemelson which also was a Speculator favorite with a score of 92. The Lemelson won a big local Sonoma Pinot tasting attended by amateurs and wine-savvy types. 93 and 92 makes 185. Double that and you have 390. Paul is charging $400 which includes his $10 profit.