Domaine Serene Releases Coeur Blanc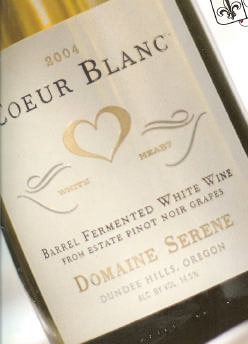 Many wine novices think that the juice from red grapes like Pinot Noir is red. The truth is that it is close to white in color. The red wine in Pinot Noir comes from the pigments in the skins of the grape. A light pink rosé is produced from limiting the contact between the pulp and juice of the grapes and the skins. It is possible to craft a white wine with red grapes if the contact with the grape skins is very limited so only the white juice is utilized.
Domaine Serene in Dayton, Oregon, has produced a limited amount of a fine white wine made with estate grown Pinot Noir grapes called Coeur Blanc ('koor blahnk'). After harvesting the grapes, they are gently whole-cluster pressed and the resulting "white heart" juice is expressed. Less than half of the available juice is taken from the grapes. The juice is barrel fermented in French oak and aged on the lees for 15 months. The wine is further aged one year in bottle before release. This is a very unique wine that is both rare and elegant in style.
The winemaker's comments about the flavor profile include "rich and complex, displaying flavors ranging from strawberries, cherries and citrus to marzipan, flint and mineral." Kevin M. Vogt, MS, of Delmonico Steakhouse at the Venetian Resort in Las Vegas said, "True to its 'heart' the Coeur Blanc has weight and body without being heavy or cloying. The penetrating fruit cuts a swath across your tongue with laser-like precision and freshness. What a beautiful alternative to Chardonnay." Robert Smith, MS, of Picasso Restaurant in Las Vegas gushed, "This wine is quite wonderful and very interesting. The flavor components are stunning. I closed my eyes, and thought Pinot Noir (Rouge), but then again Blanc."
Only 75 six-bottle cases are available on pre-release order from the winery at $60 per bottle. The Domaine Serene phone number is 1-866-864-6555, ext. 212. The winery will be open to the public Thanksgiving Weekend, November 24th and 25th, 6555 Hilltop Lane, Dayton, Oregon (Willamette Valley).