Laura Volkman Takes It Personally
In a recent issue of the PinotFile (Volume 6, Issue 52 ), I featured this new boutique producer located in Newberg, Oregon. I was quite impressed with the Pinot Noirs and Chardonnay and looked forward to sampling the winery's top-of-the-line estate Pinot Noir bottlings which were recently released. The two Pinot Noirs turned out to be lavishly soft, offering pure pleasure and silk that was astonishing. After drinking the wines, I had to call Laura Volkman and find out the story behind these fantastic wines.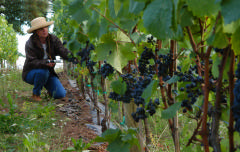 I spoke with Laura on a snowy day in the Willamette Valley in late March. She told me that she makes ALL the winegrowing decisions herself, performs practically all of the physical work in the vineyard, and for the most part, won't let anyone else touch the vines. In the winery, she is so intense in everything she does, her tolerant husband (bless him!) kids that "she takes every bottle personally." She likens her passion and dedication to an author writing a great book who locks her self away and entirely focuses on the job at hand. "I have blinders on from April until the end of crush," she said.
Of all the many grape varietals, Pinot Noir is the most temperamental, a fickle prodigy if you will, and the one that can be brought to perform brilliantly only through meticulous parenting in the vineyard and in the winery. This explains why some of the world's greatest Pinot Noirs come from very small producers who can personally nurse the frivolous grape every step of the way. Laura Volkman personifies this ideal and her wines show the results.
The Laura Volkman Vineyard is located about a ¼ mile from August Cellars (a cooperative facility in which several winemakers lease space) in Newberg. Together with her husband, she purchased a small farm several years ago, cleared the land and planted vines. Her first releases were from the 2004 vintage. The labels are quite striking and display artwork depicting Laura in her vineyard (from watercolor artist Terry Peasley).
The two bottlings below are distinguished by their different clonal components and the use of different yeasts. Both are charming in their own way and highly (that's HIGHLY) recommended.
2006 Laura Volkman Vineyards Rachel Estate Willamette Valley Pinot Noir
14.2% alc., 100 cases, $38. From the west block of the Volkman Vineyard, clones 114, 667 and Pommard. The 114 provides the aromatic floral component and the 667 imparts a certain femininity. One type of yeast is used to create a more fruity profile and a Burgundian yeast to create a drier finish. · Everything is perfectly in order here. Black cherries, truffle and barnyard in the aromas, soft black cherry fruits delicately spiced on the palate. Very elegant and demure with the kind of plush and velveteen texture that only great Pinot Noir can offer. All I could do was shake my head and smile after tasting this one.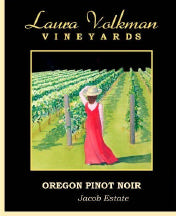 2006 Laura Volkman Vineyards Jacob Estate Willamette Valley Pinot Noir
14.4% alc., 200 cases, $42. This is the Volkman "flagship" wine sourced from the east block of the Volkman Vineyard. The clones are 114, 115 and 777. Yeasts were manipulated to produce a more edgy wine. · The aromas are very enticing and include fresh-baked cookies, Bing cherries, and chocolate. I went ga-ga over the aromatics and would have been perfectly happy just to smell this wine. But when you taste it, you are led on a journey of pleasure featuring red Pinot fruits with terrific grip and edginess and a lavish black cherry finish that comes and goes in waves. This is the kind of wine that makes you wonder how mere grapes could ever have made such nectar.
Laura Volkman Vineyards address is 13000 N.E. Quarry Road (off Highway 99W), Newberg (August West Cellars). Tasting by appointment. The wines are sold through a mailing list at www.volkmanvineyards.com or by contacting Laura at 503-806-4047. These are the best Pinot Noirs in this issue for current drinking and you would do yourself a favor by grabbing some for your cellar.