La Crema - A Label You Can Count On
La Crema Winery is a family-owned estate in the Russian River Valley that specializes in handcrafted, Burgundian style Chardonnays and Pinot Noirs from cool climate vineyards in Sonoma and Mendocino counties. Established in 1979, the winery has never allowed visitors, but the label quickly gained a reputation for quality and is a label you can always count on for consistently fine wines. The owners are Laura Jackson-Giron and her sister Jennifer Jackson.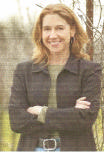 Several winemakers developed the La Crema Winery style through the years, including Dan Goldfield (Dutton-Goldfield). In 2004, La Crema hired Melissa Stackhouse to oversee all aspects of winemaking and the wines have reached a level of remarkable high quality considering the relatively large production and value-pricing. The popularity of the label has never been higher. In the latest Wine & Spirits Restaurant poll (April, 2008), La Crema was #12 in the Restaurant Top 50 of wines selling best at polled restaurants. Pinot Noir has become the biggest seller on many winery lists (even in Napa Valley) and La Crema Sonoma and Sonoma Coast bottlings are the most popular (#1) Pinot Noir poured at restaurants.
Stackhouse joined La Crema in 2000 as Associate Winemaker. Prior to La Crema, she had worked at Peter Michael Winery, Hardy's Tintara Winery in McLaren Vale, South Australia and Joseph Phelps Vineyards. She holds a BS degree in Viticulture and Enology from the University of California Davis. She has been able to focus on cool-climate vineyards and terroirs, creating finely-tuned wines of admirable elegance and balance. You might see her as well cycling along a road in Sonoma County, as she is a resident of Healdsburg and participates in triathlons. Not surprisingly, she also turns her artistic winemaking flair to creative pursuits such as the symphony and ballet.
At least one of the La Crema bottlings is usually available on your local supermarket or wine retailer shelves. When friends new to wine, and recently that included my son who was invited to dinner, want a suggestion of a Pinot Noir to bring, I often recommend La Crema. They usually thank me afterwards, but it is, in fact, no secret, and an easy recommendation to make.
La Crema has been supporting sustainability since 1999 when they were among the first wineries to become a certified Sonoma County "green business." La Crema has also been selected to participate in a pilot project with the California Public Utility Commission to develop an Environmental Management System for wineries. 75% of La Crema's vineyards are farmed using "non-tillage" practices to reduce carbon dioxide output. In all of the estate vineyards, composted grape pomace and chipped vegetation are added to build up organic matter. Habitat boxes in the vineyards for owls, bluebirds and falcons help to naturally control vineyard pests. Riparian areas that border vineyards are planted and maintained. Finally, they use integrated pest management to introduce beneficial insects, helping to eliminate the need for pesticides.
I tasted through the lineup of 2005 appellation designated Pinot Noirs. The wines were more similar than different, despite being sourced from diverse regions, and the unifying features included beautiful balance and attractive textures. They are fashioned for early drinking. The appellation series Pinot Noirs are reliable wines that are well-crafted and consistently fine, but none will really launch you into ecstasy.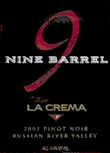 La Crema Winery
is located at 3690 Laughlin Rd, Windsor. A tasting room is located in Healdsburg, at 235 Healdsburg Avenue and is open daily from 10:30 AM to 5:30 PM. The 2006 appellation wines from the Sonoma Coast, Russian River Valley and Los Carneros have been released and are available for purchase on the website at
www.lacrema.com
. The phone is 800-314-1762. The winery also produces a limited amount of Nine Barrel Chardonnay and Pinot Noir (200 cases, $75). These wines are sold out quickly due to high demand and will be allocated strictly to Wine Club members starting next year. By reputation, the Nine Barrel wines are exceptional.