Pinot Briefs —Newsletter 6.57
Grape Radio Wins!! Tom Wark of Wark Communciations announced today that Grape Radio was awarded Best Podcast or VideoBlog by the American Wine Blog Awards. Check out my posted interviews from last year's IPNC and Pinot Days and last week's interview with the Grape Radio crew of Scott Paul Wright of Scott Paul Wines Also, Grape Radio has been named one of the top wine blogs by Guy Kawasaki on his website, www.wine.alltop.com.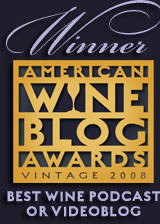 Top Ten Restaurant Pinot Noirs According to Wine & Spirits latest restaurant poll (April, 2008), the top ten most popular Pinot Noir labels in restaurants are in order: La Crema, Maison Joseph Drouhin, Maison Louis Latour, J Wine Company, Sea Smoke, Kenwood Vineyards, Merry Edwards, Argyle, Evesham Wood, Flowers and Gary Farrell. Pinot Noir is now second only to Cabernet Sauvignon in popularity in American restaurants. Overall average price for restaurant Pinot Noir from Oregon, California and Burgundy is $67.17.
Pinot Noir Prices According to Wines & Vines, (March 2008), Sonoma-Marin Pinot Noir production was down in 2007 (9,000 tons lower), and up in price by more than $300 per ton to $2,831 (average statewide was $2,104). Wineries are seeking out Pinot Noir over all other varietals.
Stop the Nonsense! Richard Grant Peterson, PhD, a chemist, has written an interesting article at www.appellationamerica.com (March 10, 2008) that attempts to dispel the myth that corks "breathe." He notes, "We did the lab work almost five decades ago! It's been repeated more than once in Australia and all those who've checked this in the lab tell the same story: Sound corks do not transmit oxygen! Even more important, neither is oxygen transmission through closures what we want! Wine aging is anaerobic, never aerobic. Wine aging never takes place under aerated conditions. It's because those are the conditions that will lead only to oxidation in time, and destruction of the good things in wine."
Vineyard Development Costly They often say that to make a small fortune in the wine business you need to start with a large fortune. The price for bare prime vineyard land in Yamhill County, Oregon, is around $25,000 an acre. Planting vines, trellising etc. to produce a functioning vineyard, add another $50,000 per acre. To have the vineyard managed by professionals will cost at least $5,000 per acre. Then you have to wait three years to get your first crop of usable grapes.
DuMOL Building New Winery The founders of DuMOL, Michael Verlander and Kerry Murphy. met in 1990 when Murphy was dining in Verlander's restaurant in Walnut Creek, California. Murphy had been a hard core Burgundy lover for years. Together, they started DuMOL Wine Co in 1996 with the aim of producing ultra-premium wines from Pinot Noir and Chardonnay grapes. The first year they produced 300 cases total of both varietals from Dutton Ranch grapes. Their label took off, fueled by high scores in the wine press and the high quality of the wines. The winemaker, Andy Smith, trained under Paul Hobbs. Each vintage is quickly sold out to a prelease mailing list and DuMOL was recently invited to be a member of the prestigious Mayacamas Gold Club's vintner program. Production is now 14,700 cases per year from multiple Russian River Valley vineyards and includes Viognier and Syrah. DuMOL has outgrown the Copain Custom Crush facility in northern Santa Rosa so they have begun construction on a nearly 20,000 square-foot winery in Conde Business Park in Windsor. At a cost of $5 to $10 million, this will be a state-of-the-art facility with four barrel rooms with different temperatures. The winery's website is www.dumol.com.
AgriVino Wine Center In May, 2008, AgriVino Wine Center will open at Abbey Road Farm in Oregon's Willamette Valley. Owners John and Judi Stuart refurbished an old equestrian barn on their 82-acre farm and installed a state-of-the-art Enomatic wine tasting system. 56 separate wines will be featured for sampling, including many of the Willamette Valley's small production wines. The Enomatic dispensing system uses argon that pressurizes and displaces oxygen in the bottle. Since air does not come into contact with the wine, the wine stays fresh and bottles can remain open for several weeks. The dispenser is self-service, but a sommelier will be on staff to guide and educate visitors. AgriVino will be open daily from 10:00 AM to 6:00 PM. Abbey Road Farm also includes a popular wine country B&B with five guest suites housed in converted grain silos. Abbey Road Farm is surrounded by 22 wineries in Carlton and more than 200 wineries in the close vicinity of the Willamette Valley. Visit the websites for more information: www.agrivino.com and www.abbeyroadfarm.com.
The Oregon Wine Explorer The Oregon Wine Board has created an online portal to assist travelers in planning their trips to Oregon wine regions. The website, www.explorer.oregonwine.com, provides a virtual tour of the state's wine regions with turn-by-turn directions. The associated Wine Finders Tool links with the Explorer and allows consumers to search and order Oregon wines. The Oregon Wine Board also has a new "Discover Oregon Wine Country" tool kit that includes a brochure of the state, regional maps with winery/vineyard listings and further assistance in planning a trip. To view and order, visit www.oregonwinebrochure.org
Wine Village in Santa Cruz Mountains Eight wineries have joined together in an old industrial park in western Santa Cruz that has been named, "Westside Wine Village." Bonny Doon will form the nucleus of the group, having used the location for wine production for years. They will vacate some space which will be occupied by other wineries including Santa Cruz Mountain Vineyard, Sones Cellars, and Vino-Tabi (a custom crush facility). Bonny Doon will shutter its existing tasting room and move it to this location. Nearby will be Beauregard Vineyards, Pelican Ranch Winery, and Alexander Cellars. The wineries plan to have tasting rooms and market their location together.
Sonoma Winemaking Complex A warehouse complex near downtown Sonoma is now home to as many as fifteen wineries including Patz & Hall, Talisman, Castle, Three Sticks, Kamen Estate Wines, Saintsbury, Ledson Winery & Vineyards, MacRostie and Tin Barn Vineyards. The aim with many of these wineries is to have an unglamorous, but well-equipped, spacious and efficient facility to make wine and use capital that would have been spent on a fancy winery and tasting room to buy the best possible grapes and invest in the most useful winemaking equipment.