The Boys of John Ash & Co.

Over the past year I have spent considerable time snooping around the Russian River Valley looking for those historical figures and places that have been seminal to the evolution of California Pinot Noir as we know it today. The Santa Rosa restaurant, John Ash & Co., was a recurring feature of recollections of those that I interviewed. John Ash & Co. was known for spawning numerous innovative ideas that have become commonplace in restaurants today. It was here that restaurant wine-by-the-glass service originated in California, and organized blind tastings of wines and creative wine dinners emphasizing food-wine pairings were popularized. John Ash & Co. was among the first restaurants to have a wine bar and an associated wine retail store. The culture of wine and food pairing flourished here as California wine took its true place on the table as both a compliment to food and a star in its own right. There was an emphasis on seasonality in the menus and the procurement of foods from local artisans, farmers and fisherman. Over the years, numerous exemployees of the restaurant went on to become successful winemakers, winegrowers, and key employees in various wine-related businesses.
I interviewed winemaker, wine educator, wine consultant, and wine writer, Don Baumhefner, who was intimately involved in John Ash & Co. from its beginnings, and sommelier and winery owner Dan Kosta, who fondly recalls the many years he spent working at the restaurant. I have pieced together their comments to trace the history of this Sonoma County institution.
The story begins with John T. Ash. Growing up in Colorado, his first exposure to food was observing the cooking talents of his grandmother. Despite the impression she made, he initially do not consider a career as a chef, attending college instead and obtaining a degree in fine arts. He became employed by a New York ad agency assisting with the development of new food products for Del Monte in the 1970s. Stimulated by this work, he left for England and France to attend professional cooking schools. It was here that he learned what was to become the basis of his life-long cooking philosophy: fresh, local and seasonal. Upon his return to the states, he worked as a chef in San Francisco before an opportunity brought him to Sonoma County.
In 1976, Don and his wife Kay lived in the tiny town of Forestville, located in western Sonoma County adjacent to Russian River Vineyards where Don worked. Russian River Vineyards had been founded by Robert Lasdin in 1963, but by 1975, financial pressures forced Lasdin to sell the winery and 10 acres of vineyards. Three owners in succession took over the property, all of whom turned out to be "crooks" as Don recalls. In 1976, one of the subsequent owners wanted to revive the old restaurant, winery and vineyards on the property. He approached the Baumhefners, suggesting Kay, who was a chef, take over the restaurant, and Don who little about winemaking then, revive the winery. About this same time, winemaker and former colleague of Don's at University of California Berkeley, Merry Edwards, was thinking about moving to Sonoma County.
At a New Year's Eve dinner party at the end of 1975 at Mt Eden Winery in the Santa Cruz Mountains, the Baumhefners celebrated with Merry Edwards (she had been the winemaker here since 1974) and her husband Bill, winemakers Joseph Swan and David Bruce, and others. As a result of discussions that night, Merry Edwards became the winemaker at Russian River Vineyards with Don assisting. A search was then conducted for a prominent chef and both John Ash and Mark Miller were interviewed. Don and Kay decided to hire John because he had a "neat carrot made out of dough on his lapel at the interview" (John's wife made Christmas ornaments out of dough and the lapel ornament was her idea). Mark Miller, of course, went on to become a nationally recognized authority on southwest cuisine. As you reflect on the team that was assembled, it was clearly a recipe for success. The restaurant opened to much acclaim, with local Sonoma wines served by the glass, and featured innovative California wine country cuisine that brought many San Franciscans on an hour journey to the restaurant. Sadly, the operation failed after a month when the owner failed to pay all those involved.
John Ash and Kay Baumhefner moved on to the Bodega Harbor Country Club, where John would cook, Kay would help in the kitchen during the day, and then change clothes to receive customers in the evening. Don, meanwhile was teaching at a Montesorri school and knew the children of Sandra Steiner (now Sandra McKeever). She was looking for a winemaker and Don recommended Merry Edwards. He told Sandra to send Merry abroad to learn winemaking and she did. Matanzas Creek was born and the rest, as the say, is history.
The desire to have his own restaurant led John Ash in 1980 to Santa Rosa, where he recruited a few doctor investors, gutted an old Chinese restaurant in Montgomery Village Shopping Center, and started John Ash & Co. The phone number was 527-SOUP (7687), named in honor of the Chinese restaurant, and is still the phone number of John Ash & Co. to this day.
The wine program at John Ash & Co., developed by Don Baumhefner, the wine manager, and initially the only wine employee, is passé now, but was a first for California in 1980. The philosophy was to give the customer the opportunity to taste many different wines. Twelve wines were offered by taste (2 oz.) and by the glass (6 oz, ranging in price from $1.75 to $3.25). Examples of wines sold by the glass included 1981 Kenwood Chenin Blanc ($1.95), 1980 Charles F. Shaw Beaujolais (yes, that Charles Shaw, now known as "Two Buck Chuck" - $1.95), 1980 Sausal Chardonnay ($2.50), 1979 Chateau Rieussec ($1.95 half-glass), and St. Francis Chardonnay ($3.25). In addition, patrons were offered the opportunity to purchase any wine from the restaurant's wine store at retail price plus a $2.00 corkage fee (later raised to $3.00). An early example of the Pinot Noir stock list is on page 3.
Weekly tasting of wines, usually organized by variety, were highly popular, and sometimes eighty people attended. The price ($8 for Big Zinfandels to $40 for Grand Champagnes) was attractive and included at least eight wines with "kitchen treats to accompany the wines." The theme for the inaugural wine tasting at John Ash & Co was 1977 Pinot Noirs. Billed as "The finest collection of California Pinot Noirs ever assembled," the producers included, Joseph Swan, Firestone Reserve, Kenwood Jack London Vineyards, Chalone Young Vines, Chalone, Carneros Creek, and Santa Cruz Mountain Vineyards. A copy of a partial listing of the restaurant's inaugural wine testing schedule is on page 4.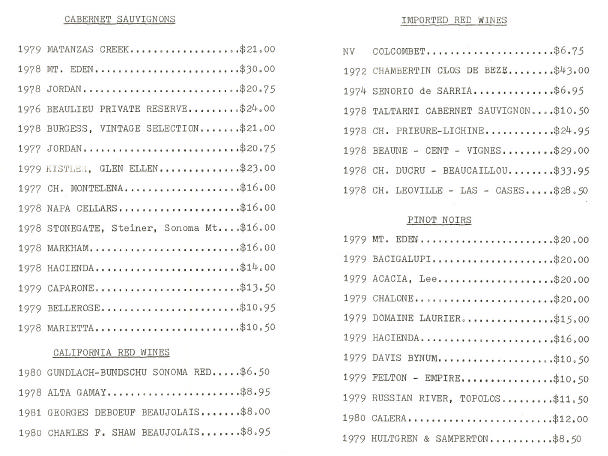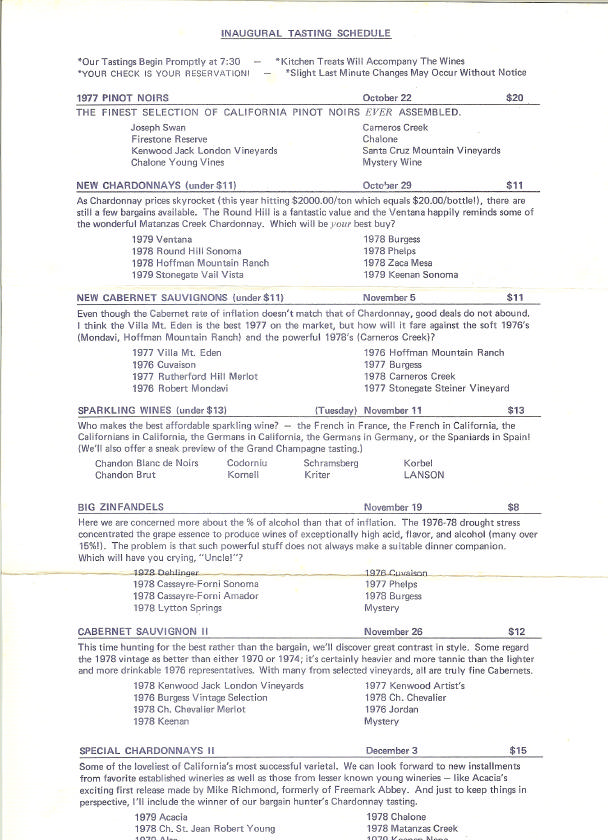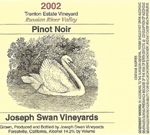 In 1980 there were only five or six good producers of Pinot Noir in California. Winemakers were eager to try new things. Don refers to the time as "an age of innocence, everything was young, fresh and new." No one really knew or talked about clones at the time. Tom Dehlinger had made his first vintage of Pinot Noir at Joe Swan's winery in 1975. Joel Peterson crafted his first wine at Swan's as well in 1976. Joe Swan and Ken Burnap of Santa Cruz Mountains Vineyards would travel with Kermit Lynch to Burgundy every year to learn how to make Pinot Noir. With Lynch translating for the trio, they were welcomed into all of the great cellars and the French shared their secrets freely. In the early 1980s Don reminisces about the time Ed Selyem approached him, asking him to sample a Pinot Noir labeled Hacienda Del Rio from the 1977 or 1978 vintage (probably Rochioli old block grapes). Don thought it was pretty good, bought 10 cases at $10 a bottle, and took it to San Francisco to sell. He now regrets not "buying ten cases every year!"
Special wine dinners were also part of the program at John Ash & Co. from the beginning. In 1981, the second dinner was held to honor Merry Edwards. Don noted in his newsletter that "While most of you know that Merry produced what by consensus must be considered the best 1978 Chardonnay made in California, many of you may not be familiar with her accomplishments while at Mt. Eden. In 1974, she produced on of the very best Cabernet Sauvignons of that renowned vintage. In 1975, she crafted not only the best California Chardonnay Don has ever tasted, but also the very best California sparkling wine he has ever sipped. In 1976, she produced the only Zinfandel that Don has ever ranked above a Joseph Swan Zinfandel." The menu for the dinner was drawn from recipes of talented woman (whom John Ash admired greatly), Simone Beck, best known for her co-authorship with Julia Child of the Mastering The Art of French Cooking books. The wines included a never released 1979 Matanzas Creek Sparkling Wine, and a 1975 Mount Eden Pinot Noir, called by wine critic Robert Finigan his "favorite California Pinot Noir" at the time.
The late 1970s were a great period for wine enthusiasts because there was a plethora of inexpensive good wine. Top premier cru Burgundies of the 1970s by Dujac and Grivot could be had for $10 to $15 a bottle. When Don talks about those days, his gaze drifts off and he mumbles, "those were wonderful times." At John Ash & Co. marvelous wine dinners featuring the 1959, 1961 and 1962 vintages were offered at $125 per person. The 1959 French dinner lineup included: 1961 Gosset Brut Integral Millesime Ancien. 1972 Domaine de la Romanee-Conti Montrachet, 1959 Chateau Pontet-Canet, 1959 Carruades de Lafite, 1959 Domaine de la Romanee-Conti La Tache, and 1959 Chateau Sudiraut.
As the consulting wine list engineer at John Ash & Co., Don had to meet frequently with wine representatives. These encounters would be scheduled on one day from 10:00 AM to 4:00 PM with each wine salesman getting fifteen minutes of Don's time. Don recalls when Steve Bixler of Kistler Vineyards came in. Kistler required a purchase of 10-15 cases, an unheard of demand at the time, and the wine was expensive. Don acquiesced and John Ash & Co. became the first commercial account for Kistler.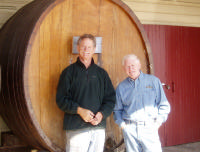 While Don (pictured right) was managing the wine program, his wife Kay along with noted Sonoma chef Lisa Hemingway were making the pastries for John Ash & Co.. Hemingway would eventually move on and open her own restaurant. Kay currently is a chef at Della Fattoria Restaurant in Petaluma. Don left John Ash & Co. in late 1982 to manage a wine bar in San Francisco and become assistant winemaker at Joseph Swan. Don likes to jokingly reminisce about the challenges of setting up Joe Swan's winery accounting on one of the first Apple computers. Don worked closely with Joe Swan for many years until his passing and continued to consult for John Ash & Co. He then became the winemaker at Copeland Creek and today is the winemaker at Ridgeway in Petaluma.

In the mid 1980s, the cuisine at John Ash & Co. was quite inventive and original for the time and along with the wine program, brought notoriety to the restaurant. The attempt to sell wine retail at the restaurant wine bar never really took off, but the restaurant was a success in all other respects. In 1987, the Vintner's Inn was built in Santa Rosa at 4350 Barnes Road, just off River Road by retired scientist, John Duffy. He wanted to add a topname restaurant to the Inn and brought John Ash & Co. to its current location adjacent to the Inn. Between 1987 and 1990, John Ash was recruited by Fetzer in Hopland, California to consult on their wine and food program. Building on his experience and influenced by others such as Zelma Long at Simi, an early proponent of wine and food pairing, John Ash became widely respected as the originator and teacher of wine country cuisine.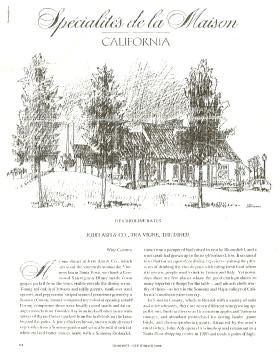 In 1985, John Ash had been chosen as one of America's "Hot New Chefs" by Food & Wine magazine so it was no surprise when Duffy chose his restaurant to provide a prestigious aura to his new Inn. A sparkling review of John Ash & Co. by Caroline Bates appeared in Gourmet magazine in September, 1988. Bates remarked, "Sonoma County, southern France, and Japan are the main currents in Ash's cooking… .Ash's plates are artistic, featuring sprays of flowers and sauces that look like brushstrokes… .Throughout the year Ash uses as many as seventy- five different edible flowers in his cooking… .There are few places where the good earth produces so many superlative things for the table - and attracts chefs worthy of them - as here in the Sonoma and Napa valleys of California's northern wine country." She pointed out that the wine list was composed of primarily local Sonoma County producers, some of which were walking distance from the restaurant, and noted that John Ash & Co. was one of the first restaurants in the United States to pay attention to after-dinner wines.
In 1990, Dan Kosta began working at John Ash & Co. His father, Tom Kosta, was partners with Steve Lorenzon and Tom Bolger in a wine store in the railroad square area of downtown Santa Rosa. They were competitors during the restaurant's Montgomery Village years. Growing up, Dan was exposed to wine with every meal and developed an appreciation for and interest in wine at an early age. At the tender age of 18, Dan joined the staff at John Ash & Co as a busboy. From the start, he became immersed in the wine and food culture that was prevalent among the staff at the restaurant. As Dan puts it, Ash was a "Petri dish" for learning about fine wine and food. One day he met Michael Browne who had joined the staff and recognizing Dan's talent, suggested to him that he ask to be promoted. Dan quickly became a waiter, then was promoted to management, and become the restaurant's wine director at age 24. Age was not a deterrent to success at the restaurant and Dan thrived on the continuous on-the-job training.
The restaurant's wine budget was about $100,000 a year and over 500 wines (quite large for Sonoma at the time) were on the wine list. Dan was able to taste most wines that were put onto the list and learn to match food and wine. The staff traveled to many local wineries to taste as well. In the mid-1990s, the staff added a large number of Pinot Noirs to the wine list based on Pinot Noirs acknowledged affinity for food.. Sales were slow, however, unless the wines were 'hand-sold." Burgundies were often the safer choice because of their consistency, but the quality of Pinot Noir from Sonoma County was growing and more and more of them were added to the wine list. The menu at John Ash & Co. was very conducive to Pinot Noir and this was also factor in the decision to promote Pinot Noir.

By 1990, John Ash (pictured right) had become the culinary director of Fetzer Vineyard's Valley Oaks Food & Wine Center. He had a passion for food but was happiest writing and talking about food and was not particularly enthusiastic about the daily grid of working in a restaurant kitchen. Dan recalls that he was very impressed by Ash's coolness in the kitchen, never seeming to be flustered or angered. He treated his employees very well, and encouraged their wine and food education. In the late 1990s, chef Jeffrey Madura joined the cooking staff at John Ash & Co and he would be the man behind the scenes keeping the quality of cooking at a high level as John Ash became more and more involved in outside projects. In 1999, Duffy retired and the Vintner's Inn and John Ash & Co restaurant were sold to Don and Rhonda Carano of Ferrari-Carano Vineyards &Winery who continue as owners to this day.
John Ash left the restaurant in 2000 and Jeff Madura has continued the tradition of fine wine country cuisine to the present. Beginning with Madaro's reign, the food took on more Mediterranean influence, more simplicity, and emphasized grilling more. In 2000, a re-creation of the very first wine tasting held at John Ash & Co. was organized by Don Baumhefner. The Pinot Noirs from 1977 included Joseph Swan, Chalone, Mt. Eden, and Santa Cruz Mountains Vineyard as well as two French burgundies.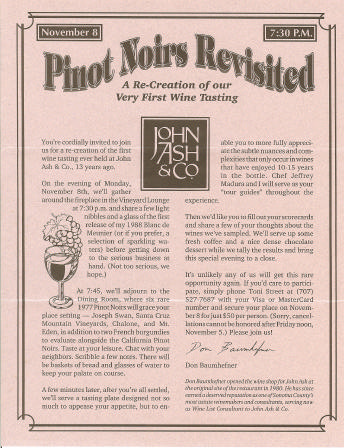 According to Don, the California Pinot Noirs "were still solid," and it was a thrill to relive this tasting.
The legacy of John Ash & Co. will be the popularization of seasonal and local wine country cuisine. Working in a "hotbed" for food and wine, the employees had a tremendous exposure to wine on a daily basis. Even as a busboy, Dan was offered samples of wine to try. After work, wines, wineries, and wine styles were discussed in depth. The staff often stayed up all night discussing wines. In addition, the staff had considerable admiration for the winemakers whose wine fervor was contagious. The natural evolution was for members of the staff to leave the restaurant and produce their own wine. In this fashion, John Ash & Co spawned many winemakers through the years.
During the years that Dan Kosta worked at John Ash & Co., Michael Browne came and went as a waiter at the restaurant between breaks for schooling. The two developed a close and lasting friendship founded on their shared enthusiasm for fine food and wine. In 1996, Dan was the wine director at John Ash & Co., and Michael Browne had begun to seriously consider a career in winemaking. They talked about a partnership over many dinners. Every night after work, each one would put $10 in tip money into an envelope that Dan kept in his desk. After accumulating $1,300, they purchased one-half ton of Eastside Road Pinot Noir, an old hand crank de-stemmer/crusher, old used barrels and "we were off." Two years later, while still working at John Ash & Co., the two launched Koste Browne with the inaugural release of a 1999 Sauvignon Blanc from Lake County. They had hand-drawn the labels which remain the same today except for the colors.

The first Pinot Noir from Kosta Browne came in the year 2000. The pair had contact with Sonoma growers and some 2000 Cohn Vineyard Russian River Valley Pinot Noir grapes became available to them. Michael had gained valuable experience working as a winemaker at Deerfield Ranch Winery in Sonoma Valley. They continued to develop contacts and several other prominent vineyards came on board such as Kanzler and Koplen. Their initial goal was not to attempt to make or duplicate Burgundy, but rather to create a delicious Northern California artisan beverage with as much flavor and intensity as possible. Despite their background, they did not have food and wine matching in mind when they created the Kosta Browne style of Pinot Noir, but over time they have found that their wines perform beautifully at the table with appropriate foods. Below - Michael left, Dan right. They have the perfect business relationship with Michael handling the winemaking and Dan in charge of sales and marketing.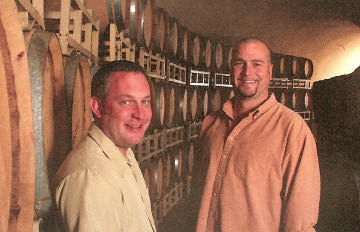 The list of prominent alumni of John Ash & Co. is lengthy but a few names should be mentioned. Matthew Gustafson was a wine buyer and sommelier at John Ash & Co., later the wine buyer for Oakville Grocery, and became an accomplished winemaker for Dutton Estate and his own label, Paul Matthew Winery. Steve Galvan, a former sommelier at John Ash & Co., is now the General Manager at Ramondin USA in Napa which produces tin capsules for wine bottles. Paul Sloan is a third generation Sonoman who had his epiphany while working as a wine steward at John Ash & Co. Restaurant. During a tasting of very expensive white burgundies, he tasted his first Le Montrachet. His interest in Burgundy wines was ignited that day and along with encouragement from his wife, Kathryn McGrath-Sloan who also was educated in wine, immersed himself in learning about wine. Together with Matt Gustafson, he won the Greenwood Ridge California State Wine Tasting Championship, Professional Division. He enrolled in the viticulture program at Santa Rosa Junior College and obtained practical experience under the guidance of Warren Dutton of Dutton Ranch. Spurred by the encouragement of Warren Dutton, Paul and his wife started Small Vines Viticulture in 1998 specializing in the planning, installation and precision viticulture of close-spaced vineyard estates in Sonoma County. His clients have included Paul Hobbs, Sonoma Coast Vineyards, DuMol, and Red Car Wines. John Ash & Co. alumnus Markus Wilson is the Key Account Specialist for Southern Wine & Spirits. In 2000, he placed second along with partner Dan Kosta in the California Wine Tasting Championship, Professional Division.
John Ash continues to act as a consultant and give cooking classes at his eponymous restaurant (for a schedule visit online at www.vintnersinn.com). The restaurant today has one of the finest wine lists in Sonoma County with approximately 600 wines from the adjacent wine country and around the world. The Fourth Annual Pinot Family Reunion will be held on Sunday, June 22 from 1:00 PM to 4:00 PM. A three-course family style dinner will be paired with some of Sonoma County's top Pinot varieties at John Ash & Co. restaurant at 5:00 PM. A portion of the proceeds will benefit the Breast Care Cancer Center at Sutter Medical of Santa Rosa. Tickets are $80 in advance, or $95 at the door, including a wine glass. The cost for both the Tasting and Dinner is $175 per person, all-inclusive.

John Ash currently has two excellent books in print: Cooking One on One: Private Lessons in Simple Contemporary Food from a Master Teacher (2004) and From Earth to Table: John Ash's Wine Country Cuisine (co-author Sid Goldstein, 2007). John Ash is also a partner in the winery, Sauvignon Republic.
There are a number of cookbooks available that are instructive about on wine and food pairing. Two of my favorites are: The Vintner's Table Cookbook: Recipes from a Winery Chef, by Mary Evely, written when she was the winery chef at Simi, (2006, second edition), and Perfect Pairings - A Master Sommelier's Practical Advice for Pairing Wine with Food, by Evan Goldstein (2006).
Back in my files I have an quote (the source of which I have lost) that is apropos for the John Ash & Co story. "Some wines really are better with some foods than other wines. Many meals can be improved by the selection of just the right wines. While wine is truly an art form, it is not so in the same sense as a painting or sculpture. It is a living entity that must be drunk preferably at its peak. A proper meal is an attempt to marry truly great wines at their peak with compatible foods prepared to perfection. Such an attempt is a celebration of the realization that wine, alone above beverages, is part of food, and neither exists in even half its glory without the other." Chefs like John Ash, sommeliers like Dan Kosta, and vintners such as Don Baumhefner, Michael Browne, and Matt Gustafson and are an inspiration to us all, and their ability to harmonize food and wine is proof that God loves to see us happy!