Kastania: Prime Pinot in Petaluma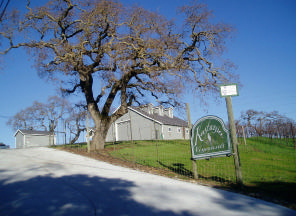 Kastania Vineyard and Winery is nestled adjacent to the western shoulder of Highway 101 as it meanders through Petaluma. The land here has been owned by the Smith family since the 1860s. Originally it was a sprawling ranch extending east of the Petaluma River, but was gradually sold off. The plot that remains is lovingly maintained by Hoot and Linda Smith and is quite beautiful, studded with majestic oak trees that are a few hundred years old. Overlooking the eastern portion of the Petaluma Gap and the Petaluma River, the Smith's Pinot Noir vineyard sits on a knoll welcoming northerly travelers to southern Sonoma County wine country.
Hoot planted his 5+-acre vineyard in 1995 primarily to Pinot Noir including clones Pommard 4, 115, 667 and Calera. The Calera clone never performed well here and has been replaced with a Rochioli Vineyard selection. For the first eight years, Kastania Vineyard supplied grapes for a vineyard designate Pinot Noir made by Landmark Vineyards in Kenwood. Beginning with the 2005 vintage, Hoot has kept the grapes for his own label, Kastania. Kastania means "chestnut" in Italian. Hoot said it just didn't seem right to name the winery "Smith." The winemaker is Leslie Cisneros, who is also the winemaker at Arista in the Russian River Valley.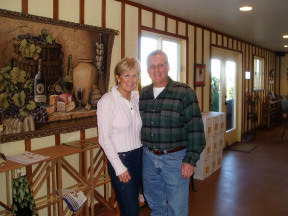 A newer winery and tasting room sit at the top of the property. The inviting tasting room is decorated with owl-themed memorabilia that Linda has collected over the years. Linda likes to joke that she collected owls long before she met her husband, and she "ended up marrying a 'hoot'". A golden owl is prominently featured on the Kastania label.
I had the opportunity to taste through both the 2005 and 2006 vintages of Kastania Pinot Noir. I previously reviewed the 2005 bottlings (Volume 6, Issue 12), so this was a chance to see how the wines were progressing. The vineyard is now well established and the resulting wines are showing the complexity that comes from aged vines.
Kastania Vineyards is located at 4415 Kastania Road (entrance just south of gas station), Petaluma. The winery's tasting room is open by appointment (707-763-6348). The winery's website is www.kastaniavineyards.com.