Pinot Czarina Crafts Royal Pinots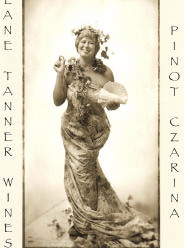 Lane Tanner is also a "hoot," and that is because she is a jokester and a special, fun-loving winemaker. Her nom de plume is "Pinot Czarina," a name she assumed based on her experience with Andre Tchelistcheff. While working on the bottling line at Konocti Winery in Lake County, California in the mid 1970s, her employer found out she had a degree in chemistry and put her in the winery's lab. The first day she was in the lab, she was introduced as the new enologist to the winery's consultant, Andre Tchelistcheff. The only problem was that Lane had no clue what an enologist did. Andre kept telling the winemaker, "Have Lane test this, have Lane test that." Fortunately, Andre took a liking to Lane's spunk, and her future career in winemaking was born.
Lane later worked at Firestone Winery and Zaca Mesa Winery in Santa Barbara County before starting her own label, Lane Tanner Winery, in 1984. This was quite novel at the time for women winemakers were few and far between at the time. Victor Geraci, writing in Salud! The Rise of Santa Barbara's Wine Industry, noted, "Lane Tanner proved that a woman could also achieve status as an independent winemaker. Tanner specialized in Pinot Noir and claimed to be 'a real old traditionalist.' She believed that technology was good up to a point and that 'winemaking is a simple process that machines can only refine so much.' She did everything herself and believed that her Pinot Noir was the most feminine, finicky, fickle, and incredibly responsive of all grapes. She said that 'grapes want to become wine,' and she accepted the responsibility of being 'the keeper of the grapes.'"
Lane was one of the first winemakers to acquire a contract for Pinot Noir grapes from the now famed Bien Nacido Vineyard. At one point, she was married to Frank Ostini, the owner of the Hitching Post Restaurant in Buellton. She made the house wine for that restaurant which more recently was made famous in the movie Sideways.
Lane now produces about 1,500 cases of Pinot Noir from purchased Santa Barbara County grapes at Central Coast Wine Services in Santa Maria. Her style of winemaking is distinctive. She strives for elegance and avoids high and intrusive alcohol at all costs. Often she picks her grapes in advance of other winemakers. Oak treatment is understated. She is a one-woman show, performing every task required to craft her wines. You won't find her wines prominently promoted, but lovers of Central Coast Pinot Noir know to buy everything she makes every year. After more than twenty vintages using many of the same grape sources, you have to think she has perfected her craft. One anomaly persists however. Her wines are quite restrained, elegant and serious. But Lane, herself, always seems to have a mischievous glimmer in her eyes and is quite a "hoot." Like her back label reads, "Laugh More-Flirt Often."
I recently tasted through the Pinot Czarina's 2006 offerings. These are among the best wines I have ever sampled from Lane. Very harmonious and as always, sensibly priced. There is a weight and style here for everyone. All of the wines were aged in 35% new Francois Freres French oak for 11 months. Sulfite levels are very low, since Lane is allergic to sulfites.
2006 Lane Tanner Santa Barbara County Pinot Noir
13.6% alc., 556 cases, $26. This is Lane's "flagship or working girl wine." · Bright red cherry and strawberry fruits featured in the aromas and flavors. Light, refreshing, clean and pure. Unadulterated Pinot flavor in an easily drinkable style ready for the table tonight. Believe me, you won't find a better California Pinot Noir at this price anywhere.
2006 Lane Tanner Bien Nacido Vineyard Santa Maria Valley Pinot Noir
14.1% alc., 460 cases, $33. Sourced from Bien Nacido N Block, Martini clones on their own roots planted in 1973. · Riper, earthier scents showing darker fruits and a little pepper. Plenty of lush dark Pinot fruits complimented by a touch of oak char and nicely balanced with fine tannins and reserved acidity. A memorable black raspberry kiss persists on the finish for more than ten seconds. Old vines, an accomplished winemaker and the result is pure Pinot pleasure. This one will be fine over the long haul.

2006 Lane Tanner Julia's Vineyard Santa Maria Valley Pinot Noir
14.5% alc.460 cases, $36. This vineyard is located three miles due east of the Bien Nacido Vineyard and Lane's block is planted to the Martin Ray clone of Pinot Noir. · Dark crimson in color. Aromas of earth-dusted fruit, grilled meat and toasted oak lead to an attack of plush dark stone fruits which are earth-kissed. Layers of flavor interest with mushrooms, herbs and cola.. Dense on the palate but still silky in texture with a healthy tannic core that is not intrusive. This one will appeal to those who like the more sauvage style of Pinot Noir. Like Lane says, " like the haunting other woman - rather scary."
Lane Tanner Winery wines are available through limited retail channels and from the winery website at www.lanetanner.com. The Pinot Czarina Wine Club offers attractive discounts.