Pinot Briefs —Newsletter 6.58
Frost Threatens Wine Grapes in California I leave the country and all hell breaks out in Northern California. The worst frost season in thirty years struck Sonoma County in April. The estimated countywide damage is 10-15 percent of the crop, but is higher for certain vineyards. Dennis De La Montanya said that his large Petaluma vineyard lost practically all of its Pinot Noir and Chardonnay vines.. Some vintners used up the water in their collection ponds to prevent frost damage, leaving them with no water for irrigation later in the season. The flow of the Russian River was noticeably reduced. The frosts also hit Mendocino, Lake, and Napa counties in Northern California and parts of the Central Coast of California. Pinot Noir is particularly susceptible to the damaging effects of frost since it is an early flowering variety.
Paradise Ridge Winery Re-Opens Paradise Ridge Winery is celebrating its grand re-opening and 14th anniversary with a celebration on May 18 at the winery. The fete marks the completion of an extensive contemporary renovation of the property and the opening of a sculpture exhibit at Marijke's Grove titled "Encore" on Sunday, May 19. With one of the most spectacular views of any winery in Sonoma County and a portfolio of outstanding wines, Paradise Ridge has plenty to celebrate. The winery's Pinot Noirs of late are highly recommendable.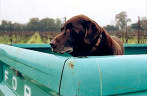 Green Truck Becomes Road 31 I loved Kent Fortner's Green Truck theme for his Pinot Noir label and the story of his aged green truck. His Pinot Noir inside the bottle was memorable as well. With the current 2006 vintage, Kent has changed the name of his wine to Road 31 Wine Co.. It seems that there were just too many colored vehicles on wine bottles, so when visiting his family in Kansas last fall, he saw a sign that read, "Road 31," heralding a gravel road which runs past his grandparents' homesteads in Kansas. The truck still adorns the label and the wine is the same inside. The 2006 vintage of Napa Valley Pinot Noir has been released and I will be reviewing the wine in a coming issue. Visit www.road31.com.
Vinquire Local Wine Search The free internet search site for wine now has a "local wine search" feature. When you are seeking a special bottle and need the bottle soon, you can enter your zip code and the wine name and quickly find a source in your neighborhood. You can even find driving directions to the retail source of the wine. I find the site extremely useful and it is updated constantly. Visit www.vinquire.com.
Winemaker Changes Winemakers are similar to chefs in that they frequently change jobs, many times to gain new experience or move in another direction. Tony Rynders has departed Domaine Serene and the search for a new winemaker is ongoing. Christina Pallmann has been hired as the winemaker for Twomey Cellars (Calistoga and Healdsburg). She had previously been at Fritz Winery in Cloverdale. Greg La Follette is now less involved with De Loach in the Russian River Valley, focusing on his own label, Tandem, and a new project in the Anderson Valley financed by Chicago attorney Jim Ball. Ball is building a new winery and two vineyard sites are being developed by biodynamic viticulturalist Ginny Lambrix.
De Villaine Bourgogne Aubert de Villaine (owner of Domaine de la Romainee-Conti) planted Pinot Noir on a steep hillside property in the Cote Challonaise a few years ago. The 2005 vintage is the first release of Domaine A. et P. de Villaine La Digoine Bourgogne ($32). The wine is imported by Kermit Lynch (www.kermitlynch.com). Available also at www.storytellerwine.com in Oregon.

Full Scoop on Davis Bynum Winery Retailer Paul Root is currently selling some recent close-out stock of Davis Bynum Pinot Noirs. Paul is a noted historian of the Russian River Valley and he related the full story of the sale of Davis Bynum Winery (photo right) recently in his online newsletter. Davis Bynum was a home winemaker in Berkeley and worked as a reporter for the San Francisco Chronicle newspaper in the early 1950s. In 1965, he started a small winery in a warehouse in Albany, in the East Bay Area and crafted his first commercial wine here. In 1973, Bynum purchased 84 acres of land in the Russian River Valley and started Davis Bynum Wines. His winemaker was Gary Farrell who also made his own wines for many years at Davis Bynum. The label from Davis Bynum 1978 Westside Road Pinot Noir (made primarily from Rochioli Vineyard grapes) is pictured below. In 2000, Farrell left to start his own winery, and David Georges took over the winemaking duties. The Davis Bynum winery and vineyards were purchased in March of this year by the Baker family of Canada. Jeremy Baker will continue to produce wines from the property under a different name. The Klein family purchased the Davis Bynum brand and inventory in August of 2007. The Bynum wines will take on a new label and packaging and will be produced at a new small winery on Westside Road by Gary Patzwald (formerly Conn Creek in Napa. Paul Root is offering a mixed case of both the 2004 and 2005 vintages at a drastically (less than half) price. Phone Paul at Root's Cellar, 707-433-4937.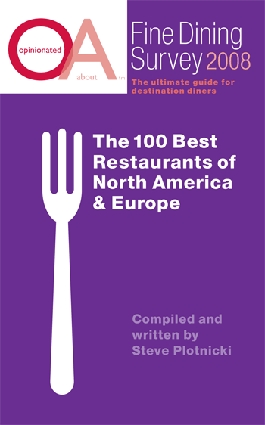 New Restaurant Guide Steve Pietnicki has published a dining guide by Opinionated About Fine Dining titled The 100 Best Restaurants in North America and Europe. Like the Zagat guide, it is compiled from diners and includes a numerical rating, a short description of the restaurant, quotes from survey participants and two to three special dishes. Unlike the Zagat guides, this book rates each restaurant's wine list and describes the BYOB policy. The guide (a steal at $6.95) is available through retail channels or online at www.opinionatedabout.com.
Wine Certification Course Noted wine educator, Kevin Zraly (Windows of the World Complete Wine Course) and Robert Parker, Jr., offer a Wine Certification Course to subscribers at www.eRobertParker.com. Beginning next year, the course will be offered to the general public as well. The current major wine certifications (Master of Wine, Master Sommelier and Society of Wine Educators) are for the trade but this course is intended for the consumer. There are three levels, each level having a test to achieve certification. Think of it as a wine SAT or wine aptitude test. The highest level (not yet available) will include a blind wine tasting and an oral exam with Kevin Zraly and/or Robert Parker, Jr..