Pinot and the City: Pinot Days 2008
I pulled into the Fort Mason Festival Pavilion parking lot in San Francisco on a foggy Sunday morning, June 29th, 2008, Pinot Noir producers were hurriedly bringing cases of wine in to the Pinot Days Grand Tasting and a line of over 100 eager and thirsty attendees had already formed at the entrance twenty minutes before opening. The 4th Annual Pinot Days in San Francisco (similar events will be held in Chicago in the Fall of 2008 and New York in the Spring of 2009) is a unique opportunity for pinot geeks to sample the Pinot Noirs of small boutique operations whose wines have limited distribution. This year there were over 160 wineries, retailers, and wine distributors offering Pinot for every palate and 3,500 pinotphiles with palates for every Pinot. With many producers pouring several wines, there was nearly 500 Pinot Noirs to sample! Needless to say, I had been in training in the weeks preceding the event, and I was determined to swirl, sip and spit as many of the wines as I could over the 5-6 hour timeframe.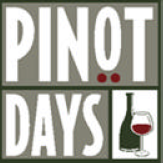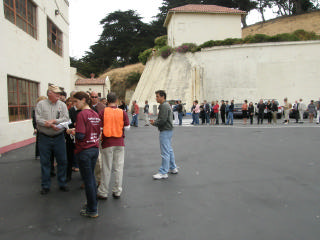 At last year's event I did a number of interviews with wine personalities for Grape Radio and these are now posted at www.graperadio.com. This year I spent my time focusing on the wines. Walk-around tastings are not the best milieu for technically and seriously tasting wine, but worthwhile impressions and glimpses of glory can be obtained by the dedicated taster. Occasionally a wine will make the hair stand up on your neck and put a big grin on your face (see Pinot Noirs under "Sensations" in this issue). In addition to tasting, this event is a wonderful opportunity to renew friendships, make new ones, chat with PinotFile readers, and become better acquainted with the people and stories behind the wines. As Tim Atkin MW has said, "The character, ambition, and talent of the person who made it is highly relevant to how that wine tastes. I want to know about these things, just as I want to know about vintage conditions, personal eccentricities, and a winemaker's take on the world. All of those things make wine different; all of these things make wine special."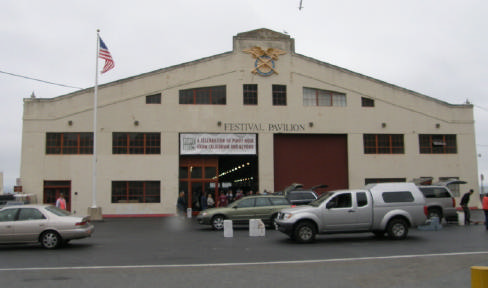 Pinot Days is more than a large walk-around tasting. On the days preceding the Grand Tasting on Sunday, special winemaker dinners were held in San Francisco including a Kosta Browne dinner where four vintages were presented. On Saturday, there were three Focus Tastings: Santa Rita Hills and Santa Lucia Highlands Pinot Noirs, Anderson Valley and Sonoma Coast Pinot Noirs, and Russian River Valley and Santa Maria Valley Pinot Noirs. I was honored to be invited to moderate two of these tastings which were attended by over 90 people at each session. The Pinot Noirs were poured blind, discussion ensued, and the winemakers, who sat among the attendees, proudly told the story behind the wines, as questions and comments were bantered about. I said at the start of this article that "there is a palate for every Pinot," and this was proven true at the tastings. Four Pinot Noirs were presented in each flight, and the room full of tasters were frequently split, with about 25% preferring each of the four wines. Clearly, everyone does not like the same thing, and what some people abhor, others find terrific. In the final analysis, we are all our own arbiter of taste.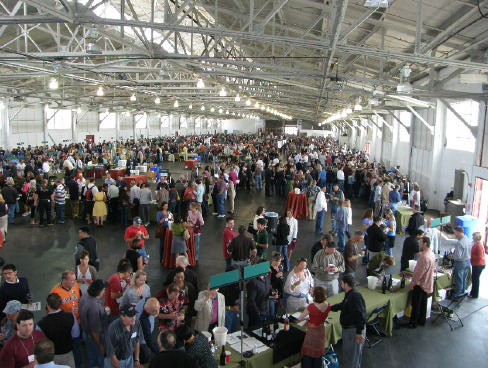 Pinot Days is non-profit, and is committed to raising money for those in need. The organizers of Pinot Days, Steve and Lisa Rigisich and Eric White (all are principals in the Bay Area Wine Project), have raised over $25,000 to date for various charities in Uganda, Mexico and Albania. The 2008 Pinot Days Auction beneficiary was the Tanzanian Women's Sewing Project. Monies from the auction were to be used to buy sewing machines for a trade school that allows destitute Tanzanian mothers to earn an income to feed and shelter themselves and their children. To attend future Pinot Days and to keep informed of Bay Area Wine Project events, or to volunteer at future events (volunteers get to drink Pinot too - see below), visit the website at www.pinotdays.com.
Many of the wineries were pouring the 2006 vintage and a number of these wines had been bottled only a few months prior. Most winemakers considered the 2006 vintage in California a challenging one, and although there are many fine wines to be had, 2006 does not generally match up with the 2005 or the 2007 vintage. 2005 produced great Pinot Noir up and down California and the wines are now drinking beautifully. Producers at Pinot Days who still had 2005 wines to pour and sell were quite happy to show them off. In contrast, some of the 2006 Pinot Noirs were shy and closed-down, offering reticent aromatics and reluctant upfront tasty fruit. That said, there are a number of top-flight Pinot Noirs from the 2006 vintage, especially from the state's top producers. A number of wineries declassified a significant amount of vineyard-designate juice in 2006. The appellation wines are better for it, and worth looking at. The 2007 Pinot Noirs tasted from barrel at this event and at numerous wineries over the past few months are strikingly different. These are really showy wines that are going to be appealing and approachable from the get go. The 2007 vintage is putting wide grins on every winemaker's face. A few wineries such as Calera, Hallcrest, Raye's Hill and Skewis were pouring older vintages, and these wines were very special. My advice: buy all of the 2005s you can get your hands on, be selective in 2006, and save some Ben Franklins for the marvelous 2007s to be released next year.
In the pages to follow, I have highlighted some of the Pinot Noirs that caught my fancy at this Pinot pageant. Over the course of the day, I did taste nearly 100 Pinot Noirs, but obviously I could not taste every producer's wines. It is impossible to go into depth with detailed tasting notes as the numerous distractions (smells, noise, laughter) make such an effort futile. Some wines really hit me and are listed under "Sensations." Other Pinot Noirs that were impressive from newer producers are included under "New Faces." And finally, excellent Pinot Noirs tasted from established wineries are mentioned under "Reliables." I have omitted stellar producers and/or wines that I have reviewed in detail in past issues of the PinotFile to avoid repetition.