New Faces
C. Donnatiello Winery This new winery on Westside Road (at the site of the former Belvedere Winery was) debuted in June. I visited the day after Pinot Days and will report on this Pinot Noir and Chardonnay specialist in the next issue. Currently, there are three Pinot Noirs offered: a Russian River Valley Pinot Noir, Maddie's Vineyard Russian River Valley Pinot Noir, and Floodgate Vineyard Russian River Valley Pinot Noir. For a peak, consult the website at www.cdonatiello.com.

Anglim Winery A small Paso Robles winery owned by Steve and Steffanie Anglim that produces primarily vineyard-designate Rhone varietals from Santa Barbara County and Paso Robles appellations. I recently tasted the 2006 Anglim Fiddlestix Vineyard Sta. Rita Hills Pinot Noir at the annual Fiddlefest and will report on this wine in the next issue. Suffice it to say, it was one of my favorite wines at Fiddlefest. Visit the website at www.anglimwinery.com

Couloir Wines This brand new producer was pouring its inaugural wines, 2007 barrel samples of Anderson Valley Pinot Noirs. Founder and winemaker Jon Grant offered his 2007 Monument Tree Vineyard Anderson Valley Pinot Noir (8 barrels, $44) at a focus tasting and it was extremely well-received by the attendees. Jon is the assistant winemaker at Turley Wine Cellars, having learned his trade at various wineries including Plumpjack, Corison, and Robert Mondavi. The wines will be offered to a mailing list at www.couloirwines.com. The phone is 1-800-COULOIR.
Enkidu Wine The name Enkidu comes from the oldest story every written - Gilgamesh. Winemaker Phillip Staehle learned his craft working at Carmenet Winery for several years. I sampled the Russian River Valley Pinot Noir (which was also poured at Pinot Days) at home so I can give a full tasting note. There is also a 2006 vineyard-designate from Tina Maria Vineyard. The wines are sold on the website at www.enkiduwines.com.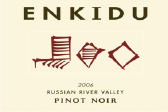 2006 Enkidu Wine Russian River Valley Pinot Noir
14.7% alc., 225 cases, $22 (sold out on the website). From two vineyards in Green Valley heavily influenced by maritime fog. Aged 10 months in 30% new oak. · The aromatics feature dark red jammy fruits with a pleasant touch of oak. A crisp, juicy Pinot Noir showing lavish dark red cherry fruit accentuated by oak spice, particularly vanilla and cinnamon. Light on its feet with gossamer tannins and a fairly long finish. Pretty darn good for this price.
Foursight Wines This winery was pouring their second event (they were at the Anderson Valley Pinot Noir Festival and were profiled in the PinotFile, Volume 6, Issue 60). Kristy Charles and her fiancée, Joseph Webb (pictured on the next page) have partnered with Kristy's parents, Bill and Nancy Charles, to produce a good 2006 Anderson Valley Pinot Noir from their Charles Vineyard. Kristy writes an excellent winery blog at www.foursightwines.blogspot.com. It seems they were shopping for a weddingress in San Francisco in conjunction with the Pinot Days event. A website is forthcoming. To purchase wines, contact Kristy at 707-895-2889.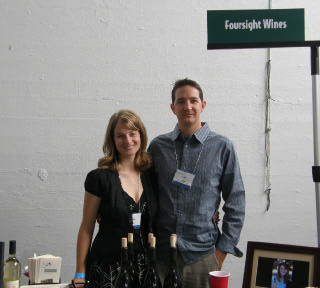 Keefer Ranch Keefer Ranch Vineyard has been supplying grapes for years to many prominent Pinot Noir specialists including Kosta Browne, A.P. Vin, Failla, Freeman, and Loring Wine Co., This vineyard is very special and has produced stellar Pinot Noirs in many vintages. In 2006, owner Marcy Keefer joined with her son Craig Strehlow to launch their own Keefer Ranch Pinot Noir. I recently did a tasting of several vineyard-designate Keefer Ranch Pinot Noirs including the 2006 Keefer Ranch Pinot Noir and will report on these wines in the next issue. In advance, I will tell you the 2006 Keefer Ranch Pinot Noir is superb and is still available from the website at www.keeferranch.com. Marcy Keefer (left), and Craig and Julie Strehlow are pictured below at Pinot Days.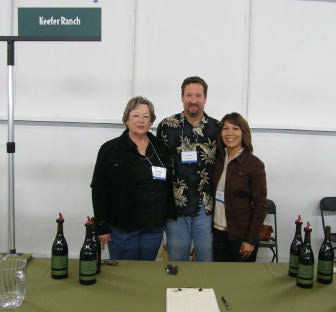 Lutea Wine Cellars Suzanne Hagins crafts feminine-styled Pinot Noirs from organic and/or biodynamic fruit that feature judicious use of oak and plenty of elegance. Her vineyard sources are in Carneros and the Russian River Valley. I have enjoyed the wines and favorably reviewed them in the PinotFile in the past. At Pinot Days she was pouring something new just to show that she could produce a bolder expression of Pinot Noir. Lutea wines are sold on the website at www.luteawinecellars.com.
2006 Lutea Reserve Russian River Valley Pinot Noir
13.9% alc., 50 cases, (Fall release). The two best barrels in her cellar from B Vineyards & Habitat Vineyard. · This is clearly the most structured and tannic of Suzanne's wines and will certainly hold up longer in the cellar. That said, it is a decadent wine packed with luscious dark red fruit that grows in the mouth. This is serious juice that will appeal to lovers of a hedonistic style of Pinot Noir.
Small Vines Wines Paul and Kathryn Sloan released their first Pinot Noir with the 2005 vintage. They also are owners of Small Vines Viticulture, established in 1998 to plant and farm ultra high-density planted vineyards in the Russian River Valley and Sonoma Coast appellations. Their wines are sold through a mailing list at www.smallvineswines.com. 707-823-0886/
2006 Small Vines Wines Russian River Valley Pinot Noir
375 cases, $50. Sourced from three vineyards planted in 1999. The winemaker was Paul Sloan and consulting winemaker Anthony Austin. · This wine showed nicely at a focus tasting and created some buzz at Pinot Days. Sleek and seductive with lush cherry fruit, lively acidity, and a caressing texture.
Suacci Carciere Wines A brand new boutique winery founded by the Suacci and Carciere families which released its first wines with the 2006 vintage. The Suacci Vineyard is 6.5 acres located in the Blucher Valley of Sonoma County. The winemaker is Ryan Zepaltas (see below). Call to order as the website is developed. 707-829-3283.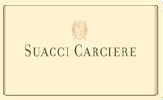 2006 Suacci Carciere Wines Suacci Vineyard Pinot Noir
114 cases, $48. · A perfectly fine first effort with nicely composed cherry and raspberry fruit with gentle oak overtones. The tannins are well-integrated making the wine smooth and easy to drink.
Zepaltas Wines Ryan Zepaltas is one of the young hounds in the Pinot race. He is the assistant winemaker at Siduri and crafts very appealing Pinot Noirs from purchased fruit for his own label. His wines are available on his website at www.zepaltaswines.com. A Suacci Vineyard bottling is available from Zepaltas as well. Tasting is by appointment. 707-235-3491.
2006 Zepaltas Wines La Cruz Vineyard Sonoma Coast Pinot Noir
14.5% alc., 137 cases, $47. Clones 114 and 115 picked one month apart. Aged for 11 months in 50% new oak. · Rich and sumptuous cherry nose. Sleek, silky and seductive. Plentiful red Pinot fruits nicely spiced from start to finish. Sampled at home and was still drinking beautifully the next day from a recorked open bottle. Highly recommended.